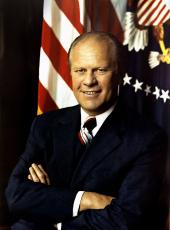 Toasts of the President and President Scheel of the Federal Republic of Germany
Mr. President, Mrs. Scheel, ladies and gentlemen:
On your first visit to Washington as President of the Federal Republic of Germany, we extend, Mrs. Ford and myself, our heartiest welcome.
Your first year on the job has shown you have brought to the highest office of your land the same energy and the same dedication that you displayed throughout your long career in the parliament of your country.
You are no stranger, Mr. President, to our American officials. You served with great distinction as Foreign Minister. You have shown a remarkable breadth and expertise in economics as well as in politics, and you have a very firm grasp--and we are most grateful--in the Third World as well as in our industrial communities.
We have also noted, Mr. President, your rise to stardom in another important field--popular music--and I refer specifically to a piece that you recently recorded, which became a smash hit, as we call it, throughout your country.1
Your musical success contributes to your overall accomplishments as you seek harmony at home and in concert with Germany's neighbors, both West as well as East. You have dedicated yourself, Mr. President, to the cause of European unity, as we discussed this morning, as well as Atlantic solidarity. I know these goals are vital to you, as well as to your country.
At the same time, your contribution to better East-West relations has been most significant. Recent experience has demonstrated there can be no domestic tranquillity or stability and prosperity in any country without cooperation with other nations.
My Administration has been extremely proud to work closely with the Federal Republic on important international problems facing both of us in today's world. Your country has made an important contribution to international peace, Mr. President, not only through its steadfast cooperation with its friends as well as its allies but also in the example set by your Government and your people in meeting the new challenges of the modern world.
The Federal Republic today is in many, many ways a model of the development of the modern industrial state--thriving in freedom as well as in democracy, earning its role of eminence by hard work of its people, and finding its successes in common endeavors within the European community and with its allies.
This is the real challenge for the leaders of the West. I am inspired, Mr. President, by the determination that I sense in the Federal Republic and its leaders not to let our democratic way of life be undermined.
I continue to be impressed by your nation's ability to meet the tasks of today's world--whether in the fields of economics, trade, energy, national defense, or East-West relations--through the effective democratic government and creative diplomacy.
This tradition, Mr. President, is the most encouraging aspect of our friendship today. We cooperate very closely on the practical problems facing us, sharing the conviction that these solutions will mean nothing if our political and social institutions are not simultaneously preserved. A confident role in the world depends upon confidence in ourselves.
Mr. President, earlier today it was a pleasure to participate with you in the ceremony creating the John J. McCloy Fund, a fund established through a very generous contribution from the Federal Republic to our Bicentennial celebration, a fund which will be used to further German-American exchanges, conferences, contacts across the broad spectrum of our relations. I think this fund symbolizes anew the very close relationship between our peoples.
In this spirit, Mr. President, I raise my glass and welcome you to our country.
Mr. President.
1 In December of 1973, then Foreign Minister Scheel recorded a folk song for the benefit of several charitable organizations in Germany.
Note: The President spoke at 10:15 p.m. in the State Dining Room at the White House.
President Scheel responded in German. The translated text of his response follows:
Mr. President, ladies and gentlemen:
I am glad to be visiting the United States just at a time when the whole country is preparing for the great jubilee of its history, the Bicentennial. One could reflect at length on whether the United States is an old or a young country. It is no secret that there is a rather uncritical school of thought in Europe that arrogantly thinks it can dismiss the United States, despite its 200 years, as a "country without a history." True, in my country, too, we have cities and towns that were a thousand years old when America gained its independence, but there is no merit in age alone. The tortoise reaches a ripe old age, but it is not the most noble of creatures. And how old is the Federal Republic of Germany? It is 26.
And this brings me to the main point: The United States is not simply 200 years old. In an unbroken historical tradition, it has been a liberal republic from its very beginning. Two hundred years of uninterrupted republican democratic tradition--where else in the world is there a republic which for two centuries has made liberty and equality for all citizens its law of life, which has not even shirked a civil war in order to remain true to the ideals upon which it entered world history? And those ideals are today still the most important, the most topical, and the most vital of all.
Europe is--who would doubt it--the mother of the United States. But the United States is--and who could doubt that--the mother of European democracy.
Over the centuries, many German immigrants have come to this country. We Germans were gratified at the result of a public opinion survey carried out by your Bureau of the Census. Of the 205 million questioned, 30 million said their heritage was Anglo-Saxon, but 25 million, the next largest group, said their heritage was German. They had left their native country because they wanted to escape religious oppression, because economic necessity left them no choice, because the accelerating process of industrialization had uprooted them, or because they were persecuted on political grounds.
Well, they all quickly became Americans, even though many of them still cherished their native country. But their loyalty they gave unshakably to the land whose citizens they were proud to be.
Many of them returned to our country as American soldiers after the war and brought with them, together with their fellow citizens, the message of the free America. We hungrily threw ourselves upon everything that came from the other side of the Atlantic. Our writers were inspired by William Faulkner and Ernest Hemingway, our young architects stood in awe at the tremendous strides made in the meantime by architecture in America. Our newspapers modeled themselves upon their American counterparts, and young Germans fell for jazz. In short, one cannot imagine the cultural life of our country without the stimuli it received from this country.
Today, Mr. President, our two countries are closely linked with each other, but those ties are based not only on the identity of our political, economic, and security interests but on the interplay of cultural and historical developments that have been of such great importance to both countries. History shows us the way to each other.
And that is why the American President's appeal to us to join in the celebrations has met with a broad-based response in the Federal Republic of Germany. It gives me great pleasure, Mr. President, to be able to announce on this festive occasion some of the contributions the Federal Government will be making on the occasion of your jubilee year.
Those contributions are intended to symbolize the close relationship between our two countries, to help make both peoples even more conscious of its many facets.
We have therefore established a fund which will be known as the John J. McCloy Fund for German-American Exchanges. The fund will enable young politicians, journalists, and representatives of trade unions and employers organizations to undertake information trips and participate in German-American seminars. There was hardly any need to search for a name of the fund because John J. McCloy-whom I am delighted to see with us here tonight-has become a symbol of German-American friendship and cooperation over the past 30 years.
In the purely academic sphere, the New School for Social Research in New York will be endowed by the Federal Government with a new chair. The New School is a university founded by German emigrants, and the years of close cooperation with the school have shown that by dint of mutual effort, it has been possible to bridge a dark chapter of the past.
At Georgetown University here in Washington, D.C., a guest professorship will be created with a view to deepening the close relations between the university and the Federal Republic of Germany.
The new Air and Space Museum in the Smithsonian Institution is to have a large-scale projection apparatus for the planetarium to be known as the Einstein Spacearium. That great physicist, who was director of the most outstanding research establishment in his field, the Kaiser Wilhelm Institute of Physics in Berlin, was expelled from Germany on racial grounds. The dedication of the Einstein Spacearium on 4 July, 1976, will again link his name, which belongs to both countries, with Germany. One of the best known modern composers of my country, Karlheinz Stockhausen, will be composing special electronic music for the occasion.
I have mentioned some of the contributions that will be made by the Federal Government. But the Laender of the Federal Republic of Germany and many cities and organizations, too, are making preparation to mark the bicentenary of German-American ties. All this adds up to a token of gratitude to a nation which refuses to be excelled where generosity is concerned. We Germans have every reason to remember this, and I can assure you that we shall never forget it.
As the President of a parliamentary democracy, who was himself for many years a member of the German Bundestag, I wish on this occasion to convey another kind of thanks to the American people--the thanks of the German parliamentarians for the generous hospitality they have received in America when they came here to get to know the parliamentary work of this country and to see for themselves what life here was really like. I myself was in the first group of members of the state parliament of North-Rhine Westphalia which visited your country in 1951. The friendly and generous reception we were given then, so soon after the war, had a profound effect on my view of America, I will not deny it. And all my colleagues at that time had the same experience.
When the independence of the United States of America was proclaimed, men whose daring matched their circumspection demonstrated to the world that internal and external freedom require each other. Freedom can only be preserved if it is linked with the readiness to defend it both internally and externally.
Precisely that is the purpose of the Alliance in which we are united, the purpose of Atlantic partnership, to which we again committed ourselves during your visit to Brussels a few weeks ago, Mr. President.
But we should not content ourselves with defending our own freedom, our own prosperity. We cannot tolerate a situation in which the dignity of man is the privilege of but a few nations whilst the majority sink in hunger and misery.
In the year 2000, the world population will be 7,000 million. Even now, agricultural production can hardly keep pace with population growth. And as the population grows, so too do the import requirements of the developing countries, very many of whom are the poorest nations on Earth. If social development in the Third World is not to get completely out of control, some 300 million new jobs will have to be created there by 1980. But these countries have not the resources to be able to achieve this by themselves. They have to be helped. But this objective can only be attained through sacrifices and imagination.
This is where the members of the Atlantic Alliance are called upon to make a big, joint effort. If anything can fill us with the courage to face this problem squarely and coolheadedly, it is that belief in the inalienable dignity and freedom of man which inspired the founders of this mighty Republic 200 years ago.
For the American democracy is old, but its message is eternally young and great--like this country, the United States of America.
Gerald R. Ford, Toasts of the President and President Scheel of the Federal Republic of Germany Online by Gerhard Peters and John T. Woolley, The American Presidency Project https://www.presidency.ucsb.edu/node/257055