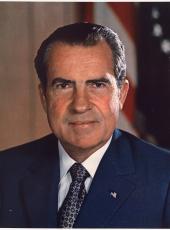 Toasts of the President and President Sadat at a Dinner in Alexandria Honoring the President of Egypt
President Sadat, Mrs. Sadat, and all of our distinguished guests:
Mr. President, this dinner tonight affords an opportunity for us, in a very small way, to indicate our very grateful appreciation to you for the hospitality that you and your people have shown to us on the occasion of our visit to Egypt.
We thought yesterday, after the magnificent reception in Cairo, that it would be impossible to see more people in one day again in our lives, but I remember you told me, "Wait until we get to Alexandria." And you were right, because on the journey that we took by train through the rich delta country and then through the streets of Alexandria, going clear out by the sea as well as through the downtown area, we again had the privilege, as we did yesterday, of seeing literally millions of people who were there to greet us and to welcome us.
And there is an old saying that you can turn people out, but you can't turn them on. They will only be turned on if they want to be. And we felt, as you said to us so often, that there was no question about the people that we saw yesterday and today-they were from their hearts giving us a warm welcome--and I can assure you, Mr. President, they touched our hearts and, I am sure, the hearts of millions of Americans who saw that welcome on television, with what they did.
Let me say, too, that we are grateful that on this visit, brief though it is, that you, in arranging our itinerary, saw to it that we were not only in Cairo, the capital of the nation, but that we should see another part of the country as well.
We in Washington often say as we think of our Nation's Capital, of which we are very proud because it is a beautiful city, that Washington is not all of America and that one must travel to other cities as well. And you gave us a double pleasure today because we saw the countryside, the farmers, the peasants tilling the rich lands with three crops a year growing there, some with the equipment that goes back many centuries and others with the most modern equipment. And we saw, also, one of the great cities of the world, Alexandria, which we would otherwise not have seen had you not planned our schedule in such a way that we could extend it to include other parts of Egypt than just the capital.
And here in Alexandria, I would like to add that we feel certainly in the presence of--and I have no other, better word to describe it than this--in the presence of the whole heritage of learning which our civilization has benefited from. We think of the great library that was here. We think of, for example, those who landed on the Moon and that the abilities that developed those high techniques were based on the great scholars of the past, many of whom centered here in Alexandria-the mathematicians, the astronomers, and the like. And as we think of that heritage of learning which Alexandria signifies to the whole world today, it reminds us of how much both Egypt and America will gain from this new relationship which we have established.
I say a new relationship--it is the reestablishment of a relationship that was always there, but one which we now have formalized to an extent, as our statement tomorrow will indicate, and one on which we will build, because there are perhaps some things that we have learned in the new world in America that you will find useful in the development of your country. But you can be very sure that we who have learned so much from the civilization which is represented in this land, that we also will profit from this mutual exchange of ideas and that the wisdom that is here, the wisdom not only of the past but the wisdom which is now being developed to meet the challenge of the future, will benefit not only you but benefit us as we learn to work together in developing and meeting the policies which will lead to a peaceful and a prosperous world for all of us.
So finally, Mr. President, I want you to know that as I announced tonight to our guests with very great pleasure the fact that you have accepted an invitation to visit the United States on a State visit and that Mrs. Sadat will accompany you, that that will occur before the end of this year, that it is going to be my privilege to give you an itinerary also where you will see not only Washington but, we trust, other parts of the country that you have not seen before. And in that connection, we will not be able, of course, to match certainly what we have seen in the way of the antiquities of the past that we have here, but I can assure you that we will do our best to demonstrate to you, as you and your people have demonstrated to us, that the American people in their hearts have nothing but the greatest affection and the highest hopes for our friends in Egypt.
We welcome this opportunity to work together again as friends, and that friendship that we have had the privilege of sealing after Dr. Kissinger and his colleagues on his side and your representatives on your side laid the foundation, that friendship is one that we will treasure and, we trust, pass on to future generations to enjoy for years to come.
So, ladies and gentlemen, all of us, I think, would want to join, including our American friends particularly and our Egyptian guests as well, in a toast to the President in the sense that he has been such a great host for us.
And also, shall we toast him and Mrs. Sadat a little in advance, wishing him what he will have, a very fine and warm welcome in the United States of America when he returns this visit later this year.
To President Sadat.
Note: The President spoke at 10:48 p.m. in Ras El-Teen Palace.
President Sadat responded to the President's toast in Arabic. His remarks were translated by an interpreter as follows:
My friends, President Nixon, Mrs. Nixon, their guests:
It was yesterday that you arrived in our country and took a historic step in American-Egyptian relations. After our talks and after we all listened to your memorable statement in Cairo, you will perhaps agree with me that the most important outcome of the visit is the establishment of American-Egyptian relations on a clear and sound basis which finds its fruit in a shared conviction, and then with determination that it is in the interest of both our countries and our two peoples not to allow the reoccurrence of what had strained this relationship in the past and that we work together for an inspiring future corresponding with the deepest sense of the essentials of peace for our region and beyond it.
Mr. President, you spoke about me and the Egyptian people, whom I have the honor to represent, in a manner that made me feel the gravity of the responsibility that I shoulder on behalf of that people and of the Arab nation, for these are responsibilities in need of numerous and varied energies that are beyond the reach of one person.
What really matters is my belief, which transcends my other beliefs, that the paramountcy of building for peace and of working without hesitation until all peoples of the area are afforded the safety and the political climate necessary for the area and its peoples in order to resume their former standing so that all could contribute in solidarity in the setting up of a modern civilization.
When I referred to your attributes, I did this on purpose in order to emphasize what I have already mentioned to you concerning my admiration for your courage in taking the initiative in making daring and decisive decisions on all levels on the international plane since you assumed the leadership of your country.
I am quite confident, Mr. President, that your vast experience and your universally acknowledged reputation as a statesman who dedicated his energy to knock hard on the doors that have been shut on intricate political problems and opened through your wisdom and your ability to move at the proper time without hesitation, this being on record, I do not hesitate to state that you and your people will spare no effort in effecting what is right and establishing a just and durable peace in this region as well.
I wanted to express to you at this stage, before the end of your historic visit to Egypt, my gratification and that of my people. Yet, however hard I try to find the suitable words for that, they also thought of what you have personally witnessed and felt since you set foot on our soil and while you were en route from Cairo to Alexandria, our second capital.
We are now in this historic city which was the stage for many historic battles, among which were those of Abukir between the British and the French and that of El-Alamein on the outskirts of Alexandria.
Parallel with all that, it has been a source of continuing culture and science, thus deservedly it was the center and a lighthouse for our well-known civilization. In this great city, with its historic values, its unique strategic position, and direct contact with all countries of the world without exception, you were received by the people of Alexandria as you were received on the way here, too, and in Cairo by their fellow citizens who express to you and, through you, to the American people their feelings of friendship and their belief in the idealistic value of building for peace which conforms with what has been known of Egypt even before its recent history and its creative civilizations which were an endowment to the peoples of the world.
As I mentioned before, the 6th of October was the key to all that occurred. The unhesitating attitude of your country under your leadership and through the enormous efforts exerted by your Secretary of State is to be considered the first step on the road to peace and to a warm and sincere relationship between our two peoples.
For all that, Mr. President, let me say that nothing exceeds my delight at your visit except my gratification that you and Mrs. Nixon were able to come. Related to this is my gratification at your invitation for me and Mrs. Sadat to visit your great country to meet directly with your people and your officials.
Until we meet again, I ask you to take with you to the American people our appreciation and our warm and friendly feelings as well as recollections which I sincerely hope will be renewed when next we meet in the near future.
Allow me to invite you all, dear friends, to drink a toast to the friendship between the American people and the Egyptian people, as well as a toast in honor of the President of the United States.
President Nixon and Mrs. Nixon.
Richard Nixon, Toasts of the President and President Sadat at a Dinner in Alexandria Honoring the President of Egypt Online by Gerhard Peters and John T. Woolley, The American Presidency Project https://www.presidency.ucsb.edu/node/255860