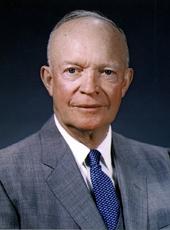 Toasts of the President and President Rhee of Korea at the White House
Mr. President, Mrs. Rhee, my friends:
I am sure there is no one at this table who does not feel, Mr. President, a feeling of distinction in your visit to this country, and your presence at this table. I think it is not difficult to discover the reasons for this sense of pride and distinction, and I hope I will not be considered guilty of filibustering--(laughter)--if I asked you for a moment to go back with me to a lecture I heard in my staff college days.
The lecturer was pointing out that the principal characteristic of life is change. And since he was talking about war, he talked about the changing factors that the fighting man had to consider in his calculations as to war. He pointed out that there are constant changes in the means of transportation, in the weapons to be used, in methods of supply--everything that we do; and that the rules that sometimes obtain among so-called civilized nations, they change.
And then he pointed out that there is one factor that is completely unpredictable, completely unreliable and untrustworthy, and yet never changes--only one--and that is human nature.
In support of his thesis, he pointed out that there is no history so old, no mythology so venerable, that it does not glorify the qualities of courage, of stamina, of reliability, of self-sacrifice, and does not treat with contempt all of the opposites, of intolerance, evil and selfishness.
So I think that in our feeling of pride in the Korean people, and the presence here of their Chief Representative, we are merely responding to an age-old instinct of man, to venerate those qualities that we call ennobling, that we believe are somewhat Godlike in their quality. And we have seen the Korean people through tribulation, through troubles, through enslavement, under brutal attack, respond gallantly and with courage.
It has been a great source of pride to Americans that, with her other allies of the Western World, we could join with Korea in seeing that that country should not be overrun by the invading hordes from the north.
And to the courage of that people, to its prosperity, to its future happiness, I think we may drink a Toast by doing so in the name of their Representative here present--President Rhee.
Ladies and gentlemen, President Rhee.
Note: The President proposed this toast at a dinner in the State Dining Room in the White House. President Rhee responded as follows:
Mr. President, Mrs. Eisenhower, ladies and gentlemen:
The honor which has been paid to Korea tonight is beyond any words of mine to express my feelings, and those of my people. I want you, my friends, to know that the Korean hearts, the hearts of the Koreans who are here in our party--the hearts of all the Koreans who are in Korea--are full of gratitude and thanks to you, and to the American Government and the American people.
I would like very much to tell something about what the American aid and assistance have done, what the American fighting men have done in Korea, to save at least half of that war-torn peninsula. And I would like to say how much the American citizens, individually and collectively, have done in the way of relief work for Koreans.
But I can't. I don't know how to start, or how to end.
All that I ask you, my friends, is to know that we are grateful to you for everything you have done, and for everything that you are doing.
We are grateful. And we will remain grateful.
Talk about bravery of the Korean people--the Korean fighting men. Yes. We thank God we were willing to fight, were willing to fight to the finish, as long as there are territories still occupied by a foreign Communist army. And not only soldiers--army, navy, and air, maybe-but the people, the men and women, rank and file, the many--they are all one, in that we cannot live unless we unify our country, unless the aggressive Communist armies are out of our land.
That same spirit is what proved that the Koreans have an army known to be the biggest anti-Communist defensive force in Asia. Yes, I say that they are willing to die, they are willing to give their lives.
Why are these Koreans so brave? Why are they so willing to give up their lives ? I will tell you why. Their country was occupied by an alien rule for 40 years. They have experienced how terrible it is to live under a foreign military rule. That gave them the conviction that unless we have our independence and our own government, our lives are not ours, we have no freedom--just as Patrick Henry said he would rather die than live as a slave.
That is the feeling there. But that is not what I mean to say. What I mean to say is that the Koreans must have a wonderful fighting spirit--they are wonderful soldiers, and all that. But not without your aid. Your fighting men came over there and trained them and helped them build up their morale and their spirit. And your weapons! Look what all that has done for them. When I go over to the front lines, they are all standing up, every soldier equipped from head to foot--all from America. This is what makes Korean boys strong fighting men.
Pardon me, I didn't intend to make a speech. I just got up and wished to say a word or two in response to the remarks that President Eisenhower made, which are very complimentary to me. And I want you to know this, you friends who honor me: all this is wonderful to me, and what your President, and Vice President, Mrs. Eisenhower and Mrs. Nixon-all you friends--are doing to welcome me and receiving me in such a magnificent way--it all flashed back to the soldiers of Korea, spread all over the country.
Now your great American President-the American people--are honoring our country, our people. That means so much to us. And I tell you, my friends, I do not know, if I live hundreds of years, we will never be able to do enough to pay our debt of gratitude to you.
I want you to know, my friends, that the Korean people will do anything and everything they can do to accomplish their common objectives: that is, to defeat the Communist aggressors, and to make the world, at least our part of the world, safe for democracy.
I thank President Eisenhower and Mrs. Eisenhower for planning this dinner in such a wonderful way, and all their friends here--every one; if they asked me to make a list of guests to attend this dinner, I would not make it any different, or any better. Thank you, my friends, for your presence here, to make this occasion so wonderful to me.
I wish I could have time to spend 1 hour with each one of my friends here. That would be wonderful. I have so much to talk about. But I mustn't talk any more. I just want you all to know I am so full of gratitude and thanks to you. I sometimes talk too long, but that is what my friends are expecting me to do.
Before I sit down, I should like to ask you to join me in a Toast to the health and success of President Eisenhower, and include Mrs. Eisenhower.
Dwight D. Eisenhower, Toasts of the President and President Rhee of Korea at the White House Online by Gerhard Peters and John T. Woolley, The American Presidency Project https://www.presidency.ucsb.edu/node/232362