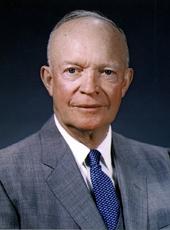 Toasts of the President and President Rhee of Korea at the Dinner for President Eisenhower
President Rhee, Mrs. Rhee and [fiends of this distinguished group:
I think I speak for each of us when I assure you, President and Mrs. Rhee, that anyone here would be honored by your invitation to any place. We are delighted that you arranged to have this dinner served in a place where so many of your good friends, friends of ours, of Koreans, could join in order to pay their tribute to your courage, to your friendliness, to your stamina, and to the great gallantry of your people.
We hope that when you go back to your country, you will be able to impart to them something of the warmth that you say you have felt coming from our hearts, from our minds, so that they will understand that in spite of distance, in spite of occasional differences, that those people who love freedom, who are ready to fight for freedom, are truly brothers--are truly comrades-in-arms, and are ready always to sacrifice together.
Methods and means are points on which we meet to discuss and confer. We do not always see the answers clearly in any one day, but we do know, as history has so often shown, that if we remain true to a cause, if we forget not the great spiritual basis that is the foundation for every system of free government, then in the long run tyranny cannot prevail, and freedom will.
So to you and Mrs. Rhee, we thank you for coming over to this country, for taking the trouble to learn again something new about us, possibly. You, who have lived amongst us so long, possibly did not yourselves need such reassurance; but it is possibly very fine for your people that you can come back now and say not only were the American people friends in 1948 and 1950, and 1951 and 1952, but they are still the friends of Korea--and we hope that the Koreans are our friends.
And so I am sure that this company will feel highly honored to join with me now in a Toast to your gallant people, to you and to Mrs. Rhee, drunk in your name as their symbol and their leader.
President Rhee!
Note: The dinner was held in the Williamsburg Room of the Mayflower Hotel in Washington. The President's toast was in response to the following one proposed by President Rhee:
Ladies and gentlemen:
I promise not to make a speech.
Of course, we thought it would be very appropriate for us to invite the President of the United States to our own place, however humble that might be. But it had to be large for the great number of friends to be invited, and that house is too small. Therefore, we had to make arrangements to have it here in the Mayflower Hotel--which is our embassy for tonight.
When President Eisenhower came out to visit Korea right after the election, in the cold and freezing weather, in the war time, with Communists supposed to be running loose everywhere, without waiting for the Inauguration, the President flew over ten thousand miles to come and visit Korea, to see how to help Korea.
That was enough to thrill all our people. Of course, we wanted to show a little of our hospitality. But our roofs were all torn down. We could find very little place or shelter for our own heads, and we could not show any hospitality to our great friend and great President at that time.
I am glad we have the Mayflower Hotel to use as an embassy, as under this roof we have the privilege of entertaining in a small way, and visiting with all our good friends, and with the President and Mrs. Eisenhower. And we are very happy to be so honored.
And wherever the President and Mrs. Eisenhower can go to show their interest in Korea, I am sure they will go, anywhere, any time.
I thank you, my friends, for honoring us tonight, and giving us such encouragement as you do tonight. I can express only my feeling that is created inside me when we arrived in Washington. Everywhere people in America cordially received us. Not only that, people in the streets and everywhere we go, they just congregate, waving hands. It is a real touching sight, and we are full of emotions, and go away from here full of encouragement and hope, realizing that not only the Government of the United States but the people of the United States are all our friends. There is no Communist in this United States. [Applause]
I promise not to speak--when I was standing at the entrance to this dining hall this evening, and friends were coming in, somebody came to me and told me this: that I must be very tired, and kept so busy. And I said no, when you meet with friends you are not tired. We have to go away very soon, so that our friends may not get tired of us.
Ladies and gentlemen, I just want to propose a Toast to the health and the success of this present administration, the prosperity of the United States, and to peace on earth--and to President and Mrs. Eisenhower.
Of course, all of us want peace on earth, but how to establish lasting peace is our question. I can only hope and pray that God Almighty will find some means to bring us peace on earth.
Now, as I have promised not to speak, I ask you ladies and gentlemen to drink to the health and success of President Eisenhower and Mrs. Eisenhower.
Dwight D. Eisenhower, Toasts of the President and President Rhee of Korea at the Dinner for President Eisenhower Online by Gerhard Peters and John T. Woolley, The American Presidency Project https://www.presidency.ucsb.edu/node/232379