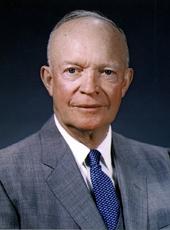 Toasts of the President and President Lleras at the White House
Mr. President, Senora Lleras, ladies and gentlemen:
It is indeed a great honor to welcome to this country, to this Capital, and to this table the President of Colombia. I am not so sure that I should couch this statement just in words of welcome, because the President is practically a Washingtonian. It occurred to me that by the time I have lived in Washington as long as he has, there will be a lot of people demanding that I say whether I was a Democrat or Republican. Now I don't think that you have to answer that question, and certainly I shall not ask it.
But indeed, to welcome back someone in the sense of a prodigal son returning home, this is quite an honor and indeed a great and enjoyable experience.
Our country is very proud of its relationship with Colombia. The history of our friendship--mutual friendship--is a bright one, and we had a great inspiration in the late Korean trouble when Colombia sent its troops to assist ours in repelling the Communist aggression in that area. This is something for which we have been eternally grateful, Mr. President, and we think it is symbolic of the strength of the friendship that our two peoples feel each for the other.
Because of this long experience of the President in his position here in the Organization of American States, and formerly as an Ambassador, we were quite prepared to understand and to appreciate the work he has done in these recent years as President of his own country. He is leading it into an advance that is making of it a democracy that is truly strong and dedicated to all those values that we hold so dear.
And it is because of such reasons as these that I count it a special privilege to symbolize our affection for the people of Colombia, and our admiration for its President, by asking you to join me in a Toast to the President of Colombia and Senora Lleras.
Note: The President proposed the toast at a state dinner at the White House. President Lleras responded as follows:
Mr. President:
I sincerely thank you for all your kind words and in particular for your references to my country. My companions and I have received with deep emotion and lasting gratitude the welcome which you, your Government, and your countrymen have extended to us. For my part, I interpret this as a testimonial of fraternity for a nation which I happen to have the privilege of representing, not-thank Heaven--against its will, but by its decision. I know quite well that the people of Colombia honestly and unreservedly share the sentiments of admiration and friendship I feel for the United States, and regard with enthusiasm your invitation and my visit, which are an eloquent way of indicating that the cooperation between our two nations is proceeding regularly and harmoniously.
We have, in moments of special difficulty, received the support of the American Government, and when support from us--physically scant, perhaps, but politically and morally important--has been necessary to maintain an international policy to which we have conjointly pledged ourselves, we have given it without the slightest hesitation. It is long since there has been between Colombia and the United States any difference which has not been settled with the greatest ease and in the shortest time possible. In the international organizations to which we belong, our agents collaborate to achieve the purposes clearly set forth in the Charters. Your Ambassadors in Colombia, Mr. President, have been welcome with an affection which they have invariably deserved. Ours here have been cordially treated, and there has never been anything to impair the effectiveness of their labors. Besides, it gives me pleasure to say that--though this is the way the moral relationship between friendly peoples usually functions--the difference between your material circumstances and ours has in no way been emphasized, except insofar as this great power feels obliged to aid less developed countries, to give them technical, scientific, and financial assistance with the purpose of bettering our people's condition.
You, Mr. President, have recently had the opportunity of knowing directly the popular sentiments of Latin America towards the nation you so loftily represented in our countries. And I am sure that from your visit--which, unfortunately, could not be more extended and complete--you brought back with you the conviction that in that vast region of the world, which has been the oldest partner of the United States in her international policy, there are unsuspected possibilities of collaborating harmoniously to make this Hemisphere a worthy haven for man, for the highest human qualities and for liberty.
On reiterating to you and Mrs. Eisenhower my thanks, as well as those of Mrs. Lleras and my traveling companions, for all the acts of courtesy and friendship you have showered upon us, I should like to express, Mr. President, my best wishes for the continued greatness of the United States and the personal happiness of its President and Mrs. Eisenhower.
Dwight D. Eisenhower, Toasts of the President and President Lleras at the White House Online by Gerhard Peters and John T. Woolley, The American Presidency Project https://www.presidency.ucsb.edu/node/234145