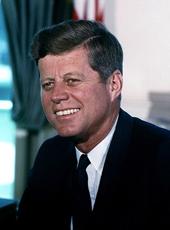 Toasts of the President and President Kekkonen
Mr. President, I want to express again our great welcome to you and Madame Kekkonen, your Foreign Minister, and the members of your Cabinet, your son, and our great pleasure at having you here at the White House.
As you said in your address at the airport, the thing which has bound Finland and the United States perhaps closest together in the past has been the hundreds of thousands of Finnish men and women who have come to this country, who are loyal Americans but also look with affectionate regard to the land from whence they came.
They have been among our finest citizens. When I was a Member of the Congress, I represented Massachusetts, which includes many thousands of Finns within its borders, and I must say my experience and the experience of all Americans who have dealt with your countrymen ensures you a warm welcome as you travel through the United States.
In addition, we are glad to have you here because we feel that Finns have understood the very close connection between physical well-being and strength and mental and spiritual well-being. I remember, perhaps my very first memory as a boy, being taken to a stadium in Boston, Massachusetts, and watching Paavo Nurmi run around the track in a way which made a lasting impression on me, and of your country.
Your own experience as an athlete, as head of your Olympic Team in 1932, and now as President who today skis over 35 miles a day without pausing for breath, you set a dangerous precedent for all of us. All these things make you particularly welcome.
We are gathered here because we admire your country--we admire its courage in war, and we admire its courage in peace. I am particularly glad that you are going to travel throughout the United States. We are a prosperous country and people, who are very content with our own country. We do not desire anything but peace and to be let alone. And yet the American people, under different leaderships under different political parties since 1945, have assumed broad burdens stretching around the world, which we are glad to assume because we believe it is in a most important cause.
We believe that the strength of this country contributes to the independence of countries thousands of miles away, and while the ties which may bind these countries and the direct connection between them may not always be immediate and obvious, we believe that the willingness of the American people to show their responsibilities and to shoulder the burden in the cause of freedom helps the cause of freedom all around the globe--and we hope contributes to the cause of freedom within your own country.
Mr. President, in the days ahead, the challenge which faces Finland and the United States, varying as they do in location and in size, in many ways is equally great, and it is my hope that the relations between our two countries will continue to be warm and friendly, that the freedom of our two peoples will continue to be maintained, and that you, Mr. President, in the future as you have so well in the past, will continue to speak for Finland and speak for freedom.
And therefore, Mr. President, it is a great honor for us to welcome you to this ancient house, and to welcome your wife and on behalf of the American people to drink to you and the people of Finland.
Note: The President proposed the toast at a luncheon in the state dining room at the White House. President Kekkonen responded as follows:
"Mr. President and Mrs. Kennedy:
"I thank you for that very warm welcome we have had in this country and in your home, the White House.
"I also wish to thank you, Mr. President, for the friendly sentiments you have just expressed toward my country. The friendship and understanding that Finland has always met with in the United States is greatly appreciated by us. And it is my hope that my visit here, and the tour I will be making through this great country, will convey to the American people the feelings of friendship of the Finnish people, our admiration for your great achievements and our respect for the principles and ideals on which your Republic was rounded and for which you stand.
"In their outlook our two peoples have much in common. We Finns have an ancient tradition of Scandinavian democracy which has its roots in the society of free yeomen. It is based on respect for the individual and freedom under law. Our faith in these values has undergone severe tests, and I am convinced it will never falter. The main purpose of our policy is the maintenance of our independence and the safeguarding of our national way of life.
"For security, Finland cannot rely on military power. We have sought, and I believe found, security through the policy of neutrality. We wish to stay outside conflicts and disputes between the great powers, and to have friendly relations with all countries. With determination, we faithfully fulfill all obligations undertaken. By such means we have been able to live in peace and friendship with our neighbors and with the world, and to develop our country without having to ask for outside help. It is our hope that we will be able to continue to live in this way. However, such a policy depends on the confidence of all powers in the sincerity of our purpose.
"This is the aim in all our actions, and I believe we have succeeded.
"But we must have peace in the world. Without peace all our hopes will be shattered. In decisions affecting world peace, Finland has but a modest part to play. We on our part try to live up to the principle of the United Nations Charter which tells member states to live in peace as good neighbors; and we shall always support, as we have done until now, every proposal or action designed to promote conciliation between nations.
"I am aware of the great difficulties that stand in the way of an understanding between the great powers on which peace primarily depends. But we have faith in the sincere desire of the American people, and in your will, Mr. President, to work untiringly for the cause of peace.
"I hold my glass to you, Mr. President."
President Kekkonen's party included his wife and his son, Taneli K. Kekkonen, and his wife.
John F. Kennedy, Toasts of the President and President Kekkonen Online by Gerhard Peters and John T. Woolley, The American Presidency Project https://www.presidency.ucsb.edu/node/235796