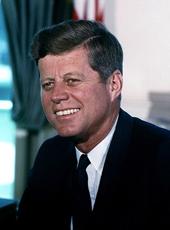 Toasts of the President and President Houphouet-Boigny
Ladies and gentlemen:
I know that all of you join me in expressing our very warm welcome to our distinguished visitors. As I said this morning at the airport, I do not think that any visitor to our country has had a more constructive career than our distinguished guest of honor, and I am not alone referring to the fact that in a free election he was elected by 98 percent of the voters of his country--a record which has not been equaled recently in the United States--and from all I read, will not be.
In any case, to have played such an extraordinary role of being a revolutionary and at the same time a builder of a close bridge between his country and Europe, between his country and the countries of Africa, between his country and our country, is really an extraordinary accomplishment.
It's not, I suppose, so difficult when the moment comes to be a revolutionary, and we have seen a good many revolutions in the years since the end of World War II. The difficult task faces a leader when the revolution has been accomplished--the immediate one.
And it is because of his efforts in this regard that I think our guest of honor bears such an extraordinary reputation, not only here or in Europe but most of all in Africa-because he is an African and he speaks for Africa, and his most important influence has been in Africa with the countries around him, the countries in all of the western part of that old and in a sense new continent.
So, Mr. President, we are delighted to have you here. We are separated by many miles of ocean and culture and history and all the rest, but we appreciate those who are willing to take the hard road of patient, constructive work in building their country-and speaking in an age of unreason with the voice of rationalism.
So, Mr. President, we are very honored to have you, and I am delighted that this distinguished audience--which is made up of some outstanding Americans, Members of Congress and others--has a chance to express their warm feelings for you.
I said to the President this morning that Africa really has been an almost unknown country or continent for so many Americans until recent years, and he said that was because, of course, Africa was strongly influenced and controlled by the Europeans, and now suddenly it has emerged on the world scene. And I think how extraordinary it is that all these countries have emerged, all of them have maintained their independence, all of them facing staggering problems, have been able to speak with the greatest vigor and directness on behalf of their people, and yet have made such a great effort to maintain their ties with all of us in the free world. So we have been very lucky. [Applause]
I appreciate Senator Gore's--my colleague's applause. That is an ancient senatorial tradition which I missed. I was chairman of the committee on Africa before Senator Gore was, and had the distinction of never having been to Africa. And we used to have a map brought in, in those days, to explain where everything was in Africa. But Senator Gore has brought the committee a good deal more distinction.
In any case, he, Members of Congress, all of us in the Executive, are particularly proud to have you here, Mr. President. I hope that when you leave that you will realize that in this country there is the warmest possible feeling for you, your country, and all the things you stand for. I want to say that the work of the Presidency is not all burdens, and that we are very fortunate to have the wife of the President here and all the other members of his party.
So I hope that you will join me in drinking to our guest, to the people of the Ivory Coast, and most especially to President Houphouet-Boigny.
Note: The President proposed the toast at a state dinner at the White House. In his response (through an interpreter) President Houphouet-Boigny expressed appreciation for the warm and cordial welcome accorded him and his party.
"You have taught us that some words are sacred: democracy--liberty--justice. We try, in our small country, to give these words a meaning. And how could we act otherwise, since we share the same ideals that you hold so dear, and since in our country we live in a democracy where the fundamental aspect is the respect of the human person?
"Indeed, I represent a small country, but I also consider myself a citizen of the world and so very fortunate to be here today in this country, and to be today in the company of a man whose responsibilities go beyond the frontiers of his continent, whose responsibilities encompass the whole world."
President Houphouet-Boigny concluded by stating that "tomorrow we shall examine together the problems which are of interest for our poor world, and also for Africa . . . all those problems which raise a huge interrogation mark which we hope to answer with your assistance, by bringing about this liberty, this independence, and this democracy which will lead to the reconciliation of all people . . ."
John F. Kennedy, Toasts of the President and President Houphouet-Boigny Online by Gerhard Peters and John T. Woolley, The American Presidency Project https://www.presidency.ucsb.edu/node/235680