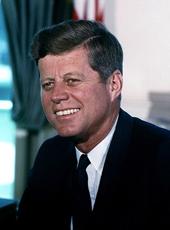 Toasts of the President and President Goulart
Ladies and gentlemen:
I know that I speak for all of us in welcoming our distinguished guest, the President, here to the White House.
Brazil and the United States have been very intimately bound together, but I don't think it's explained so much by geography because, after all, we are separated by great distances, nor is it represented, I think, by a common cultural experience, because our cultural experience has been somewhat different. I think what has bound us together is the sense of great adventure by those who settled both our countries, in coming to the New World for a similar purpose which was a free life.
The purpose of the governments of Brazil and the United States since revolutionary days has been to maintain that free life. Our task I believe, Mr. President, is to prove that the free life and the abundant life go hand in hand. And that is the central responsibility, of course, of those who occupy positions of responsibility in the Americas in the sixties--to prove that prosperity and the fruitful experience go hand in hand with liberty.
If we can do that, we shall have succeeded. If we cannot do that, then of course our failure will be most awesome.
So I am delighted to have you visit the United States. Our relations are that of allies and partners by choice, and I hope that in the coming months and years that it would be possible for us to work more and more intimately together for the best interests not only of this hemisphere but of the entire free world.
Mr. President, we also want to express our high esteem for you personally for having taken over the affairs of your country at a critical time, and having worked as vigorously as you have to bring the promises of freedom to your people. This is what we want to do here. So we welcome you, a long way from your country.
I hope all of you will now join and drink with me to the people of Brazil, its government-and particularly to the President.
Note: The President proposed the toast at a luncheon in the State Dining Room at the White House.
In his response (through an interpreter) President Goulart referred to the difficult moment in the history of Brazil when his administration came into office in 1961. "But it is gratifying to remember here," he added, "that the people of Brazil showed at that moment a deep and abiding love for democratic institutions, and showed their determination to fight in every possible way, even at the cost of great sacrifices, so that freedom and democracy would continue to survive."
Speaking of Washington as a beautiful city and as the living symbol of the democratic world, President Goulart concluded by stating that Brazil looked to U.S. participation in world affairs with great hopes and expectations. "We are looking at the plans you are making, particularly the Alliance for Progress, as a great contribution to making life in the Americas ever closer to that in the United States--and to help Latin American nations come ever closer towards total economic fulfillment."
John F. Kennedy, Toasts of the President and President Goulart Online by Gerhard Peters and John T. Woolley, The American Presidency Project https://www.presidency.ucsb.edu/node/236319