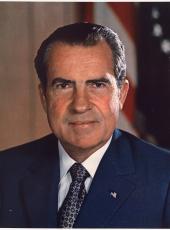 Toasts of the President and President Giuseppe Saragat of Italy at a Luncheon in Rome
Mr. President, and Your Excellencies:
It is a very great honor for Mrs. Nixon and me to be received in this historic house and also to have the opportunity to visit Italy again.
As I respond to your remarks, Mr. President, I want to say again what I said in our private meetings, both with you yesterday and with the Prime Minister [Emilio Colombo] and members of the Government today. I find that whether the issue is European security, the problems of Europe, whether the issue involved is the Mediterranean or the problems of the Mideast, that in areas generally throughout the world, we find that our views in the United States are very close to yours. It is very important that this be the case.
We appreciate your references to our Mideast peace initiative. However, it is important to point out that that initiative will not succeed unless we look at it in a broader context. We must remember that the issue in the Mideast is not simply one between the two or three countries immediately involved. The issue is much broader. It involves the Mediterranean. And when we speak of the Mediterranean, we naturally must speak also of Italy and primarily of Italy, the major country with the longest coastline on the Mediterranean. A sound, strong, independent Italy is essential to any long term peace in the Mediterranean--peace with the freedom and justice to which you so eloquently referred.
As I stand here to respond to your remarks, I naturally think of the longtime association of our countries, of those historical heritages that we share together.
I recall words that electrified the world several years ago, in fact many years ago. Those words were, "The Italian navigator has landed in the new world." When we hear that, we might think that the words that I have just quoted were spoken at the time that Christopher Columbus landed in the New World three and a half centuries ago. They could have been spoken then. But the words that I have just referred to were spoken three decades ago in a telephone call from Chicago to Boston, and they referred to another Italian navigator, Enrico Fermi, the man who headed the development of the first controlled use of nuclear power. A man also who had been born in Italy but whom we proudly claimed then as a resident and citizen of the United States.
As we think of .those two events so far apart in time, we think of what we owe in the New World to Italy. We think of what we owe in the whole world to those great Italians, whether they be navigators, scientists, political leaders.
On this occasion, I particularly want to pay tribute to you, Mr. President, who have spoken for so many years, so eloquently and, it seems to me, so correctly on the great issues which confront the world.
I have been impressed on this visit, as I have been on others, by the fact that when I have met Italian political leaders, whether it is you, Mr. President, the Prime Minister, the Foreign Minister [Aldo Moro], whenever I talk to them, their views are not parochial. They are not limited to Italy. They are not only involving those immediate problems that we may have between the United States and Italy. But they are European. In fact, they are international and cosmopolitan. That is one of the reasons why a visit to this country, a chance to talk to its leaders, is one which means so much to me with the responsibilities that I have not only to my own country but also in the whole international community.
The first man who visited from the United States while he was President was Woodrow Wilson, and that visit occurred, some of you may remember, 51 years ago at the conclusion of World War I. On that occasion, when speaking from Rome, he referred eloquently to what he thought was a new international psychology. What had previously been thought to be theoretical and idealistic had then become practical and necessary. Woodrow Wilson, unfortunately, spoke before his time.
But now, 50 years later, we know that it does become necessary, and we must make it practical, that this New World which the Italian navigator of the 20th century helped to bring into being will be a world which will be used for 'the progress of man rather than his destruction.
For that reason, on this occasion we speak with more feeling than usual of the absolute necessity for the United States to work together with your Government and with the governments of all free nations to see that we maintain the strength that will make possible the substitution of an era of negotiation for one of confrontation, because with that strength negotiation will be possible, without that strength negotiation will not be considered to be necessary.
So with those sentiments, Mr. President, may I ask that all of your guests rise and, with me, raise their glasses to the President of Italy.
To the President of Italy.
Note: The exchange of toasts began at 2 :07 p.m. in the Quirinale Towers, Quirinale Palace.
President Saragat spoke in Italian. A translation of his remarks, which preceded those of the President, follows:
Mr. President:
I am particularly glad to greet you once again, Italy's welcome guest, as the supreme representative of a great country which is our friend and ally.
We have not forgotten how much was done by the United States of America to liberate Europe and help her rise again from the ruins of World War II. We are also aware of how much the United States is still doing by cooperating with us in a defense pact to guarantee security, detente, and peace on our continent.
You have come to Rome at a time when the situation in the Middle East is causing grave concern. Your presence amongst us shows that the United States fully appreciates the importance of the Mediterranean and the seriousness of the present crisis.
In one of your speeches which made a strong impact throughout the world, you stated that our era should not be one of armed confrontation but one of negotiation. We share that view and, therefore, welcomed, as an. event of major political significance, the presentation of the Rogers peace plan by the United States and its acceptance by the parties concerned.
Of course, we have feared and still do fear that recent events may adversely affect the outcome of long and patient diplomatic preparations for a peaceful solution to the crisis.
You know, Mr. President, that Italy's actions are aimed to support and strengthen each and every effort made to arrive at a fair solution of the Arab-Israeli conflict as an indispensable prerequisite to achieving political stability in the Middle East.
We therefore welcomed the initiatives taken by the United States to contain the crisis and channel it towards negotiations which would prevent it from degenerating into a broader and more dangerous conflict.
The main objectives to be attained in the Middle East today are beyond all doubt, on the one hand, the respect by all of clearly recognized frontiers and guarantees for the territorial inviolability and political independence of the countries in the region and, on the other hand, a breakthrough towards a rapid, comprehensive, and definitive solution of the problem of the Palestinian refugees.
One reason to hope, in a situation so fraught with danger, lies in the fact that hostilities between Arabs and Israelis have not been resumed as yet. This positive factor should make it possible to reactivate the interrupted negotiations and give a new impetus to Ambassador Jarring's peace mission. We believe that it is the right path to follow, though we are aware of the obstacles and difficulties which lie ahead.
Mr. President, we are certain of your determination to serve the cause of peace, and we are grateful to you for it. We want to assure you that we on our own part will spare no effort to promote, by our assiduous action, and in every possible way, the achievement of those vital objectives--justice and peace.
It seems to us that it is necessary today to pick up the threads of the patient work of diplomacy which has already been done, in order that a serious and constructive dialogue may begin at last for the implementation of the Security Council resolution of the 22d of November 1967.
As I have said, Italy is making its contribution to this, and Europe will do likewise-the Europe we are building, of which we have spoken and will speak again, and which we trust will be united, outward looking, and instrumental to progress and peace.
Mr. President, we know that since European integration began the movement towards unity among the peoples of our continent has been viewed with favor and with clear political farsightedness by your great country. We believe that this Europe of ours which is still in the making can count today, as before, on the support of the United States of America, and we are fully aware that our task is to quicken our step so that before very long a new political entity, equal to its economic potential, may be better able to carry out its effective and friendly mission as a steadying and peacemaking element.
With these sentiments, Mr. President, I wish you every success in your work of government and your high mission. It is with wishes of peace that I raise my glass and invite all to drink a toast to the friendship between our two countries, to the good fortunes of the United States of America, and to the happiness of Mrs. Nixon as well as your own.
Richard Nixon, Toasts of the President and President Giuseppe Saragat of Italy at a Luncheon in Rome Online by Gerhard Peters and John T. Woolley, The American Presidency Project https://www.presidency.ucsb.edu/node/240619