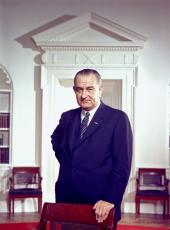 Toasts of the President and President Diaz Ordaz at the Luncheon in El Paso Following the Chamizal Ceremony
President and Mrs. Diaz Ordaz, Senator Mansfield, Senator Yarborough, Senator Anderson, Senator Montoya, Members of the House of Representatives and the Congress of both of our Republics, most distinguished members of the judiciary, and my fellow, Americans:
This is probably the last time that I shall meet you as President of the United States. But it will not be our last visit together, for my friendships in Texas, and my career in public life, have been linked with Mexico and its citizens and its leaders.
You and your countrymen hold a very special place in my heart. Almost 40 years ago, I taught in a little school at Cotulla, where many of the students were Americans of Mexican heritage. I learned a good many lessons in life from these students.
I learned that differences in language and culture, and where you were born, were not important if you had the same dreams of promise and fulfillment.
In the past 4 years I have learned even more about Mexico--its proud and energetic and talented people. We have been blessed by a very close personal and professional relationship with a farsighted leader, President Gustavo Diaz Ordaz.
Because of our friendship and our common trust, a number of problems between Mexico and the United States have already been resolved.
When I look at President Diaz Ordaz, when I consider the closeness of our families, when I look at all our friends at these tables, I am reminded of the priceless advantage that the United States has in sharing a 2,000-mile unfortified border with a hospitable, stable, and staunchly independent Mexico.
Mexico and the United States are linked by a common border. We are linked by a personal philosophy of individual freedom and worth. We are linked by the ideals of both the Mexican and the American Revolutions. And we are linked more and more by common projects.
In 1958 when I met with former President Lopez Mateos, prior to his inauguration, at his request, in Mexico--whose restored good health we never cease hoping for--we discussed a number of very important matters that we hoped Mexico and the United States someday could undertake together.
We agreed that a concentrated attack ought to be made on the persistent problem of the screwworm with its damaging effects on livestock throughout Mexico and in the American Southwest.
Well, enormous progress has been made during the last 10 years in our two countries' common efforts to eradicate that cattle disease. The battle is not yet won totally, but I hope in my day to see that parasite completely eliminated from both nations. And I am going to continue my strong personal interest in this problem which afflicts both Mexico and the United States.
We discussed ways to increase, substantially, the exchange between our two nations, the exchange of our legislators, of our students, of our teachers, of our professors, and visits of people between our two countries. That hope was fulfilled beyond our expectations as both private and government exchange programs between our two nations have reached new dimensions.
Our distinguished Majority Leader has been present as a representative of our country, as have other Members of the House and Senate here today. Senator Mansfield, a great friend of Mexico and the United States, has been present at eight meetings of our Congressmen of the two Republics.
We planned for the building of dams on our rivers and controlling the great water resources which we share as neighboring countries. That, too, will have come to pass with the completion of the great dams, such as Amistad and Falcon.
And we spoke of the Chamizal. We expressed our earnest hopes that one day that age-old problem would be resolved by sitting down together and working out a just solution that would be beneficial to both Mexico and the United States. And that, too, has happened.
Along the Rio Grande this morning we saw the new channel that is named for the illustrious former President, Lopez Mateos, which now fixes the course of that historic river; and land that was once disputed is returned to the jurisdiction of Mexico.
A century-old dispute has been ended, but the common projects which involve men and minds and rivers and dams must never be ended.
In the reaches of space, Mexico helps to track the orbits of America's Mercury, Gemini, and Apollo space missions. Millions of tourists cross our borders both ways each year.
The strength of your peso adds to the stability of our dollar. And together we fight crop disease and animal plague.
Each year trade between our two nations continues to grow. We must continue to seek out new projects which require the cooperation between our energetic and growing nations. For in such cooperation lies the key to a new era of development for all of us.
I said this morning that a border need not be a line across which people shake their fists. It can be, instead, a line across which men may clasp their hands in common purpose and friendship.
I am delighted to say today that President Diaz Ordaz and I have tried very, very hard, and I think somewhat successfully, to do just that for 4 years.
We have tried to be, and I think we have been, good neighbors for each other. We have allied ourselves for progress. We have helped and supported each other in every way we knew how, whenever we knew what the need was.
Now, conscious of the rich contributions of each country to the well-being of the other country, I ask all of you to rise and join me in toasting His Excellency, our great friend, the President of the Republic of Mexico, Gustavo Diaz Ordaz, his lovely wife, his family, and most of all, the beloved Mexican people.
Note: The President proposed the toast at 2:25 p.m. at the Paso del Norte Hotel in El Paso, Texas. In his opening words he also referred to Senator Mike Mansfield of Montana, Senate Majority Leader, Senator Ralph Yarborough of Texas, and Senators Clinton P. Anderson and Joseph M. Montoya, both of New Mexico.
President Gustavo Diaz Ordaz of Mexico responded in Spanish. A translation of his remarks follows:
Mr. President and Lady Bird, which, I think, as an old friend I may be permitted to call you, ladies and gentlemen:
A little over 4 years ago, just after the elections in Mexico, I received an invitation from president Johnson, not to attend a cold, formal ceremony, but to enjoy for 2 days the warmth of his home and his cordial friendship.
Afterwards we met at the border between our two countries to inspect the work on the Amistad Dam being built over the Rio Grande. There also, as at your ranch, I had the opportunity to talk to you, to analyze and study various problems and questions of concern to our two countries, and to plan solutions to many of them, which, fortunately, we have been able to carry out gradually in the course of the years.
In a very different atmosphere we again met at Punta del Este, Uruguay, to combine our efforts with those of the other Presidents of the American Republics to accelerate the development of our countries and bring prosperity to our peoples as soon as possible.
A little later, in October of last year, I had the great privilege and honor of enjoying once more the hospitality of President and Mrs. Johnson and the American people in Washington, where I had an unusually cordial and friendly contact with the United States Congress and with many of its Members. That trip culminated at El Chamizal, when the distinguished President of the United States actually turned over the land known as El Chamizal, which had been a source of friction between us for so many years.
A year ago, nature was not very kind to this region of our two countries. During the ceremony, there was a wind of almost hurricane force, which made me think that if that piece of our country had once been taken away by the Rio Grande when its waters rose, perhaps now that it was being returned to us we might not have it very long, because, to use the title of the motion picture, it might be "Gone With the Wind" and thus be brought back to this side.
And now we are here in this place again, not to discuss problems or plan joint solutions, but to renew vows of friendship and common efforts, and to express, in another personal meeting, our now long-standing friendship.
Now nature has been kind, and has given us a lovely day. President Johnson very generously told me that the good weather had come from Mexico. And I, applying the basic principles of Mexican policy of equitable treatment of all peoples, told him that the United States brought half and we Mexicans contributed the other half.
Perhaps this enumeration of the meetings the Presidents of these two nations have had has seemed rather long to you but I wished to remind you of them at this time and publicly to thank this extraordinary President of the United States for the spirit of understanding and friendship with which he has always listened to our problems and the way in which he has always seen, in each of our meetings, the possibility of friendly, peaceful, and constructive solutions. And I wanted to do this, not only in my name and that of Mrs. Diaz Ordaz, but also in the name of my entire people, because the questions we discussed were not matters of concern to Mrs. Diaz Ordaz and me personally. The matters that we were seeking to solve, some of which we have solved, affected the Mexican people, some of them very deeply.
In this connection, I have purposely left to the last a mention of the opportunity I had to talk to President Johnson in our Capital, when he did us the honor of visiting us, because, in addition to the conversations, he had occasion to see, to feel, to witness the enthusiasm of the Mexican people who filled the streets and avenues to overflowing to shake hands with the President of the United States.
The public usually thinks that these conversations are easy and simple, but that is not true. President Johnson is responsible for looking out for the interests of his country and his fellow countrymen. And it is my patriotic mission to look out for everything relating to Mexico to the best of my ability. Sometimes our viewpoints and our interests are conflicting, and it is very difficult to overcome the obstacles, but that is precisely where the challenge lies: that is, to use our imagination and to find formulas that, while allowing us to defend our own interests with courage, enable us to find solutions that can satisfy both sides. My friend, President Johnson, and I have been able, by applying our most earnest efforts and good will, to achieve a great deal.
And so, thank you, Mr. President, for the effort you have made, for your patience in listening to me, for your good will, the actions you have taken which have enabled us, without betraying--which neither of us would have done-the flag entrusted to each of us, that permitted us, I repeat, in many cases to find suitable solutions to common problems or problems which appeared to be diametrically opposed to each other and which, when all was said and done, turned out to be beneficial to both peoples.
Thanks also for the extraordinary attention you have devoted, first to setting up, and later to the operation and development of that body which may prove to be a pilot organization, known as the United States-Mexico Commission for Border Development and Friendship-an organization in which we have placed high hopes, from which we are beginning to reap the first fruits, and which we hope will have a long and productive life and will bring a closer spiritual relationship between the people living on our long border, making them cordial channels of communication between our citizens.
You have crossed the border several times to visit our country, always on business and with official commitments. We now very cordially repeat the invitation that you visit us for pleasure. You will not be received with the ceremony that the high office you have held requires, but with the same cordial hospitality by the Mexicans in general and by my wife and myself, your friends.
As a memento of that visit you made to Mexico City, there is in one of its beautiful parks a magnificent statue of one of the most representative figures of the people of the United States, Abraham Lincoln. We have tried to reciprocate that friendly gesture by giving the city of Washington a statue of the great Mexican President, Benito Juarez.
That statue, soon to be unveiled, was selected with deep affection, and a copy made of an old original statue of President Juarez, which is on the top of Cerro del Portin in the capital of the State of Oaxaca, his native state. We wanted it to have the value added by time and we wanted it to come precisely from his native land. This hero of the Americas is seen with his classic features of a Zapotec Indian, the penetrating look of one who sees into the future, his feet firmly planted on the soil of Oaxaca, so firmly that they appear to be roots deeply penetrating that soil, his left hand resting on a book containing the Reform Laws, a key body of laws in our history. Wearing a Spanish-style cape, tied in front, on top of his coat, the right hand raised, the index finger pointing toward the infinite, indicating, surely, how Mexico extracts from its roots the rich sources that give it life and that will nourish a constant desire to strive for the progress and well-being of its people.
It is our hope that this statue may symbolize in Washington the presence of the independent Mexican, who defends his rights, but in conformity with the Juarez doctrine of respect for the rights of others; who is prepared to contribute his effort to joint labors that can redound to the common benefit of the two peoples; and who upholds, along with the fundamental principles of his people, two standards which Juarez defended unceasingly as long as he lived, that of Mexico and that of democracy.
I shall close, because I am becoming an egotist. The definition of an egotist is one who talks so much about himself that he does not let me talk about myself. And I have been talking--as was logical and natural--about those who have not acted for themselves, but to carry out important, sacred duties of their peoples, that is, the Presidents of our two countries.
I wish to express my fervent, sincere wishes for the prosperity, freedom, and peace of the people of the United States and for the personal happiness of President and Lady Bird Johnson.
Lyndon B. Johnson, Toasts of the President and President Diaz Ordaz at the Luncheon in El Paso Following the Chamizal Ceremony Online by Gerhard Peters and John T. Woolley, The American Presidency Project https://www.presidency.ucsb.edu/node/236517