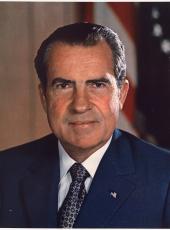 Toasts of the President and President Diaz Ordaz at a Luncheon Honoring the President of Mexico.
Mr. President, Your Excellencies, and our guests:
Mr. President, you have honored all of us from the United States with the warmth of your reception and we will take away memories of this visit which will stay with us for the rest of our lives.
We thank you for giving us the opportunity of seeing a part of your great and picturesque nation, a part that most of us have never seen before, and it makes us realize that there is so much of Mexico for all of us to see and to know, to explore. And I hope that our visit here will bring many others from America and other lands to come to this wonderful nation, to know it as we have learned to know it and to know this delightful part which has such memories for us.
Here in this place we look out upon one of the great scenic wonders of the world. And we remember the welcome of yesterday, the warm-hearted people that we saw. We look at the architecture, the old blended with the new. We realize the progress that has come here and yet what you have retained of the history, the uniqueness that has meant so much to those who have seen it for the first time. And when I hear from others who have had the opportunity to swim in this beautiful sea--an opportunity I did not have today-when I hear that here the sea is like champagne, I realize we must come back again. Como Puerto Vallarta no hay dos. [Puerto Vallarta has no peer.]
But Mr. President, in addition to all of these very great memories that we will take away, what will be particularly memorable in this visit is the historic agreement that has been reached in which we now settle all of the boundary disputes of the past and set up the procedure for avoiding any boundary disputes in the future between our two countries.
Without your statesmanship and the leadership of those in your Foreign Office, and without, also, the cooperation of those in our State Department, this could not have occurred. We congratulate and thank you all for making possible such a historic agreement. Because what this means is that from this time on no boundaries will ever divide us in our search for peace, for prosperity and freedom for the Mexican people and the people of the United States of America.
And, Mr. President, we would like to pay tribute to you for your leadership, not only of your own nation but in the cause of good relations between the United States and Mexico.
And I am very happy to announce to this assembly that the President has accepted our invitation to be the guest at a state dinner in his honor in San Diego, California, on September 3.
California, the State in which I was born, the State in which I now live, is one which owes so much to the Mexican people, the Mexican-Americans, for what they have contributed. And to have you present there as not only the guest of the United States but particularly as one of the final commemorative events of the bicentennial of California will be a historic moment for our country and for our State.
And so to the architect of progress for his own country and to peace and good relations between his country and our country, I ask you to rise and raise your glasses to President Diaz Ordaz of Mexico.
Note: The President spoke at 2:20 p.m. in the Camino Real Hotel, Puerto Vallarta, Mexico.
President Diaz Ordaz responded in Spanish. A translation of his remarks follows:
Mr. President, Mrs. Nixon, ladies and gentlemen:
First of all, I must thank you, Mr. President, and Mrs. Nixon, in the name of the people of Mexico and in my own for the great honor you have done to us by coming to visit us on a state visit.
Again, I thank you for this excellent luncheon in which so much care has been taken to select the food, the wines, and the music.
It is a beautiful feeling to hear in the strings of the Marine musicians of the United States a composition such as we have heard, "Estrellita" of Manuel Ponce.
We have offered you what we have to offer, a cordial welcome, warm friendship, and the most beautiful of all the sceneries. Perhaps there would have been more people to receive the President of the United States if this visit had taken place in Mexico City, but we have preferred this beautiful dome rather than the smog of Mexico City.
And thank you very much, Mr. President, for the splendid commercial you have given to Puerto Vallarta and to tourism for Puerto Vallarta.
I must in all frankness say, Mr. President, that though I have never swum in these waters, I do not believe that it is the same as swimming in champagne. I believe that whoever told you this is someone who has never bathed in champagne; or, if it was someone who at one time swam in champagne, he did not know what champagne was for,
A British politician at one time said that it is very difficult to speak in public for a politician because he runs a narrow road in between the cliche and the slip of the tongue, but in Great Britain they do not have commercials on television. Here the problem is much more serious. One always wanders between the cliche, the slip of the tongue, the words of a song, and television commercials.
Perhaps it is for this reason that you in the United States tend to speak in public, recurring often to humor, which is not really the same system followed in Latin America and also in Mexico, where people who speak in public have a tendency to be tragic or dramatic or, on some occasions, melodramatic.
Among some groups I have the reputation of being a rather solemn man, but I don't believe that this is true or just, because I am not of those who believe that to be serious you have to always look at the serious side of things that are not in themselves serious. This is why I admire and try to imitate, imperfectly, those who would rather look at the humorous side of the situations that we are faced with.
All this long preamble to a speech is just to say that in this particular case there is no problem in making a speech. It is very simple because all I have to say is thank you for all you have done during this visit and what this visit has signified for us, because I just want to give my thanks and gratitude to President Nixon for the extraordinary distinction he has made me by inviting me to a state dinner in San Diego, which I understand not as a homage to me personally, but rather to the amity, the friendship, between our two peoples.
At this moment when the instantaneous nature of mass media has permitted the great majority of people in Mexico to know theft land which had been ours in Ojinaga has now again formed part of the Mexican Republic, I am sure that the hearts of the people of Mexico that have received their news are overbounding with emotion.
One of the newspapers of today has said that a dispute that has lasted for a century was solved in o hours. The truth of the matter is that this has a long background behind it of hard work on the part of many officers of our Governments, a long task that at times seemed it would never end. And it was only through this hard work that it was possible for President Nixon and myself to reach a conclusion in 2 hours.
I wish to make public the pride I have in having had the opportunity of speaking for two hours and a half with President Nixon and having been able to reach an agreement on such matter so important for Mexico.
Mr, President, you have many friends. believe I am one of them. And, as such, I have heard you express many times your desire to come to Mexico. I wish to now invite you officially and tell you that any time that you wish to come to Mexico on a state visit, you will be received with all the honors due to a head of state; any time you want to come as a simple human being, you will be left alone to enjoy Mexico.
Our arms are open toward you and you are permanently invited and you will be permanently welcome. Our courtesy, which is a combination of the Indian courtesy and the Spanish hospitality, is the Mexican courtesy which will always be open to you.
I raise my glass again and ask all of your to do the same to toast to the permanent friendship between Mexico and the United States and also to the health and personal happiness. of President and Mrs. Nixon.
Richard Nixon, Toasts of the President and President Diaz Ordaz at a Luncheon Honoring the President of Mexico. Online by Gerhard Peters and John T. Woolley, The American Presidency Project https://www.presidency.ucsb.edu/node/240373