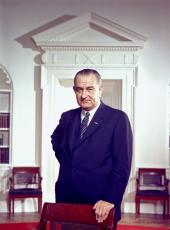 Toasts of the President and President de Valera
Mr. President, of all the pleasures of life the first is a visit to Ireland. But if that is not possible, the second is to have Ireland visit us.
So we are happy, Mr. President, tonight that you have come back to the country of your birth, home to the people who claim you as one of their own.
You and I have a great deal in common, Mr. President, not the least of which is that a lot of Irishmen vote for us--and occasionally vote against us.
Furthermore, in our work, we are both surrounded by Irishmen. I have heard it said that there are more Irishmen in the White House than people.
I know that I have become an Irishman by osmosis.
Mr. President, this is your seventh trip to our country, and I cannot help but compare it to your first visit in 1919 when you were smuggled ashore to outwit those who would thwart your efforts to win support for Irish liberation. Since then, Mr. President, you have become a symbol of the contributions our two countries have made to each other. In a real sense, Mr. President, we gave you to Ireland in partial payment for the thousands of Irish who came to America to enrich our lives.
Foremost among those was John Fitzgerald Kennedy whose name will live forever as the symbol of the ties that bind our countries together. His tragic and untimely death left all our hearts deeply wounded, but we are all better men for the life he lived while on this earth.
Few men, Mr. President, have had the satisfaction that you have had. Not only did you play a leading role in the birth of your nation but you have continued to exert great influence long after Ireland became a significant force in world affairs.
In the United Nations, in the Congo, and in Cyprus, the voice of Ireland is the symbol of sanity and sage counsel and self-sacrifice, and this is the story of de Valera--and that is the story of Ireland.
I want to pay a very special tribute tonight to your Minister of External Affairs, Mr. Aiken, for his very active role in the United Nations; to Ambassador fay with whom I want to cultivate very close relationships; and to Mrs. de Valera, the first Lady of Ireland, a woman of enormous talent and keen spirit and, finally, to you, Mr. President, as a small expression of our affection and our appreciation not only for your having come to our country but for your having brought Speaker McCormack and his wife to have dinner with us for the first time.
So, as a small expression of our appreciation and as a token of our profound respect for your life and your labors, I should like to ask those of you who have joined us this evening, my colleagues and my friends, to join me in raising our glasses in a toast to the President of Ireland--a great Irishman and a very great friend.
Note: The President proposed the toast at a dinner in the State Dining Room at the White House. President de Valera responded as follows:
"Mr. President, I have been accustomed to speaking in the days when we did not have these things, and I had to keep my eye on the farthest man in the crowd to see whether he was listening to me or not or following what I said.
"Mr. President, I do not know how I can express to you my thanks for your generous invitation to be here and for the kind words which you have said of me since I came here.
"The trouble with me is that when I come to the United States, there is a danger that I presume too far. I feel so much at home here, and I think Americans coming to Ireland feel at home also. I feel so much at home that I have to be careful not to act as if I were an American.
"There is a time when the phrase hyphenated American was used--most of you people are too young to remember those days--but there was a certain sting in the phrase and it hurt our people, so, as a counter, I am 100 percent American. When I was pronounced on one occasion in an American assembly to be the 100 percent American in the room, it happened like this. I had been accepted or made a chief of the Chippewa Tribe. As a matter of fact, I have been made a chief of two Indian tribes. But this man speaking of me pronounced that I was the 100 percent American in the room, that I was born in America and I was an Indian chief.
"Well, as I say, the danger I have in coming to America is that I might presume too far and do things which it would not be proper for me, belonging to another country, to do.
"Being in Washington, I should tell you a story which may interest you. There was a lady here when I was here--I think she has passed away long ago so there won't be any harm in mentioning her name, which I think was Alice Paul--who played a very prominent part in the suffragettes, as we called them, and as they used to be called in England, in the votes for women campaign.
"She was a great friend of ours and she got all of her organization to help us in our efforts to get the American people to pronounce in favor of recognition of the Irish Republic. She never asked for any award of any kind until one day she came to me and said, 'Now, you know we have all been working for you, helping you. I want you to do something for us.'
"She said, 'There is one State left and if we get that State we will have won our campaign.' I think it is two-thirds--I forget the number now-of the States have to vote in order to get a change in the Constitution.
"She said, 'There is one State left and in that State we only want four votes to get it, and there are four Irishmen against us. These four Irishmen'--I won't mention the State; it is not far from here--'and anything we say cannot change their minds to get them to vote for us. Would you be good enough to go down and try to get these four men to change?'
"I had not interfered in American politics, although some people said I had because our campaign was a campaign to ask America at the time that if they were going to ratify the Treaty of Versailles that they put in some reservation at any rate which would not bind America to helping England to maintain Ireland as a part of British Territory.
"I felt that I could do that as an outsider. We were affected by it and America was going to take action which I thought would be detrimental to us. Therefore, I felt quite free but, otherwise, I had nothing to do with American politics.
"But this was a terrible temptation. So she pressed very, very hard and, being a woman, I couldn't refuse. So I fell. I went down to this State. I interviewed the four Irishmen. Do you think they would stir? Not a bit--not a bit. They were as firm in their opinions and they weren't going to listen to any outsider suggest anything to them. I had only high regard for them afterward because of the fact that they had their own opinions in their own country and it was best, although I did believe that women deserved to vote.
"Now, as I say, my danger in coming here is that I should presume too far, but I do feel always at home. Whenever I come to an American city, I know that there are quite a number of friends. As I said today, the older friends have passed away. If you add 45 and 45, you get 90, and most of the people who were active in our cause at that time were 45 years of age or so, so most of them have passed to their reward. But I know that their children were there and that they were also taught by their parents the right of the Irish to be free.
"So, indeed, it is for me an occasion of deep emotion, if I might say so, to come back here and to come as President once more, as President of the Irish Republic, and to be received here by the President of the United States and by his good lady.
"I have spoken personally because it is for the moment particularly that aspect of it that comes to my mind but, of course, as you said, Mr. President, . it is symbolic of the relations that have been between our two countries for centuries.
"You mentioned, Mr. President, I think, Benjamin Franklin today. He was back dealing with the colonial patriots of that particular time, but the ideals that were held out by the patriots here in America in the period of the Revolution have been the ideals of the Irish people. We are fundamentally democratic--and I don't mean anything about parties. But, simply, we believe in the right of the people to choose their own governors, to choose those who should rule them. We believe in the equality and the dignity of the human person, and we really believe in all the things that have been put forward as the ideals of Americans back along through the whole of the period in which our two histories have run upon into a certain sense pilot courses.
"You have been a great Nation and you have great things to do in the world today in the leadership of the world, in striving to get for humanity the peace as a foundation of progress. You are doing that to the admiration, I think, of right thinking people, certainly to the admiration of the people of Ireland. We in Ireland are trying to do the same. We have a certain freedom which you haven't got. As a smaller nation, we are not suspect. A big power is always suspect in its actions; no matter how well-intentioned its actions may be, it is always open to a certain amount of suspicion. A small nation is not.
"I have always hoped that our people would keep clear of blocs of every kind so that at any particular moment they would be able to advocate what they considered right and true. When we do it and say it, we are not suspect. Therefore, we have complementary parts to play, I think, in the world today.
"It is a great joy for me as representative of our people, Mr. President, to be here as your guest and to assure you that that close relationship between our countries which has existed for centuries, insofar as one human foresight can possibly measure, is likely to continue.
"I don't know if it would be in order for me to do so, but I ask you all to raise your glass in a toast to the President of the United States."
In the course of President Johnson's remarks he referred to Ireland's Minister of External Affairs, Frank Aiken, and Ambassador William P. Fay, Mrs. Eamon de Valera, and the Speaker of the House of Representatives and Mrs. John W. McCormack.
Lyndon B. Johnson, Toasts of the President and President de Valera Online by Gerhard Peters and John T. Woolley, The American Presidency Project https://www.presidency.ucsb.edu/node/239620