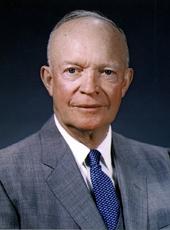 Toasts of the President and President de Gaulle.
Mr. President, Madame de Gaulle, and friends:
It is indeed a happy privilege for me to welcome President de Gaulle to this table on behalf of this company. My lasting respect and admiration for General de Gaulle began 18 years ago when I met him first in London. He and I were associates in a war, a desperate war, of which the hope was to gain a peace in which people could have faith and confidence.
At the end of that war we learned certain things about peace. One is that there is no peace merely because the cannons are still. Another is that many people talk about peace who are not talking honestly except as they conceive of a peace as a condition in which their opponents must surrender their privileges and rights and live in a state of serfdom.
Finally, we learn that peace is a rather delicate condition and characteristic, and it needs to be guarded with vigilance and with strength-with moral, intellectual, economic, and military strength.
Now General de Gaulle is a partner, with his country, of this country and this Government, in waging the peace. In waging the peace, we have other battles to fight. The campaigns and the battles against hunger, disease, privation, resentment, ignorance--all these are part of waging peace.
No single country can win this campaign by itself. We are proud indeed, in this country, that France with its great leader General de Gaulle is associated with us in this great effort--this worldwide effort; and more especially as a partner of ours in the great alliance of NATO, founded well over a decade ago to bring about a situation in which peace can be waged without fear and without bending to threat.
I can conceive of no more worthy partner that I should like to have at my side, in what efforts I can make towards waging the peace, than General de Gaulle. And for this reason I have a feeling of special honor in asking this company to join with me in a Toast to General de Gaulle, President of the French Republic and the French Community.
Note: The President proposed the toast at a state dinner at the White House. President de Gaulle responded (through an interpreter) as follows:
Mr. President:
Our two countries have given us--you and me--a sacred trust, that of Franco-American friendship. It seems to me that in our actions and in the performance of our duties, we have had the good fortune to preserve it and even to help it grow. Indeed, I do not believe that in the two countries since this flame was kindled, the United States and France have ever been closer to each other in mind and in spirit.
Once again, only a short while ago, Mr. President, Paris gave you magnificent testimony of this when you were there on an official visit. And this morning, Washington in return has just given an unforgettable truth: when the world is troubled, when danger hovers over the peoples, when those in authority face the task at one and the same time of opening the path of peace and finding the means to safeguard the right of man to liberty, this moral and political force constituted by the natural agreement of our two countries has a worth and an impact that are unparalleled.
The forthcoming international debate will no doubt afford a new opportunity for demonstrating this. But I must point out that in any case no one has contributed to it more eminently, more effectively in the light of history, than President Eisenhower, in time of war and in time of peace.
In saying this, Mr. President, I am expressing the sentiments that we feel, my wife and I, when we are with you and Mrs. Eisenhower. I am also expressing the cordial and trusting frankness that inspire me in the talks that we have begun.
I raise my glass to President Eisenhower, the Government of the United States, to the American people--the friend and ally of France.
Dwight D. Eisenhower, Toasts of the President and President de Gaulle. Online by Gerhard Peters and John T. Woolley, The American Presidency Project https://www.presidency.ucsb.edu/node/234174