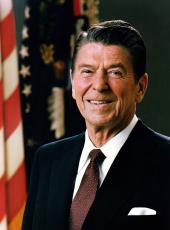 Toasts of the President and President Chun Doo Hwan of the Republic of Korea
President Reagan. Nancy and I, Mr. President, are pleased to welcome you and Madame Chun to the White House. You are one of our first guests here. We haven't lived here very long, and in looking about, I can't help but contrast the peaceful and rather elegant setting with a meeting that took place in your country 30 years ago in a building in your capital in Seoul that was badly damaged by the war. It was just after the landing at Inchon. General Douglas MacArthur turned the command of the city over to President Rhee and the civilian authorities of the Republic of Korea. And General MacArthur spoke then of the special friendship that exists between our two countries and of our mutual commitment to democratic principles and individual liberty and personal dignity.
We've come a long way together since that meeting. You have a saying in your country that after the rain, the earth hardens. Well, the miracle of modern Korea is well known in the world. Nancy and I had the opportunity to see that miracle at first hand a few years ago when we visited your country. And we recall that visit with great warmth and great pleasure.
In the very short time, Mr. President, that you've had, you've done much to strengthen the traditions of 5,000 years of Korean history. We share your commitment to freedom. If there's one message that I have for the Korean people today, it is this: Our special bond of freedom and friendship is as strong today as it was in that meeting 30 years ago. Our young men have fought side by side, not only in Korea but in Vietnam. And again there, the cause was freedom. And today we are committed to each other's defense against aggression. We shall continue to search together for continued peace on the Korean peninsula, in the Pacific region, and throughout the world.
Now, will you all join in a toast celebrating the never-ending friendship of two nations and toasting the President of the Republic of Korea, President Chun, and Madame Chun.
President Chun. Mr. President, Mrs. Reagan, Excellencies, distinguished guests, ladies and gentlemen:
Allow me once more to express my very profound gratitude to you, Mr. President, for your and Mrs. Reagan's most gracious hospitality on this heart-warming occasion, and thank you, Mr. President, for your extremely kind words of welcome.
You have honored my country by inviting my wife and me today to the White House, and I thank you, Mr. President and Mrs. Reagan, for your invitation to me so soon after your inauguration as the President of the United States of America. With God's blessing, the United States will more than successfully achieve its national objectives under your great leadership. The new era of great renewal for America will certainly succeed because of your statesmanship and greatness in the American people that you will be serving and leading in the years ahead.
Incidentally, the Republic of Korea, too, embarked upon a new venture to open a new era for the country. The new era will be characterized by a renewal of the spirit of national harmony, replacing the old chronic and internecine battles between those who take rigid and extreme positions. We are determined and hopeful that we can usher in an era of dialog and consensusbuilding so that our national energy can be channeled to a far more constructive objective of building a freer, more abundant, and democratic society in our midst.
Next year, Mr. President, we will be observing the centennial of the first signing of the Treaty of Peace, Amity, Commerce and Navigation between the Kingdom of Korea and the United States of America. Since that time our two nations have maintained exceptionally close ties. In the more recent past when North Korean Communists invaded the Republic of Korea in 1950, Americans came to Korea to fight and make the supreme sacrifice in its defense of our liberty and independence.
After the armistice, the United States gave us generous assistance to rehabilitate our war-devastated economy. Mr. President, Korea has in recent years achieved rapid economic development despite countless difficulties. We are moving ahead vigorously in all sectors of society. Korea is now the 16th largest trading country in the world and ranks 11th among the trading partners of the United States. In other words, American assistance has not been in vain.
The Republic of Korea is now capable of joining with the United States to ensure the prosperity of mankind and peace in East Asia. Mr. President, you have aroused renewed hope, courage, and confidence within the United States and now lead the march toward an even greater future. I believe that your philosophy applies not only to the United States but to all free world nations.
I am convinced that our two nations will march forward as mature partners who will rely on and help each other through the complex and challenging decade of the 1980's.
Ladies and gentlemen, will you kindly join me in a toast to the good health of the President and Mrs. Reagan, to the prosperity of the United States, and to strong friendship between the Republic of Korea and the United States of America.
Note: The President spoke at 12:30 p.m. in the State Dining Room at the White House. President Chun spoke in Korean, and his remarks were translated by an interpreter.
Ronald Reagan, Toasts of the President and President Chun Doo Hwan of the Republic of Korea Online by Gerhard Peters and John T. Woolley, The American Presidency Project https://www.presidency.ucsb.edu/node/247156