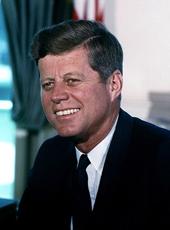 Toasts of the President and President Chiari of Panama
Gentlemen, Mrs. Sullivan, who represents the women of America here, especially selected for that responsibility:
I know that you all join me in expressing our great welcome to the President. I must say that his visit has particular pleasure for me.
Mr. President, 2 weeks ago we were the host to the President of the Ivory Coast, President Houphouet-Boigny, who in a free election was elected by 98 percent of the vote which made us in this country where we have had closer elections than that feel somewhat uncomfortable. But I understand the President here was elected by 8,000 votes, so he is really welcome. We had a landslide here.
We are just getting some figures from the election in Peru, where the prediction is one candidate will get 32.3 percent and the second candidate will get 32.1 percent. It shows what a vigorous democracy we have in this hemisphere.
We are glad to have here the President and his distinguished Ambassador who is a friend of all of us; Dr. Arias, who is the finance Minister, who is a graduate of Harvard. It took him 3 years to get a degree from Yale. It can be done in less than that. I will tell you that. We also have the foreign Minister, who played a very vigorous role on many occasions, including Punta del Este, for which we are most indebted, and we are very glad that the President brought him in his party, the leader of the opposition. The bipartisan tradition is strong here, and I will take Everett with me wherever I go out of the United States in an attempt to follow your example.
In any case, we are very glad to have you here, Mr. President. Panama has been very generous to the United States. And we are quite aware that whatever contribution or whatever blessings the Canal gives to Panama, it gives great blessings to the United States and is very essential to our security and also to the economy and security of so much of the world. Obviously this places-whatever good things it brings to Panama, it also places heavy burdens upon Panama, and we recognize those, and we recognize that there are many problems that come from it. The finance Minister was talking about only one of them the other day, but everything we do here in this country has a reflection upon Panama. So that these matters--merely because countries have long traditions of friendship, I believe that they should meet more frequently than those countries which have disagreements, because we want to maintain our close relations with our friends. Therefore, I think it is most appropriate that you should come here, Mr. president, and that this administration, in a sense for the first time, should have a chance to review our relations, to see a, hat steps we can take to serve the interests of both of our countries, and these are not matters which should be left to time.
So I think this is a most appropriate time. I want the delegation from Panama to know how welcome they are. I can assure them that all of the matters that are on the agenda have been given, are being given, and will be given the most serious consideration by this Government. We are very anxious to maintain the most friendly relations with Panama, and take every step we possibly can to insure that these relations are friendly and fruitful in the future.
We recognize the challenges that Panama faces as I am sure you recognize the responsibilities that the United States carries.
So, Mr. President, you are most welcome and the members of your Government are most welcome. And I hope that in your presence here in a sense the people of Panama sit at this table, as well as the people of the United States.
So that I hope all of you will join with me in drinking to a country with whose destiny ours is inextricably tied, and that we will pay a salute to our friends in Panama, and also drink particularly to the very good health of our distinguished guest, the President.
Note: The President proposed the toast at a luncheon in the State Dining Room at the White House.
In his response, President Chiari expressed his appreciation for the welcome accorded him. He stated that it was good for the two presidents to get together and discuss the relations between the two countries which, he noted, "are tied in a good and sincere friendship. You believe in democracy, you fight for it, and you have shown it at different times.
"Mr. President," he continued, "we are a small country and we do not have the ways that we can show the way you did it, but we believe also in democracy and we fight for it, and we fight to keep it in our country . . ."
President Chiari concluded by saying, "We bring from Panama an outstretched hand to shake a hand that we believe is our friend and certainly for a great many years."
In his opening remarks President Kennedy referred to Mrs. Leonor K. Sullivan, U.S. Representative from Missouri. Later he referred to Ambassador A. Guillermo Arango, finance Minister Gilberto Arias, and foreign Minister Galileo Solis, all of Panama, and to U.S. Senator Everett McK. Dirksen of Illinois, minority leader of the Senate.
John F. Kennedy, Toasts of the President and President Chiari of Panama Online by Gerhard Peters and John T. Woolley, The American Presidency Project https://www.presidency.ucsb.edu/node/235839