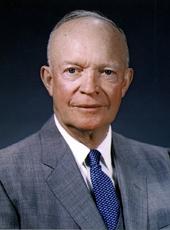 Toasts of the President and President Bayar at the Turkish Embassy
Your Excellency, Madame Bayar, my friends:
A very wise teacher that I greatly admired once observed to me that life is made up of friendships, friendships of various kinds, it is true, and in each case the qualities appropriate to the relationship that exists between the peoples or the groups.
In the world today, there is a free world--and its opponent is a world that is ruled by dictatorial processes behind the Iron Curtain.
The free world is bound together by friendships. The world behind the Iron Curtain is bound together by force, or the threat of force.
If these friendships are strong, then the free world will have unity. And we well know that in unity is strength, as in disunity is weakness and destruction.
The United States has sought friends, and will continue to seek friends, in this world; and it will measure friendships in those qualities that we call the ennobling virtues of man: his courage, his capacity for self-sacrifice, his readiness to stick by his friend until the end--courage, stamina, gallantry.
It is in these terms and these qualities that we so value our friendship with Turkey. We have found her--we have proved her, on the fields of Korea, for our sons are buried together, where numbers of them fought shoulder to shoulder--we have found them to be a nation of courage, of gallantry, of stamina.
To a friendship of this kind, one that has been forged and maintained in common recognition of these values, there are always two others: confidence and faith.
This evening, as I stand here, I say to you, with no shadow of doubt in my mind, that if the free world can be bound together in its entirety by the kind of friendship that binds America and Turkey, we have no more reason to fear the people behind the Iron Curtain than we have to fear ourselves as we sit here at this gorgeous board. [Applause]
And so, President Bayar, I am sure that those of my countrymen that are gathered this evening would want me to express to you something more than the polite courtesy that is due to the Head of a State on a visit to this Nation's Capital. They would want me to try to say that we value you and your visit as symbolic of a friendship that exists between our two countries. We value your visit because you bring to us something deeper than anything else in this world: true friendship.
And so, sir, with your permission, we raise our glasses to you, to Madame Bayar, and to Turkey.
Note: This toast was proposed at 10:05 p.m. in response to a toast by President Bayar at a dinner which he gave in honor of President Eisenhower at the Turkish Embassy. Immediately after the President finished speaking, President Bayar added in English "And to my hostess."
The toast proposed by President Bayar was given in Turkish. An English translation was then read as follows:
Mr. President, ladies and gentlemen:
I am happy to greet you and Mrs. Eisenhower to this Embassy. Having for many years occupied the center of world attention in the military and political field, you have since acquired renewed stature by being elected to your present position of supreme responsibility, showing the confidence that your great nation has displayed in you.
The people of Turkey are gratified to know that in the trying times that we must all endure in our quest for peace and safety, a victorious and glorified General and experienced statesman like yourself is at the head of the American democracy, which has undertaken great, historical responsibilities.
We learn with gratitude of your magnanimous proposal, calling for the international use of atomic energy in the service of the prosperity and health of mankind. Whatever may be the outcome of this epoch-making proposal, which constitutes the most incontrovertible evidence of the goodwill of the free world, history will always praise your country and yourself for this sublime endeavor. This worthy and humane initiative has proved once again in the eyes of the world the strength of the moral principles forming the basis of United States foreign policy, which has the safeguarding of peace as its main aim.
However ardent may be the love of peace which pervades our spirits, a glance at international relations is sufficient to show that what the free world has so far achieved in the search for peace is yet a long way from giving us the possibility to relax the efforts which we must make to attain that objective. No solution has as yet been found for any of the difficulties which cause the restlessness of the world.
Under these conditions, we have to keep up conscientiously our defense efforts, while we lend renewed vigor to our genuine endeavors for the attainment of peace. I am confident that we shall win the peace that will provide for mankind a life of liberty free of menace.
It is the duty of nations who can grasp realities to walk toward that goal with determination, solidarity, and without being carried away by delusions.
Ever since the day we proclaimed our Republic, we Turks--who are firmly attached to our motto of "Peace at home, and Peace abroad"--have believed that the most effective measure to prevent war is to set up an international organization capable of convincing any prospective aggressor that aggression will not meet with impunity, and to bring up citizens of the world untainted with the vices of envy, greed, and grudge.
The American people, who in the perilous years have set the whole world an example of idealism and magnanimity, may rest assured that they have found in the Turkish nation a firm companion on whom they can rely in every way. The sons of Turkey have fought shoulder to shoulder with your sons under the banner of the United Nations, as a symbol of the human virtues of right and liberty, who have together performed legendary deeds under an able command, and who have died together for a great ideal.
A signpost which stands on one of the frontiers of Turkey reads: "We Turks are proud of our nation, and are prepared to die for it." That motto sums up the outlook on life of the Turkish people.
Mr. President, I drink to your health, and to the health of Mrs. Eisenhower, and to the happiness and prosperity of the American nation.
Dwight D. Eisenhower, Toasts of the President and President Bayar at the Turkish Embassy Online by Gerhard Peters and John T. Woolley, The American Presidency Project https://www.presidency.ucsb.edu/node/231744