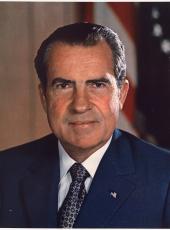 Toasts of the President and Minister for Foreign Affairs Takeo Fukuda of Japan at a Dinner Honoring Members of the Japanese Cabinet
Mr. Vice President, Mr. Foreign Minister, Mr. Secretary of State, members of the Cabinet of the Government of Japan, members of the Cabinet of the Government of the United States, and all of our distinguished guests:
It has been a very great honor for me and for Mrs. Nixon to host in this State Dining Room, since we have been in this house, the heads of government and the heads of state of a number of governments around the world. This is the first time that we have had the honor of hosting a group of the top members of a cabinet of a government of another country. And I should also add, that earlier in Our term of office, we had the great honor of receiving Prime Minister Sato and having him at this table.
Now we have the special group from the Cabinet of Japan here, and, on September 26, Mrs. Nixon and I will fly to Anchorage, Alaska, to welcome the Emperor and Empress of Japan as they stop there on their way to their state visit to various capitals of Europe.
It seems to me that there is a special significance in the fact that Japan is the only country in the world in which, in addition to the traditional dinner for the head of government, or the head of state, that we have a dinner for the Cabinet and also, that we have the opportunity to welcome the head of state as he passes through our country.
This indicates the very close relations, the special relationship between the United States and Japan; the relationship to which I have referred often when I have visited Japan, both as Vice President and when I was out of office, and also when Prime Minister Sato was here.
It refers also to the fact that both of our countries recognize that peace in the Pacific is essential to peace in the world and that friendly relations between Japan and the United States are essential if we are to have peace in the Pacific.
Today the fact that we have these many contacts at so many levels is the best indication that we could possibly have of the intention of both governments to have friendly and peaceful relations.
This does not mean that our two countries, being countries made up of strong competitive people, will not be competitors, but as we look at the situation, we find that we are competing in the production of products for peace. And that kind of competition and peaceful challenges in peaceful areas is good for both countries and good for the world.
And so, Mr. Foreign Minister, I can say that speaking for the members of our Cabinet who have met with you and your colleagues that we appreciate the time that you have taken to journey here to meet with us, as we have journeyed to meet with you on occasion, members of our Cabinet last year and over the past 10 years. And we also want you to know that as time goes on we realize that these close and friendly contacts, at all levels in our government, are the key to that friendly relationship which will mean friendship between Japan and the United States and which can also mean, and will mean, peace in the Pacific and peace in the world.
In looking into the history of our two countries, I found a letter that was written by Abraham Lincoln, whose picture is in this room, 110 years ago, at the very beginning of our Civil War. He wrote to the Emperor of Japan and his letter read in part that he wished many years of abundant prosperity to the great country over which Your Majesty presides.
It is in that spirit that today I know all of us would want to join in raising our glasses to the Emperor of Japan.
The Emperor of Japan.
NOTE: The President spoke at 10:01 p.m. in the State Dining Room at the White House.
The Japanese Cabinet members were in the United States for a meeting of the Joint U.S.-Japan Committee on Trade and Economic Affairs. The Committee met in Washington, D.C., on September 9 and 10, 1971, under the chairmanship of Secretary of State William P. Rogers.
Mr. Fukuda responded in Japanese. His remarks were translated by an interpreter as follows:
Mr. President, Mrs. Nixon, Mr. Vice President, Mrs. Agnew, distinguished guests, ladies and gentlemen:
On behalf of my delegation, Mr. President, I wish to express a deep appreciation for the great honor you have extended to us at this charming dinner in the White House.
Mr. President, I believe that you have always had a deep interest in Asia and you have many personal Japanese friends and possibly a greater knowledge of Japan than any other President in the history of the United States. Although this is a bit belated, but I'd like to say that upon your assumption of office of the President of the United States, the Japanese people felt a strong sense of expectation about your great future.
And we realize, Mr. President, that the demanding responsibilities that you have with such external, as well as domestic issues as the Vietnam war, unemployment, inflation, and others, the solution of which will depend heavily on what is to be done at this present time.
And we are deeply grateful, Mr. President, with your great extensive duties and your busy time, for a person such as yourself in those circumstances to have been gracious enough to have extended this invitation and to hold this dinner for my delegation.
I am also honored, Mr. President, to express the heartfelt appreciation of all the Japanese people for your very warm consideration in traveling many thousands of miles to Anchorage to welcome Their Majesties, the Emperor and Empress of Japan, to American soil.
Although there are some people who raise questions about the state of the Japanese American relationship in recent times, I am confident that the fundamental relations for friendship between our two countries are as firm today as they have ever been before.
However, it is also true that there has been some friction in our economic relations and concern lest this friction, if not dealt with appropriately, may possibly influence the basic relationship between our two countries.
I am very happy, therefore, that we have been able to mutually understand the economic problems existing between Japan and the United States by convening this Joint Committee at this time, since it will undoubtedly contribute to further promoting and strengthening our mutual friendship.
In the postwar world, the United States has been a strong pillar of international peace and prosperity, and the nations of the world hope that the United States will continue to remain so for many years to come.
Thanks to the good will and friendship of the American people, Japan has been able to achieve economic progress as we see it today, possessing as we do the second greatest productive power in the free world.
We well recognize, therefore, that Japan-U.S. cooperation is not only a matter of concern for our two peoples but also a matter of far-reaching inference for the entire world.
On this occasion, let me express my strong hope that Japan and the United States will continue to develop their mutual friendship and cooperation in order to bring about greater happiness to the peoples of our two countries and, further, to the hundreds of millions of other people on this earth.
Finally, I would like to say how grateful we all are for the very cordial welcome extended to us, and all the care that has been given to make our visit a happy one.
For example, two nights ago we stayed at Williamsburg, and on the day following that, we were permitted to play golf. Some of us played that game, and on that course with all those water hazards, I am sure that some of them lost many of their golf balls. So the President, being kind enough, I understand, will be providing us with the golf balls.
Thank you.
Ladies and gentlemen, may I ask that you raise your glasses to drink to the health and happiness of President and Mrs. Nixon.
Richard Nixon, Toasts of the President and Minister for Foreign Affairs Takeo Fukuda of Japan at a Dinner Honoring Members of the Japanese Cabinet Online by Gerhard Peters and John T. Woolley, The American Presidency Project https://www.presidency.ucsb.edu/node/240767