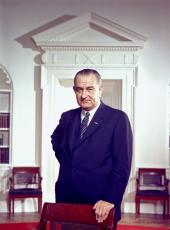 Toasts of the President and Mayor Willy Brandt of Berlin
Mayor Brandt, gentlemen:
I am very happy, Mayor Brandt, to welcome you here not only as the famous mayor of a free city and a flourishing country but as a good, long-time friend, too.
I recall most pleasantly that you first visited my State more than 10 years ago, and I shall never forget my return to your country in 1961.
You and I have a great deal in common, not the least of which is the fact that while journalism gave both of us a start in life, it has more recently given us many starts and little serenity.
In fact, Mayor Brandt, when Bismarck said, "We Germans fear God but nothing else in the world," I can only conclude that there were no magazines in Germany in those days.
So, it is a pleasure to have you in our city, in our country, in our house, and to greet you and, through you, the brave people of Berlin. I will never forget my visit there 3 years ago when your people demonstrated again as they have done so often the strength of their devotion to liberty. The fortitude of a lesser people might well have collapsed when the wall went up in Berlin in 1961, but your people met this challenge with good sense, with uncommon courage, and today West Berlin has taken on new meaning as a thriving industrial city, a busy metropolis, a center for education, culture, and research.
I want to assure you, Mr. Mayor, that the inequities and injustices of a divided Berlin in a divided Germany continue to be of major concern to our people in the United States. Our purpose is constant--a united Berlin within a united Germany, united by self-determination in peace and freedom. Until the objective is achieved, there can be no real and lasting peace in Europe or, indeed, in the rest of the world.
Berlin remains a symbol of hope, not only for a unified Germany but also for the cause of freedom everywhere; and with persistence and constructive efforts by men of good will everywhere, that hope will be realized some day.
So, gentlemen, I ask you to raise your glasses in a toast to the Governing Mayor of Berlin and through him, to the courageous people that he serves so well. Mayor Brandt.
Note: The President proposed the toast at a luncheon in the State Dining Room at the White House. Mayor Brandt responded as follows:
Mr. President, Excellencies, gentlemen:
I am most grateful for what your President just said, and I am happy and proud indeed that I could convey to you, Mr. President, the greetings from the people of Berlin--greetings and their expression of confidence and gratitude.
While talking about confidence, my thoughts go back to that Saturday, August 19, 1961, and to another day in June 1963. These 2 days meant so much to the people of Berlin and especially that August 19, 6 days after the Communists started to build that terrible wall when you, sir, came to Berlin and brought back the reassurance which some of us did not need but some felt they needed it, and you brought it back not only in a formal way but with so much humor, so much vitality that it impressed our people very much and helped us to overcome perhaps the most difficult period in our postwar life.
Every Berliner knows that the very fact that we have been able to rebuild our city, as you have just mentioned, sir, to make it once more a great industrial city and center, a cultural center as well, has only been possible because we have been given the chance to show what we can do under difficult conditions under the protective roof of our American, British, and french friends.
I would also like to say a word on behalf of my German fellow countrymen, because they are Germans not only in Berlin. Sometimes as Mayor of Berlin one concentrates very much upon one's own city--the same with mayors all over the world. They think they are the center of the world, but there are others who do not completely agree with them.
Of course, I cannot speak on behalf of the German people. Politically, I can only speak on behalf of 40 percent of the seats in the Federal Parliament and 5 of the 11 Federal states. But I think what I am going to say now is nothing which divides political life in my country. All of us regard the relationship and the alliance with the United States as being the central factor of our political existence. What I said about confidence and gratitude in the still beleaguered city of Berlin is still true for a great majority of the German people.
I am most grateful, Mr. President, that you have been kind enough to invite to this fine luncheon some of those gentlemen who have contributed so much to bringing about this new relationship which we hope will be an everlasting relationship between our peoples and our nation.
I think about General Clay who, as military governor, not only was the great defender of my city but also laid the foundation for the Federal Republic, and Commissioner McCloy who helped us to bring this Federal Republic into the Western Alliance.
In mentioning the names of these two gentlemen, of course, I always have to think about Secretary Dean Acheson who here in the United States gave us that chance which was not a natural chance, and we know better today that it also could have moved in another direction.
I am also grateful that two former American commandants in Berlin are with us--General Taylor and General Barksdale Hamlett who I see has almost recovered. I am very pleased to see the two gentlemen here.
Now may I add just these words, Mr. President: I know what it means when you take so much of your time for a visitor from Berlin and from Germany, and in such a natural way you described to me how you feel about our relationship and our obligations. You just spoke about our own problem which has to be looked upon as part of the problems of the Western Alliance as a whole; how much we always have to think about the causes of tensions when we try to overcome tensions and come closer to the stable world peace.
I always appreciate so much that you talked to someone who comes from Europe--in this case, from Germany--as someone who does not have to say "yes, sir," from early morning to late at night, but someone who stands for his own cause and has to combine his own interests, his peoples' interests with the common interest of the Western Alliance.
I should add that, of course, we feel while talking to you how much you feel about human beings not only in your country but also in others, and that you regard the problems with which we are confronted not as a power political problem but a problem of human beings whom we have to serve.
Now, sir, I don't know if what I am doing now is in accordance with the rules of protocol. I never will learn enough about the rules of protocol. I would not just propose a toast to the President of the United States. I have cause to do that and I have to do that, and I am happy that I have been given the chance to do that, but I would like to propose a toast to President Johnson--the human being, this brave, colorful, energetic man, this good friend of my people and my city.
Thank you so much, sir. May I ask you, gentlemen, to raise your glasses in a toast to President Johnson.
Lyndon B. Johnson, Toasts of the President and Mayor Willy Brandt of Berlin Online by Gerhard Peters and John T. Woolley, The American Presidency Project https://www.presidency.ucsb.edu/node/239763