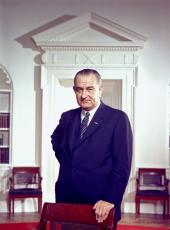 Toasts of the President and King Olav V of Norway
Your Majesty, Vice President and Mrs. Humphrey, distinguished guests, ladies and gentlemen:
Neither the man nor the nation nor the traditions that we salute this evening, are strangers to America. The man and his family have been here before. The nation is one of the great nations that helped make America. The traditions have influenced our own.
Still, this is the first time that a reigning Norwegian monarch has visited here. This gives us a very special occasion to express the gratitude, as well as the admiration, that has been in all of our hearts so long.
Last night I went to dinner in Chicago with 7,800 politicians and partisans. Tonight I dine with a King. There, Your Majesty, is democracy--with a little "d." It is really a wonderful system when the President of our country, in an election year, can attend two consecutive dinners on two consecutive nights and deliver two nonpolitical speeches.
You don't know how grateful I am because I do need the practice.
I think I must also say that I very much envy our distinguished guest. He is that rarest of all visitors to this house--a man who is nonpolitical by law. I think some of you might suspect the very special pleasure that we had in meeting today, how much of common interest that we had to talk about-just the two of us nonpoliticians.
Sitting there in the White House listening to His Majesty, I began thinking of the life of kings. Then I got some ideas about my own retirement plans. I have not forgotten that the kind people of a small South Pacific island once upon a time offered me their throne. But perhaps I might just as well forget it now because someone might say that I was thinking of establishing the 51st State and planning to crown everything with the "comeback."
Your Majesty, our admiration for Norway has never been more substantial than it is now. As you may know, sir, I come from a section of our country known for its modest restraint in describing its own merit. I know you will observe that when you visit us in the days ahead.
But I must admit that even I am in total awe of your modesty and your restraint. I know that if I could speak for Norway following the Winter Olympics, I don't think that I could ever stop talking about it. However, what transpired during the Winter Olympics was really not out of character for Norwegians. The world has always admired the courage and the ability and the hearty endurance of the people of Norway. Their courage during the dark days of World War II is legendary. Their ability as artists and statesmen is no less so.
Let us remember that Norway was the home of Ibsen, Grieg, and more recently of Trygve Lie.
The sons of Norway endured in the bitter winds of the open prairie to find a new prosperity in our own land and to give new strength to our own society.
One of the sons of Norway in America, Hubert Humphrey, has shown all of these qualities. They have already led him to the second highest office in this land.
Your Majesty, Americans know that Norway is a friend of dignity all around the world. We know that Norwegians have built a fine life at home that is based on freedom and based on equality.
We celebrate the fact that Norway and the United States are allied in the causes of peace and the causes of progress. We work together in the United Nations, at Geneva, at the OECD in Paris, and in many other major international forums. In the Atlantic Alliance, Norway stands courageously on NATO's northern flank.
Your Majesty, you mentioned to me this morning that we share a sense of community-and that is so. I know that you will feel at home as you visit throughout our country in the weeks ahead. And we are so pleased that you could come here and spend some time with us.
I believe that your presence will further intensify that sense of community of which you spoke.
Ladies and gentlemen, I would like to ask you to join me in a toast to His Majesty, the King of Norway, to the people of Norway, and always to the Norwegian-American enduring friendship.
Note: The President spoke at 10:09 p.m. in the State Dining Room at the White House. In his opening words he referred to Vice President and Mrs. Hubert H. Humphrey. During his remarks he referred to, among others, Trygve Lie, first Secretary General of the United Nations. King Olav responded as follows:
Mr. President, Mrs. Johnson, ladies and gentlemen:
I thank you, Mr. President, for the kind words you have just spoken to me and for the cordial welcome I have received in the United States.
As you are aware, Mr. President, I know your country from a number of previous visits. The first time I came to the United States was in 1939. On that occasion, the Crown Princess and I stayed here for over 2 months and visited many of the individual States.
I returned seven times during the Second World War, when my wife and my children had the good fortune to enjoy the hospitality of America, and there have been later occasions in which I revisited your great country.
The common feature of all these visits, Mr. President, is the great understanding and hospitality which the American people have shown and which I have appreciated most deeply.
Over the years, strong ties have been knit between our two countries. Since the latter half of the last century a large number of Norwegians have settled in the United States. It is highly gratifying to us to see how the descendants of our immigrants still cherish their connection with the land of their forefathers. Many of these people keep in touch with and seek out their relatives in Norway and we are happy to know that the valuable bonds of kinship are consequently kept intact.
Our two countries are also firmly united by our respective constitutions and by the common view of freedom and democracy which they express. We Norwegians are proud of our Constitution--as the American people are of theirs. It is well known that when the Constitution of Norway was drafted in 1814 the American Declaration of Independence and the American Constitution were a great inspiration to us at that time.
Norway and the United States were joined by even closer ties during the Second World War. I welcome this opportunity to convey to the American people the warm gratitude that all Norwegians feel for the exertions made by the United States to help us, as well as other nations, to regain our liberty.
We know what sacrifices were demanded of you. I and my countrymen will always honor the memory of those brave sons of America who gave their lives that we might live as free men in a free Norway.
Allow me, too, to tell the American people how grateful we are for the financial help we received after the Second World War. The war had devastated large areas of Europe. The economic systems had collapsed and the various countries lacked the stability and the international cooperation which were needed to get reconstruction going.
To Norway--as to other countries--the Marshall aid was of immeasurable importance in helping us to overcome the ravages of war and in paving the way for further progress.
In the effort to build a better world after the war, our two lands have worked side-by-side within the United Nations. The United States and Norway have attached decisive importance to the United Nations as a preserver of peace and an organization for the furthering of economic and social progress and international understanding.
There is now much more contact between nations of the world than ever before. The need for an active participation in international affairs is constantly increasing.
We consider it a very important part of our foreign policy to see to it that the principles of the United Nations always remain the guiding light in international relations. It is our hope that active and earnest cooperation within the United Nations will help to put mankind on the road to a better and more confident future.
The recently drafted nonproliferation agreement concerning nuclear weapons is a conspicuous example of the usefulness of getting together to secure peace. The Norwegian people warmly welcome this agreement which the United States has so greatly helped to bring about.
In international and economic relations, Norway considers the results of the Kennedy Round-initiated, Mr. President, by your predecessor--as an important step toward the liberalization of world trade.
In accordance with our principles in these matters, we think it particularly important to extend and develop the initiative provided by these negotiations and to safeguard the results that were achieved.
Since time immemorial, the sea has been vital to our existence, and a highway between my country and other nations. Norway has no great fertile land and has little national wealth. But in the ocean, we have developed a specialty which has proved important to the free world, both in peace and in war.
At an early date, Norwegian shipping was able to offer its services based on open competition to most other countries. Our merchant navy at present ranks with the largest and most highly modernized fleets in the world. And I am glad to know that Norwegian ships are frequent callers in most American ports.
So, Mr. President, the Atlantic Ocean is no barrier between us, but serves, on the contrary, to unite us. I hope Norwegian shipping will always be able to continue this valuable intercourse.
A large number of young Norwegians come to the United States to study at American institutions of learning. Many Norwegian students benefit from American scholarships and thus become acquainted with your great society and the American system of education.
In this way, additional contacts are made between our two countries.
On behalf of all these, my countrymen, I here extend my cordial thanks to the United States and the American people.
I do not wish to conclude, Mr. President, without emphasizing relief and pleasure which we, too, experienced in my country at the news of the initial negotiations for peace in Vietnam. I know that I speak for all my countrymen when I express my fervent hope that these negotiations may be attended with success and lead to a peaceful settlement.
I also express to you, Mr. President, my deep sympathy in connection with the tragic death of Dr. Martin Luther King. The people of Norway share the grief of America at his passing away.
I thank you again, Mr. President, for the friendly reception I have been accorded in your country and your Capital.
I propose a toast to the President of the United States and Mrs. Johnson, to the United States and to the American people.
Lyndon B. Johnson, Toasts of the President and King Olav V of Norway Online by Gerhard Peters and John T. Woolley, The American Presidency Project https://www.presidency.ucsb.edu/node/237725