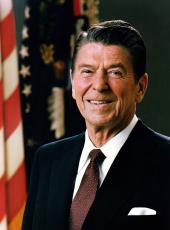 Toasts of the President and King Juan Carlos I of Spain at the State Dinner
The President. Your Majesties, welcome to the White House. In the epic poem, "El Canto de Mio Cid," it is pointed out that el queen buena hora nacio, el Cid was born in a favorable moment. Historically, he actually came into a world desperate for leadership. With courage that inspired a nation, el Cid, turning despair into hope and weakness into strength, won a series of battles against the foreign invaders who occupied much of Spain.
Tonight we honor a 'man who, like el Cid, was born in a favorable moment. Mankind is in desperate need of leaders with courage and wisdom. We watch the progress in Spain, the magnificent strides toward political freedom, with a sense of awe. In a world that seems to be drowning under a wave of authoritarianism, Spain shines as a beacon of hope.
This kind of progress requires of the people and of their leader a certain strength of character neither necessary nor natural in despotic regimes. Building a free society is every bit as perplexing and at times threatening as the struggle that faced el Cid. Such times as these and such challenges as those facing your country separate great leaders from lesser men, who by circumstances find themselves in positions of political power.
King Juan Carlos, Queen Sophia, and the Spanish people have risen to the task God has placed before them, and the world is being given a majestic gift—a truly free and prosperous Spain. Over the centuries, Spain has contributed so much. Whether one talks of the great Cervantes and the development of modern literature, or refers to the painting of Goya or El Greco, certainly Spain has provided Western civilization with a multitude of priceless gifts. And now, King Juan Carlos, with the courage of el Cid and the skill of the great Spanish masters, is creating a masterpiece of democracy.
In America we recognize that even with the proper leadership, a nation must have great people to maintain liberty. And in the case of Spain, we have total confidence.
So tonight, I ask you to join me in a toast to Their Majesties, to King Juan Carlos, Queen Sophia, and to the people of Spain. May they live in peace and freedom benefiting such a great people.
The King. Mr. President, Mrs. Reagan, I have followed the ideas expressed in your toast with keen interest and should like now, for my part, to tell you that it is a great pleasure for the Queen and for me to visit your great country once again and to listen to your warm and cordial words.
Five years ago, when I first visited your nation as King of Spain, it was my honor to tell your Congress that the restored Spanish monarchy had undertaken the commitment to be the institution under which all Spaniards would find ample scope for political participation, with no discrimination whatsoever. Today, 5 years later, I am proud to confirm that what was then a statement of intention is now a palpable and profound reality—a constitution approved by the people and by the freely elected parliament.
My country, Mr. President, a pioneer in the forging of the fundamental values of what we call the West, supported by its historic credentials and its Western and European vocation, which it will not renounce, wishes to occupy once again the place to which it is entitled in the international community. At the same time, it would like to offer as in years past its collaboration and its effort in the defense of the principles which are the very shared essence of our two nations.
On no scale of values can there be a more important goal for our two peoples than that of the defense of the principles in which the West finds its roots. Through this defense, consisting in the permanent safeguarding of the sovereignty and freedom of all the peoples of the Earth, Spain wishes to contribute to maintaining international peace and security.
We are fully aware that the peoples and nations which place moral and spiritual values above ambition for power and things material do freely express their will to live in peace with dignity. And we know that their freely elected governments heed these aspirations and join their efforts in order to attain the same goal.
Like your country, Spain defends peace and the rule of law, opposes threats and the use of force, and rejects all outside interference in its own affairs. It is in these terms that we conceive our international relations, which we wish to maintain peacefully with all peoples.
Our friendship with the American nation is as old as its origins. Yesterday, the day of our arrival in your country, was the 489th anniversary of the arrival of the Spaniards to this continent. With that magnificent event a new era began in world history, and through that heroic exploit, which was followed up by explorers and colonizers, the lands of America, from Alaska to Tierra del Fuego, came to form part—and still do form a fundamental part of our Western World.
You also know, Mr. President, better than I, what the Spanish presence has meant in the American West—the tremendous work carried out by the Spanish explorers, missionaries, and colonizers in that region; the founding of dozens of towns and cities which even today form a rosary of names echoing with the sounds of Spain.
These are links, Mr. President, which nothing and nobody can break; very strong ties which transcend the vicissitudes of the moment and serve to reinforce the mutual understanding and friendship of our two peoples. This friendship now takes on a new dimension in view of our will to reinforce our progressive participation in the European and Western effort, aimed at achieving a world that is ever freer and more just and in which our sister nations may fully participate.
To the relations between Spain and the United States, that in the future they may produce abundant fruit and that the ties which unite our two countries may intensify and become ever closer, I raise my glass tonight. With my good wishes for the well-being of the great American people, and for your own personal happiness, Mr. President and Mrs. Reagan.
And I should like to express one other hope, that is that the invitation that the Queen and I have extended to you, on behalf of Spain and of the Spanish people, to visit us in Spain during your term of office at a mutually convenient time can be accepted by you. I think we can provide for you a welcome which you would like.
Note: The President spoke at 9:23 p.m. in the State Dining Room at the White House. King Juan Carlos spoke in Spanish, and his remarks were translated by an interpreter.
Ronald Reagan, Toasts of the President and King Juan Carlos I of Spain at the State Dinner Online by Gerhard Peters and John T. Woolley, The American Presidency Project https://www.presidency.ucsb.edu/node/247416