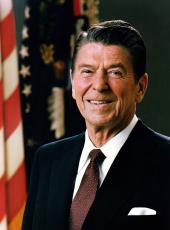 Toasts of the President and King Hussein I of Jordan at the State Dinner
The President. Your Majesties and distinguished guests:
King Hussein once explained the three virtues upon which Bedouin life is based, saying, "We believe to be an honorable man, you must have the courage to defend your honor; we believe you must always show hospitality; and what is yours belongs to your guests." Tonight it gives me great pleasure to extend American hospitality to King Hussein and lovely Queen Noor. We cannot hope to match the graciousness of the Bedouins, but we do hope you'll consider what is ours is yours.
Having been a longtime friend of this country and the guest of many Presidents, His Majesty probably has been to dinner in this room more often than I have. [Laughter]
I've been told that early in his reign, King Hussein decided that he should know exactly what was on the minds of his people. So one night he commandeered a taxicab and then took over and posed as the cabdriver and ventured into Amman. It turned out to be a lively night. He picked up a fellow carrying a heavy bag of vegetables and then engaged him in conversation. And being modest and wanting to find out what they really thought, cabdriver Hussein was not exactly complimentary about King Hussein. [Laughter] And not knowing to whom he was talking, the faithful subject, the passenger in the cab, told the cabdriver that he'd beat him black and blue with a stick if he heard anything more said against the King. That fellow is probably still wondering why the cabdriver tipped him. [Laughter]
There can be little wonder, however, about why this citizen loved his monarch. King Hussein well represents the character of his people. His grandfather described this character. "The Arab," King Abdullah wrote, "has a penchant for unfettered liberty and cannot abide restriction or restraint. This is the reason why he has associated with the desert and the steppe and exhibits an incomparable bravery in defending his possessions. He is courageous and fond of oratory as well as poetry and love."
Tonight, we honor a man for whom liberty has personal as well as political meaning. Heads of state often find themselves restricted by their own staffs. King Hussein, for example, was once told that he could pilot airplanes as long as he didn't fly solo. His aides now know better. [Laughter] Today when many Americans think of King Hussein, an image of a swashbuckling pilot strapping himself into a jet comes to mind. And however attractive that image may be, it's Hussein's integrity that captures the hearts of Americans.
We are here to honor a head of state who's been a leader in the search for a just and lasting Middle East peace. Such a peace has been one of the most vexing international problems in the post-war world. Yet His Majesty has never abandoned the belief that people of good will, through dedication and vision, can find the means to bring peace with dignity, justice, and security to his region.
Our talks today ranged over numerous issues. The path ahead is fraught with both danger and opportunity. After our conversation, I remain certain we will walk this path as friends. Where we differed, we did so in that spirit and discussed how we can work together in complementary ways to achieve our shared goals.
Your Majesty, I learned much from our discussions. Furthermore, it's been a great delight getting to know you.
And now, I would ask all of you to join me in a toast to Their Majesties, King Hussein and Queen Noor, and to the long-abiding friendship between our two peoples.
The King. Mr. President, Mrs. Reagan, no words would adequately express the warmth of feelings that I have within me, the pride in a friendship that has meant so much, between our nations, and which has weathered storms and which has lasted for only a fraction of the time, I hope, it will last. For I am convinced, sir, that what is between us in terms of the ideals that are dear to us, the principles we uphold, the hopes and dreams, aspirations for a better tomorrow, the dedication to those ideals and principles, and the commitment to the cause of a better tomorrow with peace and dignity in our part of the world, or anywhere else, are elements that will always keep us together as brethren and as friends, proud of this friendship, ever determined to make our contribution to the fullest possible extent.
Sir, you have kindly spoken of some of the Bedouin traditions. I am proud to belong to the oldest tribe in Arabia, but I would like to say very frankly and sincerely that if we were to be outdone, you have succeeded in that respect in the warmth of your reception and the feelings that I have felt on this day that I shall always remember. Twenty-five years, sir, and then, many an occasion when I visited the United States and had the privilege of meeting with the leaders of this great Nation, yet no visit has been more important than this one, at this time, at this point in history.
I am one of many in this world who have had a very deep admiration for you and respect for your courage, for the fact that you have always stood in defense of principles and ideals. And throughout these many years, we have been proud to belong to the family of free nations, and the cause of freedom and justice is very dear to us.
I must say, sir, I have been looking forward to this privilege and pleasure of meeting you. And before we met this morning, I was feeling the weight of the responsibility I bore, because there is so much at stake in terms which I can't even express, in terms of all that is important, for now and for tomorrow.
I can only say, sir, that having had this privilege, I feel more encouraged than I have felt for a long, long period of time; a greater faith that all will eventually be right; pride in knowing you, pride in our friendship. You, to us, are an example—all the human, wonderful qualities that are yours.
There are many areas where we have common treasured possessions as well, sir. I was reminded today of the fact, when we were having lunch, that we were talking and sitting "Philadelphia style," I believe was the expression used. I was reminded of the fact that we came from another Philadelphia. That is the name of the capital of Jordan, its ancient name. And Philadelphia here for you is the beacon for freedom and the beginnings of the creation of this, one of the greatest nations of all times, the City of Brotherly Love.
There is much that we share. There is faith in our hearts. There is a commitment to do our best and to work together to obtain our common goals and objectives. I pray to God to grant you always good health and every continued success, sir, in your great duties as the head of this great Nation and its leader and in fulfilling your tasks and facing up to the challenge for a better future for all mankind.
I'll carry back with me, as will Noor and all the Jordanian friends, colleagues who have come with us on this trip to the United States, very treasured memories of this day.
Thank you both so much for your kindness, for this wonderful opportunity to be with friends, for the warmth of your welcome. God bless you, sir.
Ladies and gentlemen, I'd like you to join me in making a toast to President Reagan, President of the United States, to Mrs. Reagan, and to brotherly love, to friendship everlasting, and to a better tomorrow.
Note: The President spoke at 9:35 p.m. in the State Dining Room at the White House.
Ronald Reagan, Toasts of the President and King Hussein I of Jordan at the State Dinner Online by Gerhard Peters and John T. Woolley, The American Presidency Project https://www.presidency.ucsb.edu/node/246767