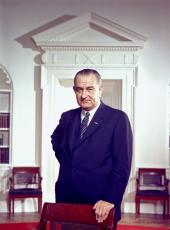 Toasts of the President and King Hussein I
Your Majesty, Your Excellencies, ladies and gentlemen:
I think I should begin tonight with a word of explanation. Presidents of the United States have many responsibilities, but responsibility for Washington's weather is not one of them.
But, Your Majesty, whatever the weather outside, it has not dampened the friendship and the accord of our most cordial exchanges earlier in the day and again tonight.
As we expected it would be, this day has been in every respect another memorable milestone in the relations between Jordan and the United States.
The American people are quite honored, and Mrs. Johnson and I are proudly privileged to have Your Majesty as a most welcome guest in this country and in this House.
His Majesty and I have found that we have some things in common. As some of you know, His Majesty in his desire to be closer to his people has been known to disguise himself and drive a taxicab through the streets of his capital. I have not as yet found a successful disguise for myself--and the streets of our national capital are sometimes crowded with cabs--but I am trying to spend the weekends lately with the people of my country who are touring Washington.
This facet of His Majesty's fresh and imaginative leadership symbolizes the character and the personality which has won for him so much respect in our land and has won for him respect throughout the world. He represents a new generation of Arab leadership. In Jordan, he and his people have brought that ancient land of the camel, the date, and the palm to the threshold of a bright and a hopeful and a modern future. His own great inspiration and guidance have meant much to this effort and have helped to work major changes for the benefit of all of his more than 1,700,000 people.
When His Majesty returns to his homeland, he will carry with him the best wishes of all Americans for a long and a most peaceful reign, marked by blessings of a good and fruitful life for all the people of Jordan.
So, ladies and gentlemen, our most honored guests who do us the honor of coming here this evening, I ask you now to join me in raising your glass to this young leader of this proud and ancient land, His Majesty.
Note: The President proposed the toast at a dinner in the State Dining Room at the White House. King Hussein responded as follows:
Mr. President, no matter how I try I must admit that I will fail to find words to express my true feelings of gratitude to you for all the kindness, warmth, and hospitality that you have given me since my arrival in Washington.
Today has been a day I shall always remember. I had heard a great deal about you and admired you from afar, but you gave me the opportunity to come to the capital of this great nation and to meet you personally and to speak with you. from my side, I have learned a great deal and have attempted my best to explain some of our views in the Arab world and, before that and above that, to bring you the greetings and the best wishes for your continued success from all Arabs.
I shall remember this day always and I shall carry back with me happy memories and impressions and, most important of all, I treasure this friendship--a friendship between us and the friendship that grew and will grow stronger between our peoples.
Sir, you were very kind to speak of me and I feel that I am not worthy of all of this praise because I have tried to do always my best in the service of a people I am proud to serve.
As I said many times, there are many things that we have in common, many things that we are proud of--our ideals, our principles, and our beliefs and our joint struggle to have the better future we all seek.
I thank you, Mr. President and Lady Johnson, for giving me the opportunity to be with you this evening, for your kindness in permitting me to meet and make so many friends. I thank you for so much and I am deeply grateful.
Ladies and gentlemen, I would be very grateful if you would join me in a toast to the President of the United States of America.
Lyndon B. Johnson, Toasts of the President and King Hussein I Online by Gerhard Peters and John T. Woolley, The American Presidency Project https://www.presidency.ucsb.edu/node/239399