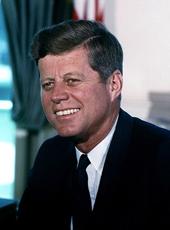 Toasts of the President and King Hassan II
Ladies and gentlemen:
I know that I speak on behalf of all of our countrymen in welcoming the King here to the United States, His Highness and Her Highness and the members of his Government. The relationship between his country and ours goes back much further than most Americans realize. And I think his visit reminds us of a time when the United States was in great difficulties, great danger, great hazards with few friends and the first of those friends were his predecessor and ancestor, the Emperor of Morocco, who recognized the United States before others were willing to do so.
So, we are glad to have him here. Another of his ancestors was generous enough to give to the American Consul a home in 1821, a custom which no American Government has seen fit to follow! He wrote a letter. The Sultan's directive to the Authority of Tangiers sounded like this, "I order you not to take any rent from the American Consul, John Mullowny, for the house he lives in and that he may do as he thinks proper with it."
We are glad to have him here, not only because he makes those of us who hold office seem somewhat elderly, but also because in the 2 years that he has held office he has achieved an astonishing success. The Constitution which was submitted to his people met with an overwhelming majority. This is the first spring that North Africa has found peace, and a good deal of the stability which we hope to and will find, I think, in North Africa will be due to His Majesty's efforts. So I think we are fortunate to have him here. I think he knows he is very welcome.
We value our old friends and we value, particularly, those that are seeking, under great difficulty, under great pressure, to find a position for their country which advances the welfare of their people, the stability of their area, and the peace of the world. George Washington sent to the Emperor of Morocco the American Constitution and in the letter which he sent accompanying it he said the following words, which I think still govern the policy of the United States towards His Majesty's country. Washington wrote, "It gives me pleasure to have this opportunity of assuring Your Majesty that while I remain head of this nation I shall not cease to promote every measure that may contribute to the friendship and harmony which so happily subsist between your Empire and this Republic and shall esteem myself happy in every occasion of convincing Your Majesty of the high sense which, in common with the whole nation, I entertain of the magnanimity, wisdom, and benevolence of Your Majesty."
George Washington's words govern us in our relations with Morocco as they do in so many other matters. And it is a high honor for me, on behalf of the people of this country to ask you to join with me in drinking a toast to the good health of His Majesty the King.
Note: The President proposed the toast at a dinner in the State Dining Room at the White House.
In his response (as translated from the Arabic) King Hassan thanked the President for inviting him to visit the United States. He stated that his country would continue the policy of nondependence which had been originated by his father. He said that this is "a positive policy, one which is characterized by realism and vitality, a policy which aims at dealing with all nations without discrimination as to religion or language or color, dealing with all nations on the basis of equality and mutual respect and without interference in their domestic affairs."
King Hassan stated that he felt the forthcoming deliberations would reflect the meaning of the joint statement concerning the evacuation of the American bases in Morocco which was issued in December 1959 following the meeting at Casablanca between his father and President Eisenhower. He added that he was sure his talks with President Kennedy would "exemplify the services which military bases can render to a developing country like Morocco when these bases, with the assistance of your Government, are transformed to civilian centers carrying out social and constructive responsibilities."
He concluded by thanking the administration and all the people for the warmth of their welcome.
In his opening remarks President Kennedy referred to Her Highness Princess Lalla Nezha, sister of King Hassan, who accompanied her brother on his visit to the United States.
John F. Kennedy, Toasts of the President and King Hassan II Online by Gerhard Peters and John T. Woolley, The American Presidency Project https://www.presidency.ucsb.edu/node/237121