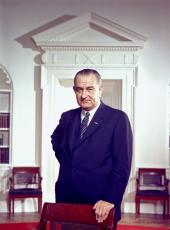 Toasts of the President and King Faisal
Your Majesty:
Your presence here this evening is an occasion we have long anticipated. It is a very welcome and a very vivid reminder of the bonds of friendship which exist between our two countries. These ties were initiated by two of the most illustrious leaders that your country and mine have known--your late, distinguished father King Abdul Aziz ibn Saud, and our President Franklin Delano Roosevelt.
Their meeting in 1945 marked a milestone in history. They laid the basis of understanding and cooperation between our two countries. These have endured to this day. They will continue to do so. They are predicated on improving the lot of both of our peoples and securing for them and for all peoples the blessings of peace and prosperity. Though circumstances have changed, I know that both our countries and peoples pursue these same goals today.
Our meeting today gave me a deeper realization that we face many common and similar problems. One, in particular, is very near to my heart.
I come from a part of the United States which bears a great deal of similarity to parts of Your Majesty's country. Water is a problem of overriding concern to parts of the United States just as it is to Saudi Arabia. We know it is written that, "Everything living was created from water." Fortunately, modern technology has come to our aid. It holds out the promise of large supplies of water through desalting.
To make this promise a reality, your country is planning a desalting installation larger than any that now exists anywhere. We, too, are seeking ways to purify water at a price that men can afford. We are very pleased to be cooperating with Your Majesty's Government in this very highly important field to both of our countries.
We, like you, are seeking to improve our education and provide better opportunities for all our young people. The wise use of the great wealth of our subsoil demands our best efforts. We have watched with respect and admiration the progress that Saudi Arabia has made, under Your Majesty's wise guidance, in all of these endeavors.
The roster of those who have joined us in extending our welcome to you this evening, Your Majesty, symbolizes the variety of our common interests as well as the depth and the warmth of our friendship.
I recognize, Your Majesty, that the solutions we find for our problems will not always be the same. Differences in history, customs, traditions, and geography inevitably produce different outlooks. But where such differences are, we can both learn from them and, I trust, benefit from them.
In the past, our common respect for human dignity and abiding faith in spiritual values have been the cornerstone of our relations. They will chart the course of our future relations as well. As a long recognized champion of these basic principles of constructive human conduct, we are very proud and quite privileged to welcome Your Majesty here to the White House tonight.
We hope your stay with us will be a pleasant and profitable one. We know from our discussions today that you will leave with us more than you take away.
So my good friends who have come here this evening from all parts of this Nation, may I ask you now to join me in a standing tribute to His Majesty, King Faisal ibn Abd al-Aziz al-Saud--a great ruler, a wise statesman, and a warm friend of our country.
Note: The President spoke at 9:40 p.m. in the State Dining Room at the White House. King Faisal responded as follows:
"Your Excellency, Mr. President:
"Permit me to take this occasion to assure you of my great pleasure and gratitude for having met with you. I sensed in the meetings with you today your good intentions, that you are a man of mature thinking. This undoubtedly will have a great effect on me.
"I have sensed that you are a man of great personality, a man of integrity, a man of decision. This will certainly have great results not only as far as the citizens of this country are concerned, but, indeed, as far as the rest of the world is concerned, also.
"Mr. President, your reference to the fact that the good relations which have existed for a long time between your country and mine, relations the basis of which were laid down by the late President Roosevelt and the late King Abdul Aziz ibn Saud, reminds me of the stages through which these relations have gone for more than 21 years.
"I am very pleased that these relations have improved and they have grown better as time has gone by.
"Mr. President, at times differences of opinion have arisen between us. But such differences have had absolutely no effect on the basis on which our relations stand. These were built on the principles of sincerity, of loyalty, for the good of all.
"And no matter what differences may arise, from time to time, this will have absolutely no effect on the relations between your country and mine.
"I do appreciate your assurance, Mr. President, the assurance given to me, for continued cooperation between your country and mine in the interest of the peoples of both countries. That, of course, includes the efforts which we intend to make, jointly, to find means whereby water can be made available in our country where it is very much needed.
"As you pointed out in your remarks, Mr. President, I would like to quote a saying from the holy Koran which is, in effect, in conformity with what you pointed out, "God says that he made everything living out of water."
"Without water there can be no life. Water, therefore, is very essential to us.
"We realize that we face a great many difficulties in trying to carry out our constructive programs. The most serious of these difficulties is to find ways to make water available.
"Unavailability of water is the greatest source of difficulty, as far as we are concerned. Water is a source of life and in our country it is scarce. I am hopeful that through the joint efforts between you and us we can find ways and means whereby water will be made more available for the good of our people and, also, for the good of your people here.
"Mr. President, having understood your intentions, your aspirations, your ambitions for your people and for the future of your people, I am inspired to look to you as a leader with a great deal of admiration, because you are working not for your own good, but for the good of your own people, the entire people.
"Mr. President, your reference to the achievements which have been realized in my country reminds me of the principles that you discussed with me this evening. And it is my prayer, it is my hope, that I will be able to realize greater things for my people in service to all of them for the good of all, for the welfare of humanity, for the dignity of man, and for the peace of mankind.
"And I would like to thank you, in closing, Mr. President, for making it possible for me, on this occasion, to meet persons, people of this country, who represent different walks of life, people who have their value, have made great contributions, and who are working hard for the good of all the people of this country.
"I would like to reiterate, Mr. President, my appreciation for all the kindness that you have shown to me, my admiration for you as a person, the wonderful reception accorded to me, and the good care that has been shown to me. All of this indicates or proves to me that you are a man with a very large heart, a very wise mind, a man who is
striving hard to work for the good of all.
"Thank you very much."
As printed above, this item follows the text released by the White House.
Lyndon B. Johnson, Toasts of the President and King Faisal Online by Gerhard Peters and John T. Woolley, The American Presidency Project https://www.presidency.ucsb.edu/node/238664