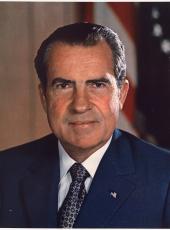 Toasts of the President and King Bhumibol Adulyadej at a State Banquet in Bangkok
Your Majesties, Your Excellencies, ladies and gentlemen:
As I stand here in this room, I realize what a very great privilege it is for me to answer the eloquent remarks that have been spoken by His Majesty, and, of course, to point out that insofar as the achievement of our astronauts is concerned, that it belongs not to just one nation, but to the knowledge that came through the generations and, yes, through the centuries, so that finally this pinnacle could be achieved.
But, also, as I stand here, I am reminded of other things, reminded not only of what that achievement means for the future, the excitement of it all, but, also, of the fact that we are very fortunate in this great room tonight in the presence of this company to think of the past, and how that past can be blended with the present in order to build a greater future.
And there is no leader in the world, and no nation in the world, in which that is being better accomplished than in this nation and in this leadership.
If you will permit a personal recollection. In the year 1953, when I was a young Vice President and His Majesty was a very young King---of course, he is still a young King--I recall asking him a question that I asked of 18 leaders of Asia on a trip that Mrs. Nixon and I took as representatives of President Eisenhower through the Asian areas. The question at that time, in 1953 when the world was wondering which way Asia would turn, and what 'the prospects were for peace and freedom and progress in this area, the question was: If you were to pick out one single factor that was more important than all the others, what would you choose for the essential ingredient for progress?
In many other nations, some had said economic development, others had spoken of the necessity for military strength to deal with their internal problems, but this very young and, as I described him in a speech which I made when I returned to the United States and spoke to the Nation's editors, one of whom is here tonight, and present at this dinner, what he said was to me very revealing.
He said, "What we need, what we need in Asia, and what we need in the world, is understanding above everything else."
I did not realize then what that word "understanding" really meant, because I knew what it meant in English. But I have only since learned the deeper meaning that it has in the Thai language. And "understanding" in the Thai language means literally "enter the heart."
And certainly I would say, as I look back over the past 16 years in which we have seen war and difficulty and violence around the world, that those words and that opinion stand up very, very well. The world needs understanding, understanding which penetrates deep into the hearts of all of us, understanding which realizes that the achievement of going to the moon is almost miraculous when we think of it, and, therefore, deserves our respect; but understanding which also recognizes what we have learned from the past, how much we owe to those that have gone before us.
As one philosopher has put it, the reason that we can see further than the ancients is that we stand on the shoulders of those who have gone before us. And here in this land, a land that has been free for 1 ,000 years, a land which has maintained, as we see in this room tonight, the tradition, the culture of the past, and, yet, has been able to blend that with the modern programs which mean the tremendous progress that we see in this city and over this land today.
This, I say, is the kind of understanding that each nation and each people in the world needs.
And, so, tonight as I reflect with you on these things, I simply want to conclude with this thought: that we are fortunate in this room on this occasion to be reminded by His Majesty of the great promise of the future and of the technological achievement that made that promise possible, but we are also fortunate to be reminded that that progress would not have been possible had not we built on the sound foundations of all the learning, of the culture and the tradition and the discipline of the past.
And right here in this room we feel it, we see it, we hear it all.
Your Majesty, :this is the sixth time that I have visited your country, and each time I have been overwhelmed with the courtesy that we have received, the hospitality that has been extended.
Tonight, at this beautiful dinner, and particularly as we drove through the streets to see the most spectacular display of lights that I have ever seen, even at Christmastime in our own country, I realize that we were very fortunate again to come to this land of the free and to be your guests.
So, I know all of you would like to join me in raising our glasses to Their Majesties, the King and Queen of Thailand, and to that understanding which enters the hearts of all men, so that we can really have true peace and freedom in the world.
Note: The President spoke at 10:35 p.m. in the Chakri Throne Hall of the Grand Palace in Bangkok in response to a toast proposed by King Bhumibol, who spoke in Thai. A translation of his remarks follows:
Mr. President:
On behalf of the Thai Nation, the Queen and I take particular pleasure in extending to you and Mrs. Nixon, as well as to the members of your party, a warm and cordial welcome to Thailand.
I consider it an auspicious omen that under your eminent leadership, Mr. President, the unqualified success of man's first landing on the moon and the subsequent safe return of the astronauts to earth have been achieved. For this momentous occasion, the Thai Nation joins me in offering Your Excellency and the American people our heartfelt congratulations. Last week's breathtaking achievement of Apollo 11 and its brave American crew cannot be measured solely in scientific terms, for it also indicates man's ability to look beyond his earthbound problems, and to set his sights on new horizons in quest of wider knowledge and deeper understanding of himself and his environment.
It is both significant and gratifying for me to realize that, in the face of this epoch-making achievement of the American people, of whom you are the leader, you, Mr. President, have not lost sight of and are still deeply concerned with the more mundane human affairs both inside your own country and elsewhere, as evidenced by your visit to Asia and to this country. It is my hope that your efforts in this field meet with all the success that they deserve.
Your visit to this country, Mr. President, will do much to cement and further the traditional ties of friendship between our two peoples, who are today more firmly linked as never before in the cause of peace, freedom, and human progress. Although we are now living in the days of changing policies and broadening political horizons, the people of Thailand are still determined to work for that cause. Allow me to reassure you, Mr. President, that as long as it remains within your policy to foster peace and uphold freedom in this part of the world, we shall cooperate with you to the fullest measure for the benefit of our peoples.
Ladies and gentlemen, may I invite you to join me in drinking a toast to the good health and continued success of His Excellency the President of the United States of America and Mrs. Nixon, and to the friendship and cooperation between our two countries and people.
Richard Nixon, Toasts of the President and King Bhumibol Adulyadej at a State Banquet in Bangkok Online by Gerhard Peters and John T. Woolley, The American Presidency Project https://www.presidency.ucsb.edu/node/239767