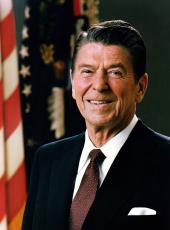 Toasts of the President and Jamaican Prime Minister Edward Philip George Seaga at a Working Dinner in Kingston, Jamaica
Prime Minister Seaga. Your Excellency, Sir Florizel Glasspole and Lady Glasspole; President Ronald Reagan and Mrs. Reagan; Right Honorable Hugh Shearer, Deputy Prime Minister; Honorable Ministers of Government; Your Excellencies; distinguished guests; ladies and gentlemen:
It was but a little more than a year ago that myself and my wife, Mitsy, had the pleasure of being guests of our distinguished guests, President Ronald Reagan and his wife, in Washington. It was the occasion of myself and my wife being invited to be the first official guests of the then new government of the United States. And I can recall at that time that we hoped that the day would come very soon when we would have the opportunity of reciprocating the hospitality that we received in Washington. It is our great pleasure today to welcome President Reagan and Mrs. Reagan and their distinguished delegation to Jamaica and to have the opportunity of reciprocating that hospitality.
Our only regret is that their stay here is so short and that by virtue of the brevity of this stay, they will not have the opportunity to personally experience the revival of spirit, the renewal of hope, and the determination of purpose that now characterizes the new Jamaica. If they had the opportunity by virtue of a longer stay, this personal experience, I am sure, they would have felt in their journeys to other areas of the island where they would have had the opportunity to meet with Jamaicans in other walks of life.
I find some difficulty in offering a toast to the President of the United States. I would be more comfortable in offering several toasts, and I'm going to adopt the more comfortable line.
I offer, first of all, a toast to him as head of government and state for the extent to which his clarity of conviction and dedication to purpose has enabled a strengthening of U.S.-Jamaica relationships over the past year.
I would like you to look at the record. In that past year, we have had as a part of the strengthened bonds of friendship between our countries the enactment of legislation to allow for conventions to charge their business expenses against their U.S. tax liabilities. We have had the formation of a U.S. businessmen's committee, which has played a critical, catalytic role in initiating new investment for Jamaica. We have had the purchase, barter, and exchange of bauxite for the strategic mineral stockpiles by the General Services Administration of the United States.
Knowing well the rigors of the legislative and congressional procedures in the United States, it is nothing short of very impressive that all this has been accomplished in one year. It speaks highly of the level of positive leadership which you, Mr. President, have given to the implementation of your programs, a characteristic for which you are both well known and admired throughout the world.
I want to offer next a toast to you as a friend of the Caribbean. I recall the initial discussions which we had in Washington on the occasion of my visit with you as your guest, out of which was born the germ of the idea of the Caribbean Basin Initiative which has flowered today. I commend and congratulate you on bringing to the stage of formulation in one year a most comprehensive program of far-reaching benefits for the entire Caribbean Basin area.
It is true that there are still those amongst us who do not consider this comprehensive facility and mechanism to be perfect. And all things have imperfections. But to those who focus on the imperfections let me say that you, Mr. President, have focused a new light of opportunity on the Caribbean, where previously we had despaired of the darkness. And I would like those who think of the imperfections and of the darkness to remember the words of a former President of the United States, Richard Nixon, who said, "We have endured the long night of the spirit, but as our eyes catch the dimness of the first dawn, let us not continue to curse the remaining darkness. Let us gather in the light."
Finally, Mr. President, I would like to toast you not as a distinguished guest, not as a head of state or government, not as a friend of the Caribbean, but as an American. The journalists in particular often put the question to me about the degree of friendship which exists between Jamaica and the United States. I have tried in many ways to say to them that this friendship is not just a friendship of governments. Governments come and go, but the people remain forever. And in this case we are dealing with a case of friendship among the people of the two countries.
In our case we have documented that friendship. A distinguished professor of the University of the West Indies has over the years tested by polls the reaction of the Jamaican people to various policy questions which involve the relationship of the people of Jamaica to the United States. And I have compiled from those polls of Dr. Carl Stone the responses of the people of Jamaica, which is in this volume which I have as a surprise presentation to you tonight, Mr. President. And those polls are very revealing.
I will cite from a few of them the reactions of the people of Jamaica to questions that have been posed to them which bring into question the relationship and friendship between our people and your people.
The question is: "Do you think that Jamaicans have anything to fear from Americans?" And the answer is: "Jamaicans have something to fear from Americans," 13 percent; "Jamaicans have nothing to fear from Americans," 85 percent; no views, 2 percent.
"Do you think it is a good thing for Prime Minister Seaga to develop close ties of friendship with the new United States Government?" And the answers are: "A good idea," 85 percent; "not a good idea," 10 percent; no views, 5 percent.
Question: "The U.S. President has promised to help Caribbean countries as part of his government's fight against communism and his support for democracy. Do you think this is a good, or bad thing? A good thing," 78 percent; "bad thing," 7 percent.
A subsidiary question: "Do you think Jamaica should accept such aid from the U.S.?" Answers: "Jamaica should accept aid," 81 percent; "Jamaica should not accept aid," 12 percent; no opinion, 7 percent.
"Do you think that Jamaica is benefiting from the help we are getting from the United States?" The total sample says: Yes, 74 percent; no, 23 percent; don't know, 3 percent.
Mentioning countries likely to help Jamaica most, the sample reveals a positive response: The United States, 88 percent; Canada, 36 percent; the United Kingdom, 13; Venezuela, 8; and Cuba, 7 percent.
And I'm sure, Mr. President, that you will be very pleased with the next poll: foreign leaders most admired. I am very glad to report to you, Mr. President, that in this election you have won hands down in Jamaica by a vote of three to one over your nearest competitors.
Irregardless of what governments think, the people of Jamaica have their own views. And irrespective of the government in power, the people of Jamaica had these views through the last regime in power and through the present, and they have not changed. And it is a wise government that listens to the voice of the people. And when politicians, by artful contrivance, seek to separate us, they can separate governments if they may, but they can never separate the people.
Indeed, I'm not alone of this view. I can go back to the founding of the Republic of the United States, to the words of one of the most revolutionary heroes of the day, one of the most outstanding thinkers and statesmen, John Adams, second President of the United States of America, who envisioned the relationship between the United States and the islands of the Caribbean and who envisioned the difficulties and the contrivances by which politicians and others would try to separate us, when he said, and I quote: "The commerce of the West India Islands is a part of the American system of commerce. They can neither do without us nor we without them. The Creator has placed us upon the globe in such a situation that we have occasion for each other. We have the means of assisting each other. And politicians and artful contrivances cannot separate us."
Mr. President, I have the greatest pleasure in presenting you with this bound volume of these polls and that quotation. And so that lost in the archives in which this volume may be placed, these words may not fail to have their impact, we have by calligraphy reproduced them in the quotation-in this framed presentation to you-of the second President of the United States; not from me, but from the people of Jamaica to the people of the United States.
I thank you.
The President. The most Honorable Governor General of Jamaica, Their Excellencies, Sir Florizel and Lady Glasspole; Right Honorable Prime Minister and Mrs. Edward Seaga; the Right Honorable Deputy Prime Minister Hugh Shearer; Honorable Ministers of the Cabinet; distinguished guests:
Nancy and I thank you from the bottom of our hearts for the warm and gracious welcome that you've given us here in Jamaica. In the hours of flying down here today and seeing many of the islands for the first time and out over the vast blue of the Caribbean, it seemed as if we were getting a long way from home. It's very funny, but I feel very much at home right now.
It's been said here and it's true, Mr. Prime Minister, you were the first head of state to visit us in the White House after my Inauguration. From the beginning I felt a special sense of closeness and common purpose with you. Your election was only 1 week before my own, and we were both given mandates to restore economic health to our respective nations and to secure the freedom which is so dear to us all.
I followed your progress with great interest and admiration as in my country there's still much to do. But I congratulate you for the significant accomplishments that you've already made since our last meeting. Your courage and optimism have helped turn around a desperate economic situation.
For the first time in 7 years Jamaica has had real growth in its economy, and inflation has been dramatically reduced. You have set your country on a course for economic progress by making the hard decisions first and sticking to them. And I know from 14 months of experience how difficult that can be.
In the long run undeniably all of us in this hemisphere are tied to the same destiny. Today there's a greater common realization of this fact. For us in the United States, observing dedicated men and women only a stone's throw from our shore striving to better their lives and preserve their freedom is dramatic and inspiring. We want to do what we can to help as friends and neighbors.
The Caribbean Basin Initiative was presented to the Organization of American States 6 weeks ago. It is designed to complement the kind of development efforts that you are making here in Jamaica. It is our invitation to you and other Caribbean peoples to join a vast and bountiful market to participate directly on an independent basis in the potential and dynamic of our free enterprise system.
There are those who would follow another road. They rely not on freeing a nation's productive forces, but on usurping them. But the lesson of history is clear: The system of Marxist centralized planning has invariably led to economic stagnation and a loss of political freedom.
The only Caribbean nation which has totally enveloped itself in Marxism, a philosophy alien to this hemisphere, suffers economic deprivation and political repression. Its citizens flee by the thousands at every opportunity, even risking death in the process. The expansion of state control is not the road to progress; it's the road to serfdom. And for every serf, there is a master. Failing miserably to develop its own economy, the Marxist model in this hemisphere has become totally dependent on a dole handed out by a faraway, totalitarian power. The strings attached to that subsidy make a mockery of national independence.
This nation has undertaken large-scale attempts—not this nation—I should have said that nation that I'm talking about—has undertaken large-scale attempts to undermine democracy throughout the Americas, financed by its master across the sea. The turmoil in El Salvador bears the imprint of this interference. And the recent elections there unmasked the lie that there is popular support for Marxism in that country.
Braving bullets, ignoring threats of mutilation and death, the citizens of El Salvador streamed from their homes in the villages and towns, made their way to the ballot boxes so they could register their protest against Marxist tyranny. It was a triumph for democracy and a testimony to the courage of these brave men and women.
You had observers there of that election. We had a team of observers there. They came back and reported to me, and I told some of your people and the Prime Minister this afternoon of a lady standing for hours in the line, waiting for the opportunity to vote. She had been wounded by a ricocheted bullet, and she refused to leave the line and get treatment for her wound until she had gone in and voted her opinion.
Freedom-loving people in this hemisphere must stand shoulder to shoulder when liberty is threatened. There's a link between progress and political freedom. The United States has joined with other countries of the hemisphere to offer new opportunity to nations of the Caribbean Basin. The course we advocate leads to independence, each individual in each country, working through its own efforts in the marketplace to improve the life and well being of family and countryman. That is the real fruit of combining trade, investment, and aid, as we've done in the Caribbean Basin Initiative, and provides the start. But trade and investment activities provide the independence.
Knowing you as I do, Mr. Prime Minister, I'm keenly aware of your concern that economic developments improve the life of the poor and destitute of Jamaica. This passion for social justice has been a recognizable part of your character since you studied and lived with the less fortunate of Jamaica as a student. Your commitment to improving their lives eventually led you to politics, where as a member of Parliament, you represented one of Jamaica's poorer constituencies.
Mr. Prime Minister, you know full well that platitudes and humanistic rhetoric accomplish nothing in themselves and that socialistic schemes aimed at changing the nature of man and arbitrarily redistributing wealth destroy the potential for economic progress, thus condemning the poor to a life of misery. Alexander Bustamante, a great citizen of your country and the founder and president of the Jamaica Labor Party knew this. "The day we destroy private enterprise," he said, "we are going to destroy the same people we speak of as 'the suffering masses.' For without industries, we will never be able to decrease our unemployment materially."
I like to think that I share this view with you, and I share your compassion also, Mr. Prime Minister. We both realize that a commitment to social justice must be directed by reason, by economic principles that work, or no one will live a better life. You and I represent two peoples who believe deeply in their democratic traditions and the ideals of the New World. And together, our people can accomplish great, great things.
With this in mind, I ask all of you to join me in a toast to the people of Jamaica, showing the way to freedom and progress. And to you, Prime Minister and Mrs. Seaga, may we accomplish the goals that we have set for ourselves and for our countries.
Thank you all.
And, Mr. Prime Minister, you were very kind about suggesting that we come back for a vacation in this delightful place, which would be a great joy and pleasure. I have to tell you that if you'll just be patient for a couple of days after we've spoken to the ministers of the eastern Caribbean islands, and so forth, you will find it reported fulsomely that we had a lengthy, leisurely vacation while we were here. [Laughter]
Note: Prime Minister Seaga spoke at 10:20 p.m. at King's House, the Governor General's residence.
Following the dinner, the President and Mrs. Reagan returned to the residence of Loren E. Lawrence, U.S. Ambassador to Jamaica, where they remained overnight.
Ronald Reagan, Toasts of the President and Jamaican Prime Minister Edward Philip George Seaga at a Working Dinner in Kingston, Jamaica Online by Gerhard Peters and John T. Woolley, The American Presidency Project https://www.presidency.ucsb.edu/node/244910