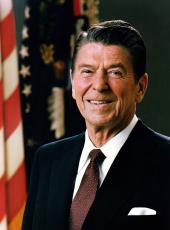 Toasts of the President and Chancellor Helmut Kohl of the Federal Republic of Germany at the Dinner Honoring the German Chancellor
The President. This is very wonderful, to welcome you all here tonight. And I am not going to make a formal address or anything with regard to this toast. I'm simply going to say how pleased Nancy and I are to have all of you here and to have, particularly, our honored guests tonight—Chancellor Kohl, Mrs. Kohl—and to say that—I would not be exaggerating a bit if I said that I have great respect for Chancellor Kohl, but also I like Chancellor Kohl.
Would you all join me in a toast. To Chancellor and Mrs. Kohl and to our friends.
The Chancellor. Mr. President, Mrs. Reagan, ladies and gentlemen:
Well, on behalf of my wife and on behalf of the delegation accompanying me on this trip, I would like to express to you, Mr. President, and to you, Mrs. Reagan, my very warm thanks for this warmhearted, for this friendly, and for this very kind reception you have given us here in the White House. There are receptions of this kind or that kind— [laughter] —and the President of the United States of America has to give a good many receptions. This is part of this job. [Laughter] And, yet, there are differences. And we felt it very clearly, and for this we are most grateful to you.
I am the first Federal Chancellor who belongs to the postwar generation. I was 15 years old when the war ended, and Mrs. Kohl was a refugee coming from the central part of Germany. And we met each other back in 1947 when we both attended dancing lessons. [Laughter] And she was wearing a dress, and that was out of a gift parcel sent by Americans. And I had a suit that was a gift from the Quakers. [Laughter]
It was extremely elegant. I had an oversized coat, but it wasn't necessary, because I was not as broad and wide as today. [Laughter] Today I need a tailor and the assistance of a tailor to cover the reality and the facts of life. And I assume that this suit, which was given to me by the Quakers, used to belong to a farmer who voted Republican. [Laughter] Well, I had that suit for a very long time.
Well, if we have this suit again today, I think my two boys would be astounded to see that why I'm telling this story, not because of the joke in it, because this was a very fundamental experience in my life. We, the Germans, at that time were outlaws. Nobody would have taken a piece of bread from young couples. At that time we even didn't have a piece of bread.
And who helped us at that time? Morally, it was Pope Pius XII and the Americans. And I have never forgotten it, nor have millions of my fellow countrymen ever forgotten that. Of course, we have to discuss politics, tough issues—arms buildup, modernization, steel—all very important issues in themselves. But it's only part of life. What we received in the way of help, assistance, friendship—and this goes far beyond the other concrete issues.
And my political experience over the last 30 years shows—and I have been active in politics—[inaudible]—that these technical questions are very important, these political questions. But what is even more important is that the human contacts, the human wavelength is all right, and that you should be able to rely on friends.
And that is what I would like to propose a toast to, the friendship between our—[inaudible]—and for your help, Mr. President.
Note: The President spoke at 9:22 p.m. in the Residence dining room at the White House. The Chancellor spoke in German, and his remarks were translated by an interpreter.
Ronald Reagan, Toasts of the President and Chancellor Helmut Kohl of the Federal Republic of Germany at the Dinner Honoring the German Chancellor Online by Gerhard Peters and John T. Woolley, The American Presidency Project https://www.presidency.ucsb.edu/node/245568