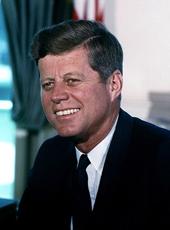 Toasts of the President and Chancellor Gorbach of Austria
Ladies anti gentlemen:
I know that you all join me in welcoming the Chancellor, the foreign Minister, the State Secretary, and the Ambassador of Austria and the other members of his party, here to the United States. We are very glad to have you here, Chancellor.
I think most of you know something of his life, his distinguished service in World War I, when he lost his leg--and 5 years in Dachau which tested the strength of his political convictions--his efforts since that time to maintain the integrity and the security of his country. And he has been joined in that effort by a number of distinguished Austrians, of whom one of the most distinguished is the foreign Minister, whom we are very glad to have here today and who has labored under burdens which would stagger a lesser man to maintain the very delicate balance which maintains his country's position.
So that we are delighted to have them all here. They come at a useful time, particularly when the events occurring in Europe hold such fruitful prospects. We are also glad to have the whole group here because they come from a very outstanding country which was very generous to Mrs. Kennedy and myself last June, and also to Secretary Dillon with the World Bank, and to probably all of us who have visited there at one time or another. All of us have come away with the warmest feelings of friendship for the Austrian people and to know that that friendship is reciprocated.
So, Chancellor, Minister, Ambassador, ladies and gentlemen, I know that you will join with me in drinking to our guests, to the country they represent--and to the President of Austria.
Note: The President proposed the toast at a luncheon in the State Dining Room at the White House. In his response (through an interpreter) Chancellor Gorbach expressed appreciation for the welcome accorded him and his delegation.
"Austria is a country that is militarily neutral," he continued, "but it has never denied its ties with those of the countries which belong to the democratic world, which profess freedom--and Austria will never deny its ties with that part of the world."
After thanking the President and the American people for "the generous aid which the United States gave to the Austrian people in its reconstruction," Chancellor Gorbach added, "but perhaps I also may be allowed to be a bit immodest at this time and assert that the Austrian people are not unworthy of the aid given them. Austria is not only a free and independent state but it is also an economically viable state. And through our declaration of neutrality and observance of neutrality, we have not permitted ourselves to be relegated to a back seat. We are taking an active part in a number of international organizations .... Moreover, thousands of young people from the less-developed nations of the world are studying at the universities in Austria and in addition to technical knowledge they are getting a real insight into the workings of a democratic state."
Chancellor Gorbach concluded by referring to the Austrian State Treaty, the 10th anniversary of which would shortly be celebrated, as a guarantee of Austrian independence, freedom, and sovereignty.
In his remarks President Kennedy referred to Bruno Kreisky and Ludwig Steiner, Austria's foreign Minister and State Secretary, respectively, Dr. Wilfried Platzer, Austrian Ambassador to the United States, and Douglas Dillon, Secretary of the Treasury.
John F. Kennedy, Toasts of the President and Chancellor Gorbach of Austria Online by Gerhard Peters and John T. Woolley, The American Presidency Project https://www.presidency.ucsb.edu/node/236533