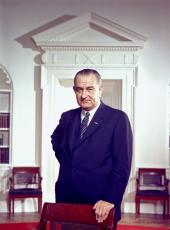 Toasts of the President and Chancellor Erhard at the LBJ Ranch
Gentlemen, I know that you will want to join me in telling Chancellor Erhard how much we appreciate his coming here to the United States at this time.
We meet at a difficult hour, when the usual warmth and peace of the Christmas season and of the coming New Year are tinged with sorrow because of a great loss. We all know that this meeting was to have taken place a month ago and that well-laid plans were changed abruptly by the tragic death of President Kennedy.
But, despite the changes that have taken place, it is my purpose, and I am sure it is the Chancellor's, that the close relationship and healthy friendship that have developed between our countries over the past years will become ever closer, and that through our efforts the United States and the Federal Republic will continue to move together in harmony.
I am confident that under Chancellor Erhard's wise leadership, the impressive progress made by the Federal Republic in its brief 14 years of existence will continue and the partnership in which both our peoples are actively participating will become an ever greater force for peace and progress. The judgments we make here today will serve us well tomorrow.
Gentlemen, let us drink to the President of the Federal Republic of Germany, Dr. Heinrich Lubke, and the German people.
Note: The President proposed the toast at a luncheon at the LBJ Ranch. The White House released the text of the following toast proposed by Chancellor Erhard at a dinner at the ranch that evening.
Mr. President, gentlemen:
It is with a sense of deep gratification that I am looking back on this day and the talks we have had. These were serious conversations because they reflected the heavy responsibility which our two countries have and you and I have to carry. I am not so vain as to believe that it was a personal privilege granted to me to be invited as the first foreign statesman to your home but I feel that this invitation was meant to reflect the communication of destiny between our two nations. Our two nations have learned from experience and from their history that freedom is the greatest value there is and that is what makes us stand together in good and evil days. Of this, we are fully aware.
I would like to express my gratitude to you and to Mrs. Johnson for having invited me to the private and intimate atmosphere of your home because in such an atmosphere you can speak more freely and intimately than in an office. Today our talks went beyond a mere discussion of the problems with which we are confronted. It deeply penetrated into the human sphere. When I will leave the United States and this great State of Texas tomorrow, I will have the satisfaction that we have understood each other and that we have certainly established lasting links between us which we will still wish to maintain. In your remarks, Mr. President, you drew some parallels which were not without the charm of contradictory detail. But, in addition to that, there is something we have in common and that is the same basic approach to life.
I have the greatest admiration for the American people and the spirit and human attitude which has appealed most strongly to me. I do not think in terms of the dollars that were made available to us after the war though I do not want to underrate their importance nor would I think of the American defense contribution or of American aid to developing countries. What is of lasting value is the moral and spiritual standards which have been set by the American people and that is the basis on which the United States can claim its role as the world's leading power.
I know that this position imposes a burden on you and very often fills you with worry and concern. What you are doing is very often not received with the feeling of gratitude. It is always a miracle that we in Germany do have this feeling of gratitude toward the United States because in Germany this has not always been so. But there is more than only a sense of gratitude in Germany--it is a deep affection for the Americans.
I promise you again, Mr. President, that we in Germany are ready to do our utmost in making our contribution and I feel committed to tell our people back home that we have to participate in these common efforts to defend peace, freedom, and social welfare. I hope that this message will also be heard in the United States of America. It is this kinship which makes us stand together and which gives us the strength to bear the heavy responsibilities put on our shoulders.
Perhaps some of the questions which we discussed today were not fully discussed yet and will have to be discussed in greater detail tomorrow. I am aware of your worries and I am thinking particularly of what you told me this afternoon during our drive through the country. This has given me food for thought.
I hope you will agree whenever one of us feels that we would have to communicate with one another in order to discuss questions, we should do so and make use of this personal and direct contact which we have established. Perhaps birth may be given to new ideas in this way.
I feel that this was a good beginning of our relationship in our new offices, you as President of the United States, and I as Chancellor of the Federal Republic. I hope that this relationship may be lasting for the benefit of our two nations and in the interest of peace and freedom for the whole world. This is my sincere wish.
I now propose a toast to the personal health and well-being of the President, and to a prosperous future of the people of the United States of America. May God bless the work of the President.
Lyndon B. Johnson, Toasts of the President and Chancellor Erhard at the LBJ Ranch Online by Gerhard Peters and John T. Woolley, The American Presidency Project https://www.presidency.ucsb.edu/node/241873