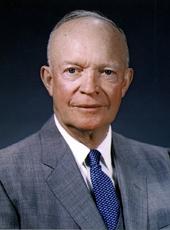 Toasts of the President and Chairman Khrushchev
Mr. Chairman:
The ladies and gentlemen gathered at this board are here to greet you as the head of the Union of Soviet Socialist Republics, and to greet Mrs. Khrushcheva, your family and the members of your party. We trust that you will find your trip, your tour, of America both instructive and interesting and enjoyable.
It was a hundred and fifty years ago that diplomatic relations between your country and ours were opened. On November 5, 1809, John Quincy Adams, later Secretary of State, and later President of the United States, presented his credentials to Alexander I. And since that date there has been a history of many incidents of collaboration between your country and mine, and certainly a long history of friendship. In two World Wars we have been allies.
And now today, it seems to me that our two countries have a very special obligation to the entire world. Because of our strength, because of our importance in the world, it is vital that we understand each other better. You and I have agreed on this point.
I think that skillful debate is not now enough. We must depend upon fact and truth. And we must make it our common purpose, as I see it, that we develop for each other the maximum of fact and truth, so that we may better lead--between us--this world into a better opportunity for peace and prosperity.
And it is in that hope, sir, in that effort, in the hope that that effort will be successful, that I ask this company to join me in a Toast to you, Mr. Chairman, Chairman of the Council of Ministers, to Madame Khrushcheva, and to the people of the Soviet Union.
Ladies and gentlemen, Chairman Khrushchev.
Note: The President proposed this toast at a state dinner at the White House at 9:58 p.m. Chairman Khrushchev responded (through an interpreter) as follows:
Mr. President, Mrs. Eisenhower, ladies and gentlemen:
I wish to thank you, Mr. President, for the good wishes that you voiced, and to state on my part that we have come here on the invitation of the President with our intentions based on the need to come to an agreement on the improvement of our relations, because our countries are much too strong and we cannot quarrel with each other. If we were weak countries, then it would be another matter, because when the weak quarrel, they are just scratching each other's faces and it takes just a couple of days for a cosmetician and everything comes out right again. But if we quarrel, then not only our countries can suffer colossal damage but the other countries of the world will also be involved in a world shambles.
But I am sure that we can live in peace and progress together for peace.
You mentioned the fact that a hundred and fifty years have passed since diplomatic relations were established between the United States and Russia. I also want to say a few words on that example. I want to say that when your Ambassador was presenting his credentials to the Emperor, Alexander I, I don't think the Emperor trusted your Ambassador too much, because after all the United States was a Republic and Alexander was a Czar, but all the same there did exist mutual understanding between the two countries, and contacts between them strengthened.
And our countries not only never fought with each other, but I don't think there were ever even any major quarrels between them. I don't pretend that I have too profound a knowledge of history, but I am sure that this was so.
Our countries have different social systems. We believe our system to be better--and you believe yours to be better. But surely we should not bring quarrels out onto the arena of open struggle. Let history judge which of us is right.
If we agree to accept this principle, then we can build our relations on the basis of peace and friendship.
You are a very rich and strong country. I read very many speeches made by many of the Senators and Representatives present here today, and so although I have made their acquaintance here for the first time today, in actual fact they are my old acquaintances by their speeches.
What we should now do is to strive together to improve our relations. We need nothing from the United States, and you require nothing that we have. It is true that you are richer than we are at present. But then tomorrow we will be as rich as you are, and the day after tomorrow we will be even richer.
But is there anything bad in this? After all, we are going to do this by our own forces--by our own strength.
I must say that the meeting I had today heartened me. When some of our journalists approached me after the meeting and asked me my impressions, I said that there was an agreed communiqué that was to be published and they should abide by what was said in that communiqué. But I could not help mentioning that I would inform my government that a good beginning had been made, and one could only hope that the final outcome would be even better.
And so I would like to raise my glass and propose a Toast to the President, to his wife, to all of you esteemed ladies and gentlemen.
Dwight D. Eisenhower, Toasts of the President and Chairman Khrushchev Online by Gerhard Peters and John T. Woolley, The American Presidency Project https://www.presidency.ucsb.edu/node/234210