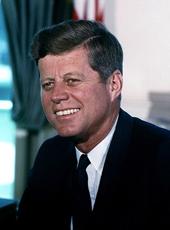 Toasts of the President and Archbishop Makarios
I know that you all join me in expressing our very warm welcome to our distinguished visitor. He has been elected by his people bishop, and also been elected by them president. We don't have that opportunity in this country--you have to choose one or the other, unfortunately. But he has led his people in ways that required great perseverance by all of them. We have, your Beatitude, had a number of heads of state who have played a leading part in the fight of their country for independence, but I don't think any founder of a modern state had to steer a course which involved so many chances of disaster as you did in the 1950's in bringing your country to independence. The complicated and sensitive involvement's of powers outside of your own country, the difficulties which you faced internally, the complexities of the modern world--all these were overcome by your Perseverance and by your courage, associated with the perseverance and courage of the people of Cyprus.
This is a most ancient country which he now leads. The Romans held it to export copper. Copper is today their No. 1 export still. They go back to the farthest reaches of history.
His Beatitude was generous enough to bring to our country an urn which comes out of a tomb many hundreds of years before the birth of Christ. His ties and his country's ties go back to the mistiest of known history.
So representing this ancient country and ancient people, and very young country, I hope that you will all join in expressing our very warm welcome and appreciation to His Beatitude, and join in drinking to the prosperity of the people of Cyprus and to the very best wishes for the future health of the President, His Beatitude, Archbishop Makarios.
Note: The President proposed the toast at a luncheon in the State Dining Room at the White House. In his response Archbishop Makarios expressed appreciation for the hospitality accorded him and for the opportunity for an exchange of views looking toward closer cooperation between the two countries.
"We are going," he continued, "through a period of anxiety and concern about the future of the world. Many difficult and complicated problems are confronting us .... All people who truly love peace must sincerely work closely together if peace is to be secured. Countries should be united not only through believing in the same ideals, but by the consciousness of the common effort and the awareness of working together for the preservation of these ideals ....
"On our part, Mr. President," he concluded, "we shall never cease to work for the cause of peace based on justice and freedom. These ideals are fervently cherished by the whole of our people. We are determined to do our utmost in this direction, parallel to our peaceful struggle at home for reconstruction and development .... "
John F. Kennedy, Toasts of the President and Archbishop Makarios Online by Gerhard Peters and John T. Woolley, The American Presidency Project https://www.presidency.ucsb.edu/node/235774