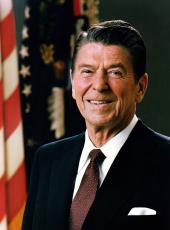 Toasts of the President and Ambassador Rinaldo Petrignani at the Italian Embassy Luncheon Commemorating Columbus Day
Ambassador Petrignani. Mr. President, your presence here today carries an extraordinary political significance and a great symbolic value. With your presence at the Italian Embassy, sir, you honor the country which gave birth to Christopher Columbus. But you also give recognition to the hundreds of thousands, the millions of other Italians who, after Columbus, came to these shores to find on the new continent a land of liberty and equality, a land where to open up wider horizons and offer renewed energy to that fascinating, unique, incomparable human venture which is the Western civilization. America can be proud of those immigrants who contributed in making her so great, so strong, so noble, so idealistic.
The strength of America and the idealism of America, the former at the service of the latter, are a guarantee to all free men, an irreplaceable guarantee for the protection and the expansion of freedom and democracy in this continent, in Europe, in the entire world.
Your gesture today, Mr. President, not only honors us, but it also reveals a generous political vision, and it embodies your personal commitment to the inspiring American concept of an open and pluralistic society. Italian Americans can be proud of what they have achieved and what they represent today in this society, shaped also by their genius and in which they have become prominent in all fields of human endeavor.
Allow me to add, Mr. President, that your presence here on the eve of the official working visit to Washington of the Italian Prime Minister, Bettino Craxi, underlines the great significance which the United States attribute to the friendship of Italy. In a world beset by uncertainties and dangers, as one of your major European partners, Italy stands by you, bound by common commitment for the defense of peace and security and for the preservation of the precious political values of our common, historic heritage.
Never as in these days has the Atlantic alliance been such an irreplaceable bulwark for upholding the indivisible security of the West. And I would like to think that by paying tribute to Christopher Columbus we pay tribute to a forerunner of this alliance, of this bridge which spans today the two sides of the Atlantic Ocean.
Allow me in concluding, Mr. President, to read to you a message which I have received from the Italian Foreign Minister, Giulio Andreotti: "I have learned with deep appreciation that President Reagan will be present today at the Embassy of Italy in Washington on the occasion of the celebration of Columbus Day. I consider his gesture a token of friendship for the Italian people particularly significant on the eve of the visit to Washington of Prime Minister Craxi. I would like to ask you to convey to the President of the United States whom, as he might recall, I met in Rome in 1972 when he was Governor of California, the expression of my highest esteem and my best personal regards."
Ladies and gentlemen, I would like to ask you to join me in a toast to the President of the United States.
The President. Mr. Ambassador and Mrs. Petrignani and distinguished guests, it's fitting that we should be enjoying this excellent luncheon on Columbus Day in the home of Italy's Ambassador to the United States.
Italy and the United States are closely bound by ties of kinship and culture. The many millions of Americans of Italian descent— indeed, all Americans—are indebted to Italy. The historic and cultural bonds between our two peoples and nations are strengthened by the magnificent contributions Americans of Italian descent have made and are making to our country.
All Americans are aware of their many contributions in the arts, in business, in industry, and in government—accomplishments of which we, as Americans and Italians, are rightfully proud. They are tangible evidence that our brotherhood is one of common achievement, as well as one of soul and blood.
It's particularly fitting that we gather here on a day honoring Christopher Columbus, a remarkable Italian who altered the course of history by exhibiting great moral character and individual courage. Along with Galileo, da Vinci, and other great figures of the Italian Renaissance, Columbus symbolizes a quest for knowledge, a willingness and fortitude to go beyond accepted barriers to progress.
Our precious liberty, so important to Italians and Americans, depends on the quality of character that we honor on Columbus Day. Italy has long been a particularly close and important ally of the United States. In our commitment to genuine arms reductions and to the maintenance of a stable balance of power so necessary for peace, Americans and Italians are of one mind.
Within the NATO alliance, Italy is shouldering increasing responsibility through its commitment to deploy new intermediate-range missiles in Sicily if negotiations with the Soviets do not succeed in banning this category of weapons. In Lebanon, Italian troops have joined American and other forces in the difficult and dangerous task of trying to keep the peace. As constructive Italian involvement in world affairs has grown, so has our admiration and respect for your great nation.
Modern Americans are enjoying the accomplishments made possible by Columbus' initiative and courage. So, on this Columbus Day, please join me in raising our glasses to the first of the many great contributions Italians and their descendants have made to our country.
Thank you very much for having us all here. I appreciate it.
Note: The exchange of toasts began at 1:09 p.m.
Ronald Reagan, Toasts of the President and Ambassador Rinaldo Petrignani at the Italian Embassy Luncheon Commemorating Columbus Day Online by Gerhard Peters and John T. Woolley, The American Presidency Project https://www.presidency.ucsb.edu/node/261710