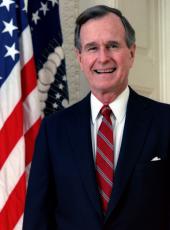 Toasts at a State Dinner Honoring President Mohammed Hosni Mubarak of Egypt
President Bush. Ladies and gentlemen, it is an honor to welcome the President and First Lady of the Arab Republic of Egypt to the United States. And it's a pleasure for me to greet an old friend and colleague as one of my first visitors to the White House and to this, our first dinner in the State Dining Room.
These last 2 days have been productive, a time for seeking common ground in approaching the peace process, as well as a good time to discuss the bilateral issues. We've also shared some insights into each other's cultures, including the most American of pastimes, baseball. [Laughter] And my dear friend, President Mubarak, there's a great philosopher in baseball, a great baseball player named Yogi Berra. [Laughter] And Yogi Berra once said, "You can observe a lot by just watching." [Laughter] And, Mr. President, baseball is a game in which coordinated effort, patience, and a spirit of teamwork provide the winning edge -- in a phrase, the spirit of teamwork.
And you and I share a special bond. Both of us have been tested as seconds-in-command. Both of us have assumed the Presidency at a time when we are challenged to fulfill the promise of past diplomacy.
In fact, there have been favorable developments since your last visit to the United States, just 15 months ago. In Afghanistan, 10 years of foreign occupation have been swept away by a brave people. The cease-fire between Iran and Iraq is a first step towards lasting peace. And we have recently seen an enhanced and well-deserved recognition of Egypt's leadership role in the Arab world, a role that has been enhanced by your perseverance and your commitment to peace. And as I said yesterday, we must work to create a new atmosphere where Palestinians and Israelis put aside violence in favor of words. A dialog for peace is the best way to establish Israeli security and give the Palestinians their legitimate political rights.
Mr. President, just 1 week ago we observed the 10th anniversary of Egypt's historic peace treaty with Israel. And our task today is to extend that peace to all the nations in the Middle East. Such an undertaking will require great patience and immense trust. But I firmly believe that peace will prevail if we continue to work with a common purpose, in the spirit of teamwork. The United States, I assure you, remains willing to help in this important quest.
Mr. President and Mrs. Mubarak -- your beautiful Suzanne, I raise my glass in your honor, proud of your friendship, thankful for your leadership. And God bless you, and God bless the peoples of America and Egypt.
President Mubarak. Mr. President, Mrs. Bush, dear friends, let me first express my sincere appreciation for the warm and the friendly reception which we received since we came to your lovely capital, Washington.
My meeting yesterday with you, Mr. President, has a special significance, for it is a beginning of a new era in our friendship and cooperation over the years. Over the years, and in the different roles you assume, Mr. President, you have been a great friend of Egypt and an active participant in the shaping of the Middle East future. Your thoughtful gesture of inviting me to meet with you here in Washington at this early stage, after we had met only a few weeks ago in Tokyo, did not go unnoticed. As we met with you yesterday, and with your able assistants, we look to the future with great optimism. Your deep knowledge of the region and your keen interest in promoting peace assure us of a better and safer future for the whole area.
The American people have chosen you as the torchbearer at a unique and historical junction. The whole world is yearning for an easing of tensions. People in all four corners of the world are seeking a just resolution to disputes and termination of all wars. They want to be better equipped to cope with the awesome challenge they confront today and tomorrow. Issues like underdevelopment and environment require urgent remedies.
Your pledge to make this great land a kinder and gentler nation will certainly contribute to making the whole world a kinder and gentler place for our children and the generations to come. We appreciate your role and the role of the American people as partners in peace and development in the area.
A few days ago, we celebrated, as you mentioned, Mr. President, the 10th anniversary of the peace treaty which was signed here in Washington. That event coincides with the successful conclusion of the Taba dispute, with your help and assistance. These events constitute a living testimony to the validity of the premises that nations can solve all their differences throughout negotiations and other peaceful means. On the other hand, they represent a tribute to the American role as a peacemaker and conciliator.
Over the last two decades, four distinguished Americans, namely former Presidents Richard Nixon, Gerald Ford, Jimmy Carter, and Ronald Reagan -- and their assistants played a pivotal role in order to help the parties of the Middle East conflict achieve peace. We are grateful to these men and to every American for their genuine concern and moral commitment. Today President Bush has already begun to put the mark on the peace process, only a few weeks after he had assumed office. We have full faith in President Bush, his sense of fairness and sound judgment. Your leadership, Mr. President, and your commitment as an active partner in the peace process reinforce hope in the heart of every Arab and Israeli who yearn for peace. No one is better equipped than yourself, Mr. President, to influence the course of events in this troubled region.
Egypt is ready to work hand-in-hand with you in the pursuit of that worthy goal. With your knowledge and vision, we can develop all our friendship to a higher plateau of shared views and the common interests. Above all, we share a vision of a Middle East where all countries and people coexist in harmony and cooperate as good neighbors, ushering in a new era in which the enemies of yesterday become partners in the pursuit of peace and prosperity.
Mr. President, our bilateral relations and friendship have been growing over the years, as we talked yesterday about the consolidation of our cooperation in all fields. I am glad to state that our relations have never been better and that our cooperation is proceeding steadily and very smoothly. We value your cooperation, especially at a time when we are exerting great efforts in order to achieve both economic reform and growth. Our cooperation in various economic fields is essential for achieving our goal of improving our economic performances and enhancing productivity.
In our discussions yesterday, Mr. President, as in our previous meetings in Washington, Cairo, and elsewhere, I have sensed the depth of your sentiments towards the friendship that binds our two countries. We in Egypt share those feelings. We are both nations that attach a great value to friendship and loyalty to our friends. Together, we have an opportunity to make the Middle East a much safer and more stable place, to the benefit of all its people and that of the entire world.
Let me, Mr. President, extend my invitation to you and to Mrs. Bush to visit Egypt when you find it convenient and at a suitable time for you, Mr. President and Mrs. Bush. We share with you a great vision of the future for a better and safer world which is within our grasp. We count on your partnership and on your leadership to sail together to that bright destination.
In conclusion, permit me to ask you, ladies and gentlemen, to raise in tribute to President and Mrs. Bush, who are leading this great nation in a new era of hope and dynamism, in tribute to all friends present here, and in tribute to each American on this land, and in tribute for the good friendship between the United States of America and Egypt.
Note: President Bush spoke at 9:35 p.m. in the State Dining Room at the White House.
George Bush, Toasts at a State Dinner Honoring President Mohammed Hosni Mubarak of Egypt Online by Gerhard Peters and John T. Woolley, The American Presidency Project https://www.presidency.ucsb.edu/node/248044