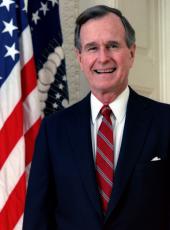 Toasts at a State Dinner Honoring King Hussein I of Jordan
The President. You are among friends, sir, your lovely Queen, and among admirers. And your visit here gives me and Barbara a chance, in a very small way, to tell you how much we appreciated your special hospitality to us when we visited you at your lovely home at Aqaba, as well as your beautiful home in Amman itself, not so many months ago.
This magnificent picture of Abraham Lincoln that I know you're all admiring was painted by George Healy in 1869. Upstairs in my office -- excuse me, a little slight cold -- upstairs in my office there's another marvelous picture of Abraham Lincoln, and that was also painted by George Healy 4 years earlier. And I took His Majesty to see it today. It's called "The Peacemakers," and the picture shows Lincoln in exactly the same pensive pose as this magnificent picture. But in the picture upstairs, there's a window right over his left shoulder, and out that window one can see this beautiful rainbow. And the picture depicts Lincoln with his generals -- three generals -- right near the end of the war that threatened our Union and pitted brother against brother. The rainbow in the picture by Healy symbolized the hope of peace, the imminent end to hostilities that near bled us as a nation to death. And so, Your Majesty, it is my fervent hope that by working together we can guarantee that there will be a rainbow over the Middle East. And war must give way to peace. And whether it's the turmoil or the fighting in the West Bank that plagues us all or the heart-rending hostilities that we now all feel so strongly about in a fractured Lebanon, we must all recommit ourselves to lasting peace in the Middle East.
And this visit today by the King of Jordan comes at a crucial moment in your region's history that -- we feel it, we in the United States feel it. And I think the King summed it up well when he told me today that the time is right. But let me assure you, sir, that we can sense an urgency to the quest for peace now. Our task is to use that urgency to seize the moment. And toward that end, Your Majesty, I look forward to working with you as old friends. And I mean that; it's not a diplomatic use of the word. Let us find new ways to bridge the deep differences that exist. Let's reduce suspicions and prepare the way for negotiations that will lead to the comprehensive settlement that everybody wants. And I pledge to work with you, sir, first to bring the rainbow of hope to the wonderful people of Jordan, and to all your neighbors, and then, with that rainbow clearly in view, to finalize a peace so secure that not a single child will know the horrors of battle.
And so, my friends, I ask you to join me in a toast to the goal of peace and to raise your glasses to the health of His Majesty King Hussein and to Queen Noor, of whom America is so especially proud, and to the lasting friendship between Jordan and the United States of America.
The King. Mr. President, Mrs. Bush, distinguished guests, and dear friends. I thank you, Mr. President. I am deeply moved by the generosity of your remarks and the affection and hospitality with which you and Mrs. Bush received Noor, myself, and my colleagues. We are most appreciative. It is clear that the kinder, gentler America of which you have spoken begins in this house. I was also genuinely gratified, Mr. President, by the assurances you gave this morning of your commitment to the security and well-being of Jordan. We, indeed, feel very much at home, which befits friends.
The friendship between Jordan and the United States has indeed been special. It began 30 years ago when I first came to the White House to meet President Eisenhower. I have since dined in this lovely room as the guest of Presidents on more occasions than I can count. If that is a record, it is one of which I am proud. These have all been memorable occasions, but none more so than tonight as your guest, Mr. President, and the guest of Mrs. Bush.
But our friendship is not only personal, which I treasure, it is based as well on the common values which our two nations share: freedom, equality, and human dignity. Friendship deserves the most serious consideration of those who enjoy it. When there is joy, one calls upon friends to celebrate. When there is sorrow, friends come to comfort one. When there is a task to be done, friends join together in common effort. There is honor and pride and true friendship, as is evident here tonight.
One of the sorrows which we share is the continuous tragedy of that of the Arab-Israeli conflict. To end this tragedy is the focus of our visit. I was interested in your explanation this morning, Mr. President, of the American viewpoint regarding steps to further the cause of peace in our area. And as I assured you this morning, Jordan will cooperate closely with the United States to achieve a just, durable, and comprehensive peaceful settlement. We will support you in all your endeavors to achieve a comprehensive, just, and lasting peace in the Middle East. And God willing, we will see that rainbow, and so will people in our part of the world. And God willing, it will be our contribution for a better future for generations to come on all sides in that area of the world.
Mr. President, we share with you an unusual fact: the names of our founding capitals. Philadelphia was the birthplace of your independence. Philadelphia was, as well, the ancient name of our capital, Amman. The meaning of both is the same: brotherly love. In this spirit, I would like to convey the best wishes and warmest greetings from the people of Jordan to you, Mr. President, and Mrs. Bush, and to all of your fellow Americans.
Ladies and gentlemen, my dear friends, may I ask you to join me in a toast to the President of the United States and Mrs. Bush.
Note: The President spoke at 9:42 p.m. in the State Dining Room at the White House.
George Bush, Toasts at a State Dinner Honoring King Hussein I of Jordan Online by Gerhard Peters and John T. Woolley, The American Presidency Project https://www.presidency.ucsb.edu/node/263190