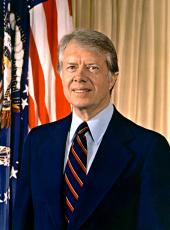 Toasts at a State Dinner During the Visit of President Ceausescu of Romania
PRESIDENT CARTER. I think it's the guests that we have, but I believe the Strolling Strings sounded better tonight than any time I've ever heard them, and I want to thank you for bringing out the best in them. I thought it was just very wonderful.
How many of you here either came from a foreign country to our Nation or had your parents or grandparents come from a foreign country? Raise your hand, if you would.
Mr. President, you can see more than half. It's obviously more than half of the people here who have come to the United States from a foreign country, most of you from Europe. And I think this in itself demonstrates vividly to our distinguished guest how close the ties are between our Nation and his and those nations that are neighbors of his.
We are indeed honored to have all of you here tonight, and particularly honored to have President Ceausescu and his wife, Elena, and the distinguished ministers of his government come to visit the White House, the First Family of our country, and the people of the United Mr. President, you are welcome to our country.
We paid him a special honor today, perhaps unprecedented in the history of our Nation. We played two different national anthems to Romania— [laughter] -the incorrect one this morning and the correct one tonight. And I think this gives us an excellent opportunity to judge the tremendous progress that has been made in Romania— [laughter] —because I like the one tonight much better, Mr. President.
It's always an exciting thing for us to have distinguished leaders from other nations come to visit us, and we always like to put our best foot forward and not only entertain our guests but to let them know what a great country we have.
I was particularly eager to impress the President's wife tonight, because she, on her own, is a distinguished scientist, a chemist, has done great research work. And I was very careful to place on her left someone who could speak her language about science and about whom I could brag as a distinguished American to show how superior our country was. As a matter of fact, Dr. Palade1 is a Nobel laureate, and I wanted to let Mrs. Ceausescu know how advanced we were in training Americans to win the foremost prize in all the world. So, I was explaining it to her very carefully, and in the middle of my very proud dissertation, he pointed out to me he was born, raised, and trained in Romania. [Laughter] So we learned a lot about each other.
I've had a delightful day with the President of this great country. I think it's accurate to point out that as the leader of his great nation, he's not only brought tremendous progress to Romania but also has taken on a role of leadership in the entire international community that's notable.
He's been dedicated to the proposition that a nation was sovereign, that its territorial integrity should be honored, that its people should be independent, and that in spite of this complete commitment to the pride of one's own nation, that there should be bridges built, not only to other countries from your own but between other countries that have difficulty in communicating because of different political and economic organizations within their own countries.
He was one of the first leaders, I think, who saw the benefits, economically, politically, militarily, in detente, and he's been a foremost proponent in trying to bridge the gap between the Warsaw Pact nations and the NATO countries. He has a unique ability to relate easily to leaders of nations, regardless of their political commitment or orientation or background or history or conviction about the present or future status of their countries.
He's been very helpful to me and my predecessors in the White House in trying to bring messages directly from leaders with whom we don't communicate became of an absence of diplomatic interrelationships, and has provided a bridge for the easing of tensions and the better understanding on a worldwide basis.
As a member of the developing nations of the world, he's been able to be an evocative and a very effective spokesman in acquainting the industrial nations of the world about how we could interrelate more easily and more effectively with a group of countries who quite often are not well organized or not willing to sit down and calmly negotiate the way to alleviate the wide disparity in economic benefits.
He's the leader of one of the few Eastern European nations who is a member of the Group of 77, now comprising about 95 countries. And I think this shows the breadth of his vision and the commitment that he has to bridge those gaps that I've just described.
We've got an excellent relationship with Romania. I think it's been growing steadily and on a very sound basis for the last 10 years or more.
This is the President's fourth trip to our country, and after he leaves Washington shortly, he'll be going to other places in the United States. He'll be going to Chattanooga, to Dallas, to Houston, to Orlando. He'll also be visiting New York. Unfortunately, he won't get to Georgia- [laughter] —on this trip. He's going to save that for dessert when he comes back on his next trip.
But he knows our country. He's studied it with a great deal of interest, and he's been one of the people who have made notable progress among other countries that are in the most intense disputes at this point.
I would say more than any other leader, certainly including myself, he was responsible for the historic visit of President Sadat of Egypt to Jerusalem and Israel.
By the way, the capital of Israel is Tel Aviv and not Jerusalem. 2
And we have seen that this ability of his has paid rich dividends to us. Romania was one of those countries instrumental in evolving the Conference on Security and Cooperation in Europe, that we refer to in our country most often as the Helsinki agreement. And at Belgrade, which he described this morning as a disappointment, he was very eager to try to move forward to a much more substantive accomplishment that might be realized at the next meeting, scheduled to be in Madrid.
We are very proud that the Helsinki conference agreement includes the Third Basket, which covers more deeply than ever before the question that is of profound importance to our country, that is, basic human rights. And we have an ability, President Ceausescu and myself, his ministers and mine, to discuss ways by which we might move, perhaps in different means and at different rates of advance, to bring about those basic human rights that our people so urgently need-the reunification of families and the basic freedoms that are important to us.
I've enjoyed being with him. He's a very good adviser. He's a man who in the past has suffered greatly, imprisoned, tortured, but because of his courage and because of his belief in the future of his own country, notable achievements have been brought to the people who have confidence in him.
It's a great pleasure for me again to express my welcome to him to our country, and I would like to propose a toast to a great leader, President Ceausescu, and to the brave and friendly people of Romania. Mr. President, to you and your people.
PRESIDENT CEAUSESCU. Mr. President, Mrs. Carter, ladies and gentlemen:
It is for myself, for my wife, and for the members of my party a reason of special pleasure to be your guests here tonight, to be again here in the United States, to meet again many citizens of your lovely country.
Today we had the first round of talks on a rather large sphere of problems, and we have also reached a numbers of common conclusions.
The first regards the need to establish broader cooperation between our two countries and to take more sustained efforts towards peace, towards more democratic international relations, and towards ensuring to each and every nation the right to live in freedom and to develop according to their own aspirations.
You said, Mr. President, that many people here in the United States have come from Europe or other parts of the world. I cannot boast that many Romanians have come from other parts of the world, because for almost 2,050 years—because in 1980 we are going to celebrate the 2,050th anniversary of the first centralized nation state in Romania-Romanians have been there, and they are going to stay there. They fought to be free, and they want to be always free.
In many ways the history of our two respective countries are different, and the present is also different from a number of viewpoints. The United States is a developed country and a big country. Romania is a smaller country and a still developing country. But it is our wish, by relying on the labors and efforts of our own people, to develop on broader lines, to gain access to modern science, to civilization, and to live a life of dignity, freedom, and independence.
I think that despite all differences, including differences in social systems, there are many things that can be common to our two countries and to our two peoples, and mainly our common wish for progress, our wish to see that the accomplishments of human genius are put in the service of happiness of all peoples. No doubt, also, we have a common determination to do everything we can in order to see to it that the wonderful achievements of science should not serve destruction and war, but the progress, well-being, and happiness of each people and of all peoples.
I think that that is precisely the supreme rationale of human existence, and that is also the fundamental problem, the core of human rights—the right to be free, the right and the duty to respect the freedom of others, and the duty to work in such a way in order to enjoy himself or herself and let others enjoy the benefits of civilization.
Maybe on certain aspects of human rights we might have different philosophical concepts, and there is nothing wrong in that. But we in Romania set out from the premise that everything we do should serve the well-being of the people, should help all people live life with more dignity and more freedom. And we have a saying in Romania that the little we have, we should distribute fairly for all to enjoy.
You told me tonight, Mr. President, about your Presidential campaign in the early stages and how you really got elected President. It's wonderful that you could win over all obstacles, and now to have a farmer at the head of the United States, and also a farmer's son, and that I used to work in the fields, I used to work in factories, and we have there in Romania a farmer's son who has worked all his life with his hands, and he's now a President, too.
Maybe that helps our people also understand that whatever we do is for the people to benefit and for them to live life with more dignity.
As a matter of fact, if I remember right, either the first or the second President of the United States used to be a worker, and the founding father of scientific socialism, Marx, used to say and to quote that as an example of how a working man can rise to the highest dignity of office.
Now when we talk about human rights, it is good to remember all these things, because the rights of all human beings begin with the right to work, with the right to learn, with the right to have access to culture, with the right to live in freedom, and also with the right to participate in the management of all national affairs without discrimination. And this also includes the right to have any creed, either religious or philosophical.
We endeavor to respect such rights fully, and we regard them as sacred. We think that everything should be done and no effort should be spared in order to have those rights asserted in all countries, so that they become a basis for equal cooperation among all nations.
That is why we take a stand against all wars and for disarmament, first of all for nuclear disarmament. That is why we believe that the world should cease to be divided into opposing military blocs and new relations should be built in a world without military blocs.
That is why we stand for a political solution in the Middle East. That is why we welcomed President Sadat's initiative, and now we are hopeful that his efforts will and the others will lead to a just and lasting peace in the area.
That is also the reason why we wish to see new relations established in Europe and the documents signed in Helsinki implemented in full.
As there are more baskets than one, we would wish that all should be implemented, and more progress should be made in particular on the military side of it, considering that in Europe, where many Americans of today have come from, we have to deal with the highest concentration of forces and modem armaments.
You know Europe. You know Europe is not such a big place, and little place is now left for anything but arms. So, we shall have to remove them to make place for people. That is why, while giving attention to the Third Basket, we should also give more attention to military disengagement and disarmament.
These are the same reasons why we support the liberation movements in Rhodesia and Namibia and the majority in South Africa, their right to be free, to decide their own future, and to participate in the management of their own affairs.
Finally, I shouldn't fail to mention the fact that two-thirds of mankind are poor, and one-third is relatively rich, because not all are rich in that one-third. That makes it necessary, in our view, to join the efforts with these people, with the developing nations, in order to secure their more rapid economic and social progress. Without this we can hardly say that all nations can enjoy the fruits of modem civilization.
We would certainly welcome with great satisfaction more active support from the United States to the solution of these worldwide problems, if more is done for this two-thirds of mankind that live in poverty. Of course, I have in mind not only the United States but all developed countries, all those who are able to take action in order to bring new solutions to the vital problems of mankind.
We know well that just a few countries, even if they are as big as the United States, cannot solve all these problems. What is needed is for all peoples. all nations to join their efforts in order to bring about solutions that would be up to the expectations and aspirations of all people. I am convinced that despite the difficulties, that all the nations of the world will be able to bring about new solutions to the problems we are facing and to build together a better world, a would with more justice.
We wish that our visit here and our talks together should help us identify new fields for cooperation between Romania and the United States, but at the same time should provide new opportunities for cooperation with a view to solving the problems that confront humanity today.
I should like to propose this toast for better cooperation between Romania and the United States, for a more democratic international policy. I wish the people of America prosperity and peace for all. To your health, President Carter, to the health of Mrs. Carter. We are looking forward to seeing you in Romania. To your health, everybody.
1 1974 laureate George Emil Palade.
2 The President was correcting a portion of his remarks delivered earlier in the day during the arrival ceremony for President Ceausescu.
Note: The President spoke at 9:45 p.m. in the State Dining Room at the White House. President Ceausescu spoke in Romanian, and his remarks were translated by an interpreter.
Jimmy Carter, Toasts at a State Dinner During the Visit of President Ceausescu of Romania Online by Gerhard Peters and John T. Woolley, The American Presidency Project https://www.presidency.ucsb.edu/node/245147