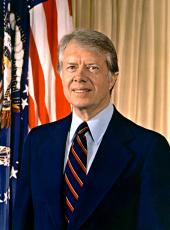 Toasts at a State Dinner During the Visit of King Hassan II of Morocco
THE PRESIDENT. First of all, let me welcome all of you to the White House. This is a wonderful occasion for us, to have a distinguished visitor, his sister, his two sons, to come and represent a country that has extremely significant historical ties with our own Nation.
When I welcomed King Hassan this morning, I pointed out to the audience on the South Lawn that our Nation declared its independence in 1776. And in 1777 we were sitting here fighting for freedom, a small struggling country with practically no friends in the rest of the world. But one nation came forward and said, "We recognize you as an independent people." And I think all of you here can guess which nation that was. It was Morocco.
This, of course, was in 1777. And now for more 'than 200 years our country has been honored with the friendship and the alliance and support and partnership with a great people, the Kingdom of Morocco. Ten years later, we signed a treaty of peace and commerce and began a very fruitful trade between our two nations, with the exchange of ambassadors, first of all, and then with merchant seamen, more recently airmen, members of our Navy. This has been a very constant and fruitful interrelationship between two people.
My mother visited Morocco recently. King Hassan tells me that Morocco has recovered from her visit. [Laughter] As a matter of fact, my mother is a walking chamber of commerce for Morocco. And I thought she was the greatest supporter of Morocco that I knew, until I sat next to Mrs. Billy Casper. Her husband has played in 8 [golf] tournaments in Morocco. They visited Morocco 20 times. And she says that of all the countries she has ever visited, it's her favorite.
The history, the customs, the tradition, the achievements of Morocco are admirable in every respect. And it is a great honor for us to have King Hassan come and visit here, 11, 12 years since he made his last visit. The first time he came here with his own father as a Crown Prince, and he's brought his oldest son, the Crown Prince, with him this time.
The last time King Hassan came to our country, about 12 years ago, the Middle East was in a time of crisis, indeed war. On this occasion we are struggling to prevent a recurrence of that kind of crisis in the Middle East.
We've made historic progress in recent months. The outcome of the final negotiations for peace between Egypt and Israel is still in doubt. But one of the staunch allies and friends of President Sadat who courageously supported him when he made his historic journey to Jerusalem almost exactly 12 months ago was King Hassan of Morocco. It was not an easy thing for him to do. He was castigated and criticized by some because he expressed his friendship and support for that giant step toward peace. But this is typical of his leadership.
He's been instrumental in giving us advice and counsel. Me, as a new President, I had a lot to learn about the Arab world, about historical interrelationships, about the continent of Africa, the prospects for peace. And in many ways that have never been revealed, he's been very constructive in laying a basis for progress that is now being made.
My wife and the Crown Prince have been speaking tonight in Spanish. The Crown Prince is quite fluent; my wife is still a student. But King Hassan told me that even in years gone by, the Spanish language has been very helpful to our Nation. In 1943, as you well know, in a time of worldwide crisis, President Roosevelt met with the Prime Minister of Great Britain, Churchill, in Casablanca.
It was a highly secret meeting. Intelligence revealed their presence there. The Germans were informed. Fortunately, they had a Spanish translator in Berlin, and the information that reached Hitler was that the President of the United States and the Prime Minister of Great Britain were meeting in the White House. [Laughter] So, although this building was in danger of being bombed, President Roosevelt and Prime Minister Churchill escaped unscathed.
That's a true story, as a matter of fact, but a very interesting element from history shows again that in time of crisis, the great nation of Morocco was a place for the resolution of differences and the laying for groundwork for peace.
We are honored, too, because King Hassan has been so diligent and so successful in providing for his own people an expanded opportunity for living a fruitful life. Under his benevolent leadership, the people of Morocco have been granted constitutional government with the holding of elections in a very successful way, the election of a new parliament, including members of the political opposition. And this has been done in such a fine and successful fashion that Morocco has set, indeed, an example for other nations to emulate.
The tremendous natural wealth of Morocco is still in many instances waiting to be tapped. And its phosphate reserves, its oil reserves, oil shale, uranium reserves, and the great agricultural capability of his country and the human resources are now being developed in a very constructive way in partnership, on occasion, with us. Although the relationships are of mutual benefit, I would have to say in candor that we have benefited much more from our relationship with Morocco than vice versa.
It's a wonderful opportunity to have here a man who understands the continent of Africa, an area where our own interest has just recently begun to be exerted in a constructive fashion. And when the world sat in doubt and the nation of Zaire was threatened with invasion from outside forces, there was one nation, again, that showed leadership and courage. And you don't have to guess long to know that that nation was Morocco, a stabilizing influence there, instant action brought about by strong and competent leadership. And that's, indeed, the example that King Hassan has established for the world to observe.
I would like to say in closing that we are very grateful for this alliance and for the progress that has been achieved in his country, and the benefit that we have derived from it in our Nation.
It's very reassuring to me as a President to know that I can enjoy the friendship and the support, the advice and the counsel and the common purpose which has historically bound our nations together.
And on behalf of the 220 million people of the United States of America, I would like to propose a toast to the people of the Kingdom of Morocco and to their great leader, and a friend of all Americans, King Hassan II. To King Hassan.
KING HASSAN. The efforts after dinner is not good for digestion— [laughter] but I shall try to.
Ladies and gentlemen, I present you the President, Jimmy Carter, not as President of the United States, but as a new, but close and loyal friend of myself and of my country.
I never met the President before. But this morning I felt that there will be many, many strong ties between him and between I, because we are convinced that the democracy and the freedom are the best reasons for people to live, to fight, to win, or to die.
The President told you that Morocco is rich with uranium, phosphate, and perhaps oil. But before, Morocco is rich by his history, is rich by his respect for the dignity and rights of men. And it's why I feel that President Carter and I, we will build a very long and large bridge over the ocean to make our people more close and more allied, allied not against someone, but allied against poorness, against war, against the strengths of the weapons, and allied for the prosperity of our nations and our peoples.
Mr. President, I told you this morning that I visit you with my friendship and my fault of English. And I continue this this evening. [Laughter] But I think that the best conclusion is to explain as possible as I can, what is the kind of the friendship between your country and mine.
And through your person, Mr. President, permit me to pray God to save your people and your country and to help you in your mission and in your job.
Ladies and gentlemen, will you please pray God with me to save the United States and the President of America? Excuse my very bad speech.
THE PRESIDENT. Very wonderful speech. I thank you very much.
Note: The President spoke at 9:45 p.m. in the State Dining Room at the White House.
Jimmy Carter, Toasts at a State Dinner During the Visit of King Hassan II of Morocco Online by Gerhard Peters and John T. Woolley, The American Presidency Project https://www.presidency.ucsb.edu/node/244129