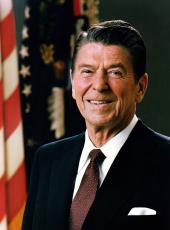 Toasts of President Reagan and President Vigdis Finnbogadottir of Iceland at a Luncheon Honoring the Icelandic President
President Reagan. Madam President, Your Royal Highnesses, and distinguished guests: It's indeed a pleasure for me to welcome you to the White House this afternoon and to play a part in the inauguration of Scandinavia Today, a program which underscores the contributions of Nordic culture and the ties between the United States and the five Scandinavian democracies. It is, certainly, a noteworthy occasion when we're able to host a chief of state, representatives of three royal houses, and the array of distinguished government leaders who are assembled here today.
Madam President, a special greeting for you. This is the first time a President of Iceland has visited our country. And it is also your first visit as well. I know you and your colleagues will see firsthand just how much your countrymen have contributed to the cultural, economic, and social development of this nation.
Charles Lindbergh, the great pioneer in aviation, once said that short-term survival may depend on the knowledge of physicists and the performance of their machines. But, and I quote, "Long-term survival depends, alone, on the character of Man." Today, we recognize together that Scandinavians were and continue to be a significant force in the shaping of our American character. Lindbergh himself, who represented the best qualities of America to so many, was the son of Scandinavian immigrants.
It's no mere coincidence that your five nations share with the people of this country strong democratic traditions. Madam President, your country, Iceland, boasts a history that includes a republican constitution and an assembly as far back as the year 930. Now, that's going back pretty far, even by my way of counting. [Laughter] And just as we've been home to many Scandinavian settlers over the years, your own nation of Iceland was settled by proud and independent Nordic people from the European continent.
Our peoples share traits that are the product of our common frontier heritage. But something all of us in this room share is our love of liberty and our respect for the rights of individuals, values which place our nations on the front lines of freedom and democracy. Along with this freedom, Iceland and other Nordic countries experience cultural advances that will be highlighted by Scandinavia Today.
I know of your own love, Madam President, for literature and the theater. And as one who shares a somewhat similar background—I'm not going to tell you about "Bedtime for Bonzo"— [laughter] —and who was also elected President—I believe I can appreciate how deeply you feel about your country, its people, and its traditions.
In one of Europe's oldest collections of literature, "The Edda," there is a saga with a message that speaks clearly to us even after a thousand years. "Cattle die, kinsmen die," the ancient poem says, "the self dies. But a reputation will never die for him who gains a good one." Today, we celebrate the reputation of the Nordic culture. We're thankful to have you here to join with us in this celebration.
And now, ladies and gentlemen, would you please join me in a toast to President Vigdis [Finnbogadottir] and to the traditional warm bonds that join America and all these other countries. Madam President.
President Finnbogadottir. Mr. President, Mrs. Reagan, Your Royal Highnesses, dear friends:
First and foremost, Mr. President, let me thank you for your warm words for us Nordic nations.
It has long time been my conviction that the best gift we receive from society is the gift of literacy. The capacity to read is a richness beyond measure by our usual standards of wealth. Yet, too often it is taken for granted. This gift opened up for us new worlds. It is an incentive for our imagination. And through the gift of reading is given knowledge, knowledge about other peoples.
The people of America and the Nordic people share the fortune of being literate from an early age. Through reading, children can imagine what the world around them looks like. Thus, it is almost half a century since I began to imagine through books what the United States of America were like.
I became a friend with Huckleberry Finn long before knowing the sweet taste of huckleberries. And the stories of Edgar Allen Poe made my heart jump from secret and sheer excitement. And through the immigrant stories, I traveled over the wide plains accompanied by Nordic people. People had come from mountains and now had nowhere to hide, not even a rock or a bush. I have never been here before, yet some things look familiar to me through the depiction and the paintings of your great artists of the world.
To the best of my knowledge, most of the great literature works of America writers have been translated into our Nordic tongues, works that have inspired our own writers and widened our own horizons. Eugene O'Neill, Arthur Miller, just to name a few of the giants of the theatrical arts which we have in common, Mr. President, suddenly become kinsmen to us at the moment their words are translated into our own tongues.
Yes, we have known about you and your land for a long time. In fact, we have sources telling us of the new world almost a millennium ago. These sources tell us of dew sweet as anything, of places with no dearth of grapevine or grapes. No wonder the first western travelers to these shores called them "Vineland, the Good."
But the sweetness of the dew and the abundance of grapes are not the only things Nordic people have sought in the New World. Our scientists have come here for knowledge and know-how to this land of scientific ingenuity, a land known for its great achievements, in fact, achievements so unbelievable that none of my generation would have imagined them when I was growing up.
Mr. President, Mrs. Reagan, our nation is a nation of great spiritual and practical—I would say, your nation is a nation of great spiritual and practical achievements, not to mention its vastness and power. What then have we, the smaller nation, to say to the greater ones? Perhaps the individual belonging to a small nation is more conscious that he or she can contribute to the contemporary world. In a small nation, every single creative mind is needed. Indeed, each skillful hand that can contribute to the achievements of a worthwhile common aim is welcome.
And yet, all would be in vain if not for the gift of literacy. The capacity to read and remember words of wisdom, the words of those who have been at the plow in the field before we arrived. Without reading words of those who came before us, we could hardly be the people we are today.
Coming generations will read about the adventures of Huckleberry Finn. They will read about immigrants and old explorers of new lands and they will read about us. What is the word we leave them to read? Perhaps the word is "dull." Perhaps the word is "delightful." Perhaps it is "good." Perhaps it is "bad." That is for posterity to judge. Anyhow, we all know that we are marvelously intelligent. [Laughter]
Whatever the judgment will be, we have given the future a great gift, the capacity to read about us. American or Nordic, I have this great ambition for us all: Let us give our descendants words to think about, deeds to remember, a culture to build upon. Let us give the future a picture of ourselves that can be reproduced at least as a fragment of an ideal.
Mr. President, Mrs. Reagan, please accept our heartfelt thanks for the hospitality you have shown to my country and all the other Nordic countries today in your renowned home. We know that the welfare of our nations is deeply linked as well as the welfare of other nations in the world. It is my sincere wish that our children and forthcoming generations will be able to read about how magnificent peacemakers we were, realistic as we are about the world situation today.
Let us all lift our glasses and drink to the health and happiness of the President of the United States of America, Mrs. Reagan, and the American people.
President Reagan. Thank you very much.
President Finnbogadottir. If you would please sit down, I have a small gift from the Scandinavia.
Mr. President, on behalf of all the Nordic nations, I have the pleasure of presenting to you the emblem of the Scandinavia Today, inaugurated here in America.
President Reagan. I thank you very much. And maybe I should have incorporated this in my toast, but it gives me an opportunity now in thanking all of you to say that this morning—some of our days that we observe here people think are just automatic—but every year by proclamation they are reproclaimed. And I signed the proclamations today declaring Columbus Day and Left Erikson Day.
Note: President Reagan spoke at 1:20 p.m. in the East Room at the White House.
Earlier, the two Presidents met in the Oval Office.
Ronald Reagan, Toasts of President Reagan and President Vigdis Finnbogadottir of Iceland at a Luncheon Honoring the Icelandic President Online by Gerhard Peters and John T. Woolley, The American Presidency Project https://www.presidency.ucsb.edu/node/246373