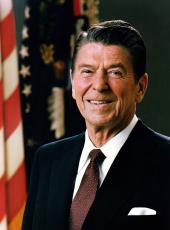 Toasts of President Reagan and President Patrick J. Hillery of Ireland at a Luncheon Honoring the Irish President in Dublin
President Reagan. President and Mrs. Hillery, Mr. Prime Minister and Mrs. FitzGerald, ladies and gentleman, Nancy and I are delighted to welcome you here this afternoon. We hope to return the kind hospitality that has been extended to us from the moment that we set foot on this Emerald Isle. By the way, I noticed that this house has a Blue Room, a Coral Room, and a Gold Room—and that reminds me of the White House back in Washington. As you may have seen when you visited Washington, Mr. Prime Minister, the White House is a good home for an Irishman, because every March 17th, I can honor St. Patrick by spending all day in the Green Room. [Laughter]
For Americans, the very mention of Ireland holds a magical sense of allure. It brings to mind images of green pastures, rugged highlands, and wide lakes—like Lough Conn, Corrib, Killarney—images of a lovely village square in Galway, or the graceful Georgian architecture here in Dublin. Perhaps what strikes Americans most when they visit Ireland is that yours is a land of many faces—a face of rich and unparalleled beauty, a face of a proud and glorious past, and a face of a young, and bright, and hopeful future.
More than eight centuries before Columbus discovered the New World, Irish monasteries were great centers of faith and learning. Scholars from all over Europe came here to study theology, philosophy, Greek, and Latin. Your ancestors created stunning illuminated manuscripts, including a book many consider the most beautiful ever made, the Book of Kells.
Today, you and your sons and daughters are making Ireland young again—young in your spirit of hope and faith in the future; young in your determination to create new opportunities and attract new technologies to help your economy along. And you're young in heart, ready to give and forgive, and ready to reach out in goodness and friendship and love.
Now, our own country of course remains a young nation simply because it is a young nation. Only a few centuries have passed since the first settlers landed on our eastern shores. And they and those who followed them came from virtually every nation on Earth. By 1900 nearly 4 million had come from Ireland alone. They cleared the land, built towns, established legislatures. They created a new and distinctly American way of life, and yet they continued to cherish memories of their homelands. Today Ireland and the United States share a living bond: the many Irish people who have cousins in America, and the 40 million Americans of Irish descent who always keep a special place for this island in our hearts.
Our two countries share a second bond-a bond of fundamental beliefs and enduring values. And as Ireland works to foster international understanding in this troubled world, you'll have the admiration, the respect, and the support of the United States. We pledge our unremitting effort for the cause of peace with freedom and human dignity.
As you may know, my own family left Ireland for the United States more than a hundred years ago. Some of the people in our country say I was with them. [Laughter] This homecoming to the land of my ancestors has moved me more deeply than I can say. And Nancy and I as we draw our visit to a close, we know that many Irish Americans who can't be here today will watch from home. They're with us in spirit and sharing a deep affection for Ireland and her people—an affection that's shared, as well, by your great poet, or I should say—well, he did share it when he wrote—William Butler Yeats, when he wrote: "Land of Heart's Desire, Where beauty has no ebb . . . But joy is wisdom, time an endless song."
Now, ladies and gentlemen, would you please join me in a toast to the President of Ireland, President Hillery.
President Hillery. Mr. President, somebody remarked to me that your progress in Irish was so rapid that I should begin my speech in Irish and that you would understand it. 1 [Laughter]
I would like to thank you for your kind words, for your invitation to Maeve and to me to be here, and to thank you and Mrs. Reagan for arranging this very happy occasion. I'm sure everybody here would wish to thank you both personally, if time allowed, because for us it is a really happy occasion.
We will, when you have left, wonder after your all too brief visit—we'll reflect on the personal and official reasons and aspects of your visit and what made it such a success. And I think I'd start off by saying that you brought to us a cheerful atmosphere, which Europe is badly in want of.
I suppose it's safe to say that if anybody in the free world has cause to look worried and overburdened, it's you, Mr. President. And still you come among us with courageous cheerfulness, showing us the way you're going and assuring and reassuring our people and the people of the world. And I thank you for doing that.
Your search for Irish roots has obviously been an important consideration for you and for us. It goes straight to the heart of the relationship between this country and the United States of America. We have our friends and relations in your country, and you have yours here.
You were here for the first time in 1948 as a private citizen, and you returned in 1972 as Governor of California. Now, 12 years later you have come again, this time as President of the United States. It is not necessary for me to say how much we welcome you.
We're not promoting the idea that every American who comes to Ireland 3 times will become President of the United States- [laughter] —but some among us are pointing to the wisdom of letting young people in America know that they cannot visit Ireland too early or too often. In fact, inherited wisdom has brought Ronald Reagan, Jr., here twice already. [Laughter]
Your visit, Mr. President, has consolidated the special friendship which exists between Ireland and the United States. Your presence among us testifies to that special friendship—a friendship which has endured and grown and become more, not less important with the passage of time, and moving away from the original links of history. It is based on blood and kinship and reinforced by the bedrock of shared beliefs and ideals.
Ireland shares with the United States of America a profound respect for the rights of the individual, for the abiding worth of democracy and for the dignity of the human person. The tyranny of flying time compels me to omit reference to very many aspects of our friendship and ties at official and unofficial levels. Some, but not all have been referred to and recalled over the past 3 days. Suffice it to say that the bonds which bind us are many and strong and enduring.
The best guarantee of ensuring the permanence of such a happy relationship is in the best tradition of old friends—is to visit more often. With that in mind, Mr. President, I hope that you and Mrs. Reagan will soon return to our shores. And you will, let me assure you, receive cead mile failte [100,000 welcomes].
I now ask those of you who are not Mr. and Mrs. Reagan— [laughter] —to join with me in a toast to the President of the United States of America.
1 President Hillery's opening remarks were in Gaelic. The remarks were not translated nor included in the White House press release.
Note: The President spoke at 1:45 p.m. in the ballroom at Deerfield, the residence of U.S.. Ambassador to Ireland Robert F. Kane.
Ronald Reagan, Toasts of President Reagan and President Patrick J. Hillery of Ireland at a Luncheon Honoring the Irish President in Dublin Online by Gerhard Peters and John T. Woolley, The American Presidency Project https://www.presidency.ucsb.edu/node/261608