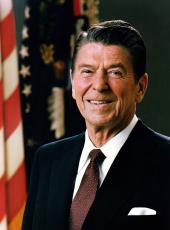 Toasts of President Reagan and President J.R. Jayewardene of Sri Lanka at the State Dinner
President Reagan. Mr. President, Mrs. Jayewardene, distinguished guests, and ladies and gentlemen, it's a special pleasure to have you with us. Sri Lankan leaders, including yourself, Mr. President, have been to our country before. Tonight, however, is the first time that a Sri Lankan chief of state has been an official guest at the White House. It's our honor to have you with us, and Nancy and I hope your visit will be followed by many more.
Our talks this morning reflected the cordial and cooperative relationship which exists between our two democracies. When your government was first elected in 1977, Mr. President, Americans were excited by your bold program for economic development. And you've led your country in a new direction, and by doing so, you've created new opportunities for your people and expanded the potential of every Sri Lankan.
The accelerated Mahaweli River project is part of your effort, as is freeing the Sri Lankan economy from the controls and red tape that stifled progress and economic expansion. One innovation of particular interest to me, Mr. President, is the creation of a free trade zone. This practical approach to development with its open market is attracting investment and unleashing the energy of the private sector. And I hope those over on Capitol Hill who claim enterprise zones won't work here in our country will take notice of the progress that you've made.
We in the United States are happy that we've been able to contribute to your progress. Our Agency for International Development is working with you in the river program and encouraging Sri Lanka's private enterprise sector. With the incentives that you now offer to investors, your country is attracting business and capturing the attention of American entrepreneurs and investors. And I think we can look forward to growing cooperation between our governments and our people on many levels.
U.S..-Sri Lankan cooperation comes in many forms. Last year the Peace Corps began a program to assist in the upgrading of Sri Lanka's English language teaching skills. And today we signed a science and technology agreement which provides an umbrella for increased collaboration. And we look forward to the early completion of negotiating on a tax treaty and on a bilateral investment treaty. All this reflects the extraordinary relationship that we're building, a relationship of trust and trade that will benefit both our peoples.
Mr. President, we understand Sri Lanka's choice, as a small developing country, to remain nonaligned in matters of foreign policy. We respect genuine nonalignment. Your country consistently has been a forceful voice for reason and moderation in nonaligned councils. Your strong opposition to unprovoked aggression in Afghanistan and Kampuchea has swelled the international chorus calling for restoration of independence for these two brutalized countries. We hope that Sri Lanka will remain a strong moral force in world politics.
And today, Mr. President, we came to know one another better and to understand more fully our objectives and concerns. Your visit has undoubtedly strengthened the bond between our two countries, and it's laid a basis for even closer, more cooperative relations between Sri Lanka and the United States in the future.
And finally, Mr. President, I'd like to thank you again for the elephant— [laughter] —a magnificent present that you gave us today. The elephant happens to be the symbol of the President's political party, and by coincidence— [laughter] —we happen to be also that smart. [Laughter]
Ladies and gentlemen, may I ask you to join me in a toast to President and Mrs. Jayewardene, and the prosperity of our relationship with Sri Lanka.
President Jayewardene. Mr. President, Madam Reagan, ladies and gentlemen, I don't mind, President Reagan telling the public that the gift of the elephant was accidental. [Laughter] But privately I know it's something else. [Laughter] The elephant led my party to victory in 1977. I received 51 percent of the votes. Any party that gets 51 percent of the votes must win an election. And I hope you will have the same luck in the months to come.
I came here as a stranger, but I find-already I feel I am among friends. I've heard that the American people are very friendly people, hospitable people. Both qualities have been proved during the last few days. I'm surrounded, I understand, by film stars. Those whom I saw in my youth were rather different. They were Charlie Chaplin, Laurel and Hardy, Fatty Arbuckle— [laughter] —and Mary Pickford.
I remember a story about Laurel and Hardy. They joined the French Legion. They were waiting in the inspecting line. The sergeant came and said, "What are you doing here? Why do you join the French Legion?" They said, "We joined the French Legion to forget." "To forget what?" "We've forgotten." [Laughter]
I haven't forgotten about the help your country has given us during the last few years. But I didn't Come here to ask for help. That's not my way. I'm waiting to hear Mr. Frank Sinatra sing "My Way." [Laughter] That's one of my favorite songs, but I understand he didn't like it. [Laughter] I used it in part of my election campaign and asked the people to vote for my way, which they did.
Your country is, as far as the Americans go, young. Our country is old, very old. We go back to the fifth century before Christ. We had Ambassadors at the court of Claudius Caesar. You'll find it recorded in Pliny's letters. He even mentions the name of the Ambassadors. We had sent delegations to China in 47 A.D. and I understand the gift sent by our king to the Emperor of China were water buffalos and hump cattle. The great Chinese pilgrims Hsuan-tsang and Fa-Hsien came to our country in the fourth century A.D. and the sixth century A.D. So did Sinbad the Sailor, Marco Polo, and Ibn Batuta.
For the first time, Westerners came in the 16th century and the Portuguese came as tourists but stayed for 150 years. After that came the Dutch and then came the English. And we are now, once again, a free country. We wish to be friendly with all and the enemies of none. That is my policy and the policy of our people.
We would like the people of America to understand us. In the long history of Sri Lanka, there have been difficult periods. There have been murders; there have been assassinations; there have been riots; there have been good deeds and bad deeds. Last July we had one of those bad periods. But in time to come, it will be forgotten.
I see in one of your newspapers there is an advertisement in which some people are trying to make us remember that day. It was a fatal day; several people were killed. It was not done by the government; it was done by a gang of hooligans, about which we are very, very sorry. I'm trying to forget it. I'm trying to make our people not commit—some of them—such incidents again. I hope we will succeed.
I remember when one of your representatives came to see me and had lunch with me. I told her—she is your representative in the United Nations organization—"A leader must know only two words." She said, "What's that?" I said, "Yes and no." And I think President Reagan knows those two words very well. Once you say yes or once you say no, stick by it. Whatever happens, never change. That has been my policy, and it has succeeded.
Therefore, Mr. President, we're surrounded by friends. We've been very happy the last few days. I have a few more days to spend. I hope to spend some time in the Indian settlements at Santa Fe, not for any other reason but because those were the stories I read in my youth, about Buffalo Bill and the various tribes. I'm fascinated by the fact they were the oldest human settlements, as far as I know, in the continent of America, and a great people. And we must give them a helping hand as we must give every race, every tribe, every human being, whatever his caste, religion, or race, a helping hand.
We're all human beings. We extend our affection, not only to human beings but even to animals; to the little elephant that we have gifted to you. That is the philosophy which we have learned in our country; that is the philosophy which, if I can, I'll spread throughout the world. And I find in you, Mr. President and Madam Reagan, two very good disciples.
Thank you very much for entertaining us. May your country prosper. May, in the morning and in the evening, at nightfall, may the name of President Reagan and Madam Reagan, never be forgotten. Thank you.
May I drink to the health of President Reagan, Madam Reagan, the Government and people of the United States of America.
Note: President Reagan spoke at 9:45 p.m. in the State Dining Room at the White House.
Ronald Reagan, Toasts of President Reagan and President J.R. Jayewardene of Sri Lanka at the State Dinner Online by Gerhard Peters and John T. Woolley, The American Presidency Project https://www.presidency.ucsb.edu/node/260753