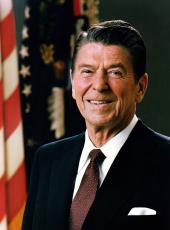 Toasts of President Reagan and President Ferdinand E. Marcos of the Philippines at the State Dinner
President Reagan. Ladies and gentlemen-isn't that a shock when they turn on those lights? [Laughter]
Before I say what I was prepared to say here, I think that all of us ought to join in a "Happy Birthday." There is a period in which you can tell a lady's age— [laughter] —when it is Irene Marcos, and it's her 22d birthday. Happy birthday.
But tonight we welcome old and good friends to the White House in a visit symbolic of the superb relationship between our two countries. It's a nostalgic occasion for us, as well. Nancy and I often think of our 1969 visit to Manila, when we first experienced that unexcelled Philippine hospitality as the guests of our guests here tonight. And the birthday girl was quite young and small at that time.
Many things have changed in both countries since that time, but one thing remains constant—the basic nature of the Filipino-United States friendship. It remains solid. Both countries have worked hard over the years to maintain excellent cooperation in defense, foreign policy, refugee matters, economic assistance, and many other areas. And I pledge to you, President Marcos, that the United States will do its share to strengthen those ties in the 1930's—the 1980's! [Laughter] I have been doing a little reminiscing at the table, forgive me. Yes, the 1930's was my first job. [Laughter]
We value the friendship of the Republic of the Philippines for many reasons, Mr. President. Our intertwined histories during the first 50 years of this century left its imprint on your institutions of government, your educational system, and your public services, such as public health. The widespread use of the English language is a result of that era. So is your flourishing free enterprise system.
As important as our shared histories or our shared strategic interests which span this entire century, in World War II Filipinos and Americans fought and died together. And you, yourself, Mr. President, played an unforgettably heroic part in that conflict. Coming out of that war, your generation and mine fully understood the need for collective security arrangements. Unfortunately, some of today's young people, blessed by decades of relative peace, may not have this understanding. I think it's our duty to impart our historical experience to them.
Today, a strong defense alliance is a major factor in contributing to the security of the Philippines and to the maintenance of peace and security in Asia. With the next review of the military bases agreement, which begins in 1983, we shall continue to modernize our security relationship to best serve our mutual security interests.
Both of our economies depend on vigorous trade and investment. These ties remain strong, and your presence in Washington, Mr. President, has enabled us to conclude several outstanding economic matters.
President Marcos, we have accomplished a great deal together over the years. We will all do more in the years to come. Common determination to achieve a better life doesn't mean that we need to be alike, we need only to treat one another in a spirit of generosity and mutual respect. If we do that, our continuing commitment to one another, resting as it does on many years of close relations, will be solid now and for the future.
So, in that spirit, let me offer a toast: To the President and Mrs. Marcos, and to the people of the Philippines, and to the mutual respect, the dedication to peace and security in the world, and the shared values which unite us.
President Marcos. Mr. President and Mrs. Reagan, distinguished guests, my friends:
I feel I must pay tribute to this elegant and fairylike party and dinner which has reminded me too much not only of home but of some dreamland at home; a tribute to the taste and sense of beauty to—perhaps, primarily, not only to President Reagan but Mrs. Reagan for this lovely party, which I shall always remember as the Firefly Party in the White House. [Laughter]
You do us great honor with this dinner. Allow me to extend the gratitude of 50 million people in the Republic of the Philippines, Mrs. Marcos and myself, for this hospitality and this generosity. Certainly, we will be unable to reciprocate this beautiful event. You even had the songs all prepared, including a Filipino song that's a favorite of the First Lady of the Philippines, Dahil Sa Iya, which means "Because of You": because of you I love, because of you I live, and because of you I am what I am. And then you had the other theme song which was a favorite of both President Reagan and the other President, I understand, the theme song of Dr. Zhivago, which is a long story, of course, and which I won't talk about. [Laughter] It happens to be one of our theme songs because it was sung in one of what threatened to be a tragedy, but which did not, and that is why we remember it.
Tonight, the Philippines once again is obligated to you, Mr. President, for your kind and generous words. I note, too, the use of the word "friendship," and I am reminded of the first President of the United States, the Father of this great nation, George Washington, who said that friendship is a slow, growing plant that must pass through the rigors of difficulty, hardship, before it can claim this appellation. And I am reminded, too, of the more—almost a century of relationship between our two countries and the periods of difficulty, the rigors, perhaps, even of misunderstanding, and battles that we have fought together. And perhaps, therefore, it is not too rash to say that it is proper to use the appellation "friendship" between the American and the Filipino.
That friendship—that abiding friendship—we cherish and cherish deeply. And this is why as I come and stand, once again, on American soil, Mr. President, I cannot but be candid. I would not be candid if I did not speak, too, of those misunderstandings and the adversities which we have faced together. For the world faces challenge and change. We are in a period of ferment. As one of your great writers has said: You have passed through a period of torment, an ordeal, perhaps, of tragedy, as you experienced the assassination of some of your American leaders, constitutional crisis in the Presidency, a trauma of Vietnam, and occasionally doubts about your own capability.
Certainly, as we look around in Asia the historic relation of the United States with the countries of that part of the world are marked occasionally with doubt, mutual distrust, and often there is fear that perhaps America is weary of the responsibility that it has for the world community. But the Philippines has always stood on the firm conviction that America does not weary, that America is firm and resolute, that America may question some of its own actions, but that it faces and confronts its problems squarely, fairly, justly.
As I stand on American soil and I see the doubts rising in Asia, I see another phenomenon that clears my mind. It is the phenomenon of an American nation led by a new leadership, earnestly exerting heroic efforts in order to stop the slide and the loss of prestige of American leadership throughout the world.
Yes, Mr. President, out of the dark, out of the shadows of the decline in even respect for America and decline for her leadership, there is a rising, an emerging, a new America-not only in Asia but perhaps throughout the world—an emerging, a new America under a new leader, resurgent, firm, strong, committed, and forthright. And that leader is President Ronald Reagan.
The stakes are high, Mr. President. The stakes for a strong and emergent America are high. All the nations pray for your success, even those who criticize you. For even the mercantile nations will reap reward from your success, but they will reap comfort. They will reap an additional car for a family, a more comfortable home, more sumptuous dinners.
But the stake of the poorer nations like mine are greater, Mr. President. Their stake is survival. The other option is death. And so for you we have nothing but prayers, as I said this morning. And so we look towards this phenomenon and say: Let there be strength and greatness for the American nation, for only then can there be hope for us, the poorer nations. And let America reclaim her role, her historic place, and her historic relationship with the poorer nations of the world—the members of the Third World, my world. For that is your rightful place, Mr. President, and America.
So, once again, I say we pray, therefore, that God grant to America this strength and capability to reclaim her natural place and historic relationship with all the nations and with other nations reestablish order in our anxious, troubled world. We pray for this, we hope for this—not only the big nations but especially the small ones.
And so may I ask you to rise and join me to a toast: To the continued health and success of the President of the United States, the prosperity and the strength of the American people, and the friendship of the peoples of the United States and the Philippines.
Note: The toasts began at 10:05 p.m. in the Rose Garden at the White House.
Ronald Reagan, Toasts of President Reagan and President Ferdinand E. Marcos of the Philippines at the State Dinner Online by Gerhard Peters and John T. Woolley, The American Presidency Project https://www.presidency.ucsb.edu/node/246766