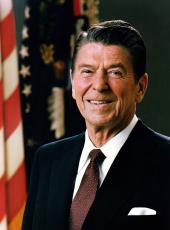 Toasts of President Reagan and President Anwar el-Sadat of Egypt at the State Dinner
President Reagan. Ladies and gentlemen, tonight we welcome a man who leads a nation recognized for its magnificent contributions to mankind. His depth of character and hard-won accomplishments suggest that Egypt's contributions will not be limited to those of antiquity. In the recent past, there have been few foreign leaders who have truly captured the hearts of the American people. And Anwar Sadat is one of those rare exceptions.
Historians often argue about whether events are shaped by people or people by events. There's little doubt that the man we honor this evening is an individual who shaped history. President Sadat, Mrs. Sadat, it's truly an honor to have you with us.
Now, Mr. President, I know that you struggled many years and played a prominent role in creating an organization which brought independence to your country. But then on the night of the revolution, when it actually began, you were in a movie theater watching a picture with your family. Now, you wouldn't by chance remember who happened to be in that movie, would you? [Laughter] I never won an Oscar, but a revolution would do. [Laughter]
But seriously, those charged with enormous responsibility are, after all, people and must have a very human quality of flowing with events. Nevertheless, some, like the man we honor tonight, do more than live through history; they make it. You, Mr. President, could have let the flow of events continue unchecked. Instead, with brilliant insight, you recognized an opportunity and seized the moment.
During your historic journey to Jerusalem you explained, "There come moments when it becomes imperative for those endowed with wisdom and lucidity of vision to penetrate beyond the past with all its complications and vestiges to usher in an undaunted move toward new horizons." Well, more than wisdom, it takes courage to make fundamental decisions—the kind that you, Mr. President, talked about.
Time and time again, he has demonstrated that vital courage as well as a majestic sense of decency and dedication to universal human principles. Instead of pounding on podiums and romanticizing the illusionary glory of conflict, President Sadat set goals for his people of peace, prosperity, and freedom. As your people have strived for these ends, Americans and Egyptians have unavoidably been drawn together-unavoidably, because we share the same goals. And as many who have visited both nations point out, we, the Egyptians and the Americans, are similar people. Certainly our love of freedom and independence unites us.
In a passage reminiscent of our own Thomas Jefferson, President Sadat penned his definition of freedom in his autobiography. "Freedom," he said, "is the most beautiful, holy, and precious fruit of our culture. An individual should never be made to feel that he's at the mercy of any force or coercion or that his will is subordinated to that of others."
Well, we're grateful to have in Egypt a full partner in achieving our mutual goals, which includes our common determination to making the blessings of peace available to all the people of the Middle East. We will sincerely endeavor to help where possible, and we want you to know that all of your efforts, your forbearance in times of frustration, and, most of all, your good will, is appreciated. You're following a path that is natural for us. You've said, "No man can be honest with others unless he is true to himself."
The ancient pharaohs built pyramids to their glory. Your monuments are strong and healthy young men, alive today because you pursued peace—symbols to all mankind that there is a better way.
So, I ask all of our friends who are with us here tonight to join me in a toast to the Egyptian people and to their gallant President and his lovely wife.
President Sadat. Mr. President, Mrs. Reagan, dear friends:
We are overwhelmed by your genuine hospitality and warmth.
The sentiments President Reagan expressed toward me and the Egyptian people clearly reflect the bonds of friendship and amity which exist today between our nations. For years we worked hand in hand to set our relations on the course which is compatible with the long history of mutual respect and admiration between our peoples. We are determined to cement this friendship even further.
Our meeting today was a historic one by any measure. Let me state first that I was delighted to meet you, Mr. President, and strike an everlasting friendship with you. You are a statesman of conviction and compassion. You have a clear vision of the world and our duty to make if safer and happier for the living generations and those to come. Your priorities are rightly set. I was pleased that we are in full agreement over the issues we discussed.
Your nation, Mr. President, has played a pivotal role to bring about peace in the Middle East. No progress, as I told you in the morning, Mr. President, would have been made without such an active and dynamic role; no result would have been achieved. But with your help we have taken gigantic steps on the road to peace.
When we launched our peace initiative, we had in mind the support of the American people. And as we prepare for the second stage, we count on your continued interest and backing. Together we shall continue to work vigorously until the sacred mission is fulfilled. What I heard from you today, Mr. President, was very encouraging indeed.
We believe that the time is right for the resumption of the peace process. Recent events in the area demonstrated beyond any doubt that we cannot wait long if we are to spare the region further destruction and devastation. We must take additional steps promptly and without delay in order to maintain the momentum for peace. We are determined to complete our mission. We will not be deterred or discouraged by any development.
A new initiative, Mr. President, a bright side of this event was the willingness of the Palestinians to accept a cease-fire in Lebanon and uphold it. This is a turning point that should not escape our notice. In effect, it means that for the first time the Palestinians have come close to endorsing the peaceful solution. Those who are genuinely interested in peace in the Middle East should recognize this positive development and build upon it for the good of all nations.
At the same time, this is an added ammunition for our goal for mutual and simultaneous recognition between the Israelis and the Palestinians. As I have repeatedly said, the answer to persisting fears and suspicions is a real willingness to coexist and live together as good neighbors. We have set a good example with the establishment of peace between Egypt and Israel within the context of a comprehensive settlement. That model applies to the relations between Israel and the other parties.
You can help this process of reconciliation, Mr. President, by holding a dialog with the Palestinians through their representatives. This is certain to strengthen the forces of moderation among them. It would also undermine the designs of those who exploit the present state of affairs for their own selfish ends. It would be an act of statesmanship and vision.
If we succeed to achieve tangible progress with respect to the Palestinian problem, a whole new situation will emerge. We will be able to confront the real challenges we face. They are challenges which involve the survival of many nations and the protection of the vital interests of the West. I am confident that we will meet these challenges decisively and without hesitation.
I came here hopeful and optimistic, Mr. President. After our first session, I have become most confident and certain, under your upright and under your inspiring leadership, this great country can realize its dreams and reach its goals.
On behalf of the Egyptian people, I invite you, Mr. President, and your family to visit Egypt. This will give our people an opportunity to express to you directly their feelings of gratitude and respect. Such a visit will also serve the cause of peace and stability in the Middle East. It will enable us to pursue this stimulating dialog and bolster the bonds of friendship and mutual understanding.
Dear friends, allow me to invite you to rise in a tribute to President Reagan, Mrs. Reagan, and the friendly people of the United States.
Thank you very much.
Note: President Reagan spoke at 9:32 p.m. in the State Dining Room at the White House.
Ronald Reagan, Toasts of President Reagan and President Anwar el-Sadat of Egypt at the State Dinner Online by Gerhard Peters and John T. Woolley, The American Presidency Project https://www.presidency.ucsb.edu/node/246856