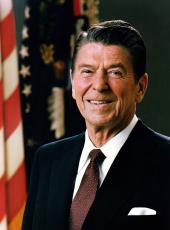 Toasts of President Reagan and Costa Rican President Luis Alberto Monge Alvarez at a Luncheon Honoring President Reagan in San Jose
President Monge. In his few hours among us, President Reagan and his illustrious committee will have had the opportunity to prove the sentiments and affection of the people of Costa Rica towards the people of the United States of America and towards himself as a representative.
To the President of the Costa Ricans, it is enough to bring us here close to the heart of his people to find a road of loving communication open to the people of the United States of America and with the citizens they chose to represent them by free vote to guide their destinies. And for President Reagan, it has been enough to be faithful to the sentiments of love of liberty that characterizes his people, to the profound democratic vocation of the Costa Rican people.
In the first 7 months of my mandate, this is the third time that we meet and reaffirm the ample areas of agreement in the fulfillment of our duties towards our respective peoples. Costa Rica has been a firm democratic ally of the United States of America, in Central America, and in the Caribbean. Other support it received in the past damaged its image. The permanent position of Costa Rica in favor of democracy and against all despotism of any ideological side gives an extraordinary moral force to this small country without an army. We believe we deserve more, and more permanent support on behalf of the American democracy.
True, the relationship with our country has been respectful without the incidents and accidents that have been registered in other sister nations. This historically explains that in the collective Costa Rican conscience, the anti-American trauma will not develop. But judging by the official visit of the President of the United States of America to Costa Rica, we feel that the significance of this alliance was not founded on misjustice.
In reality we can only recall three official visits by Presidents of the United States in the 161 independent years of the life of Costa Rica: President Hoover, during the second administration of President Cleto Gonzales Viquez from 1928 to 1932; President Kennedy in 1963, during the administration of President Francisco Orlich; and now you, President Reagan, who does me the honor of this visit at the beginning of my administration, now that we confront threats to liberty and peace in Central America and the Caribbean area.
I would like to believe that with your administration, President Reagan, the moral force represented by Costa Rica has begun to be justly appreciated despite its small size, poverty, and lack of an army in this struggle of people for peace and liberty. I would like to believe that you understand the urgency of adequate cooperation to overcome the crisis and to defeat poverty.
President Reagan, you are among friends willing to cooperate in every action in favor of liberty, justice, and peace. Thank you very much.
President Reagan. Mr. President, first on behalf of those who are with me today from our country, let me thank you and the people of Costa Rica for your hospitality.
Last month in Washington President Monge warned against the arrogance of any leader who believes that his own political formulation is perfect. And as our fellow citizens often let us know, none of us is perfect. But the basic value of the democratic societies that we represent are far more perfect than those of any other form of government. Our dedication to freedom, our respect for human rights, our adherence to the rule of law are far superior to the totalitarian rule that others would impose in the name of the false revolutions. Theirs are hollow promises and empty rhetoric.
We celebrate today our commitment to freedom and to peaceful political reconciliation. I particularly want to reaffirm to all of you the pledge that my administration has made to the economic well-being and security of the peoples of Central America and the Caribbean. We know that political principles and collective security are not served by unstable economies.
Our Caribbean Basin Initiative offers a realistic foundation on which to build increased trade between our countries—trade that will benefit all our citizens. This evening I'm returning to Washington, where I will continue to press for quick congressional action on the important trade and investment provisions of the initiative.
In that spirit of mutual commitment, may we rise now in a toast to President Monge, to Costa Rica, and to liberty.
Note: President Monge spoke at 12:37 p.m. at the Casa Presidencial. He spoke in Spanish, and his remarks were translated by an interpreter.
Following the luncheon, the two Presidents participated in a departure ceremony at Juan Santamaria Airport, and President Reagan traveled to San Pedro Sula, Honduras.
Ronald Reagan, Toasts of President Reagan and Costa Rican President Luis Alberto Monge Alvarez at a Luncheon Honoring President Reagan in San Jose Online by Gerhard Peters and John T. Woolley, The American Presidency Project https://www.presidency.ucsb.edu/node/245940