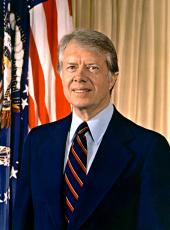 Toasts at a Luncheon Hosted by Prime Minister Masayoshi Ohira in Tokyo, Japan
THE PRIME MINISTER. Mr. President, Mr. Secretary of State, Mr. Secretary of the Treasury, Mr. Secretary of Energy, Your Excellencies, and distinguished guests:
It is indeed a very great pleasure for us all to have with us today President Carter and the members of the President's party. On behalf of the Government and people of Japan, I would like to extend our sincere welcome.
Mr. President, the warm welcome and courtesies which you have extended to me and my wife when we visited the United States last month will forever remain in our memory. I wish to take this opportunity to express again our heartfelt thanks to you.
I wish to take this opportunity to express my deep respect and gratitude to President Carter, who is discharging his responsibilities in leading his great country, the United States of America, in this difficult age, which is full with problems.
There is a strong bond that ties our two countries together. In fact, there is no other example of a relationship between any two countries in world history which are so different in culture and tradition and are so far apart geographically but are enjoying an interchange of such a great scope and substance. ! believe, as Ambassador Mansfield aptly described it, this is precisely because the relationship is based on the essential similarity of the way we see the world, of the political goals we pursue, and of the basic values they reflect.
The ties between Japan and the United States serve to enhance the honor of Japan and the United States respectively, and at the same time serve the benefits of both our countries. At the same time, this close tie between our two countries enable our two countries to discharge their responsibilities and roles respectively for the benefit of peace and stability of the international community. It is in this sense that I feel that our two countries are today called upon to make further efforts to deepen and strengthen the relationship of mutual trust and understanding between our two countries.
Mr. President, I am convinced that your visit to Japan this time will serve to strengthen this valuable tie of trust and understanding between our two countries, and will thus contribute greatly to peace and stability of the Asian region.
On the 28th and 29th of this month, Mr. President, you will be representing the United States at the economic summit which will take place here in Tokyo. In this economic summit, all the participating countries share the common goal of working together to stand up to the new challenges to the world economy. I am hopeful that thanks to the wisdom and leadership of President Carter, this economic summit will prove to be a very successful meeting.
Ladies and gentlemen, let us join in a toast to the great contribution President Carter has made in world .affairs since his assumption of office, to further development and prosperity of the United States of America under his wise and able leadership, and to the continued health and happiness of President and Mrs. Carter.
THE PRESIDENT. Mr. Prime Minister, distinguished Japanese guests and friends:
I'm delighted to be in your country and to enjoy the special hospitality and friendship for which the Japanese people are known throughout the world.
During our discussions in Washington in May, Prime Minister Ohira and I became not only partners, but also we became friends and mutual students. In addition to reading the voluminous briefing books prepared for us by our staffs we also were required to read each other's autobiography. His was much better than mine. [Laughter]
I learned that we were both farmers and that we both came from the southern part of our country. I have developed a special theory that being from the southern part of one's country is not incompatible with great statesmanship. [Laughter]
I come here for our bilateral discussions in a spirit of good will and friendship, bringing to the people of Japan the best wishes of the people of my country.
I agree with Prime Minister Ohira that in the history of the relationship among nations, I doubt that there has ever been two countries so different in history, in culture, in traditions, in geography and language, but still bound so closely together in a spirit of productivity with a far-reaching commitment to common goals, common ideals, and personal friendships.
Yours is one of the most ancient of nations, ours is relatively new. Yours is one of the most homogeneous people, so closely bound together that you can almost communicate with one another without even speaking. Ours is a nation of immigrants, of refugees extremely different one from another, coming from all nations on Earth with different languages, different heritage, different backgrounds, different interests, but still bound together in one nation, deriving strength because we have a common goal and a common purpose.
Yet, our two countries, so different, are bound together with a common belief in freedom, a common belief in democracy, respect for the individuality of human beings, a reverence for freedom of speech, open debate, for truth, for the exercise of exploration of ideas without constraint, for freedom of the press, and for an open political process. We both believe that the greatest source of energy and creativity is the initiative in individuality derived from this personal freedom. We both believe in world peace. We both believe in the control of nuclear and other weapons.
Our relationship today is more than just one between two governments. It's a relationship almost like members of one extended family. More than 1 million American and Japanese citizens visit back and forth each year between countries. We meet in corporate boardrooms, in government councils, in factories, in concert halls, in scientific laboratories, in universities, on farmlands, on the sports fields, and many other ways. More Members of your Diet and our Congress visit each other to learn and to share ideas than between any other two congressional bodies on Earth.
We have much to learn from you. We admire your vigor, your thirst for knowledge, your sense of self-discipline, your commitment to hard work. We respect the stability of your family bonds, the worth of your community unity, the Japanese grace and delicacy, the sense of harmony and beauty that you've preserved down through the ages, and your own special achievement in balancing this reverence for the past with the utilization in an effective way of the opportunities of the present and the future.
These personal characteristics have permitted you to build Japan, your nation, into a great world power. Our relationship permits both our people to derive great benefits, one from another. Annual trade between our countries is more than $40 billion, more than the gross national product of 134 other nations in the world.
In closing, let me point out that we cannot rest on our achievements. Your great Admiral Togo, in 1904, said, "After victory, tighten the straps of your helmet."
With success comes differences. We both want equal advantages from this great mutual trade. It's a great tribute to Japan that you will be the host of what might very well be the most important economic summit conference ever held.
In addition, as a regional leader, you recognize, along with us, that Asia is the fastest growing economic region in the world, a region of rapid change, and we are certainly moving into a new era in the life of our shared Pacific community.
The United States is a Pacific nation in history, geography, and interest, and the partnership between the United States and Japan is the cornerstone of our own foreign policy in this region of the world. Together I am sure that you and we can be a force for hope, stability, prosperity, and peace in which all the world's people can share.
I would like to propose a toast to the health of Prime Minister Ohira and Mrs. Ohira, to the deep friendship and mutual respect and affection which exists between the people of Japan and the United States, and to the bright future which we share together.
Note: The exchange began at 1:55 p.m. at the Prime Minister's residence.
Prior to the luncheon, the President and Prime Minister Ohira and members of their delegations met at the residence.
Earlier in the day, the President was officially welcomed to Japan by Emperor Hirohito at Akasaka Palace. Following the ceremonies, the President and the Emperor went to the Imperial Palace to meet with members of the imperial family.
The Prime Minister spoke in Japanese, and his remarks were translated by an interpreter.
Jimmy Carter, Toasts at a Luncheon Hosted by Prime Minister Masayoshi Ohira in Tokyo, Japan Online by Gerhard Peters and John T. Woolley, The American Presidency Project https://www.presidency.ucsb.edu/node/249189