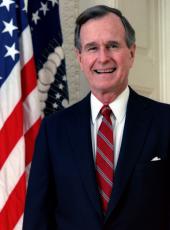 Toasts at a Dinner Hosted by President Bush in Moscow
President Bush. Welcome, President and Mrs. Gorbachev, President Yeltsin, President Nazarbayev, President Ter-Petrozyan, Mayor Popov -- so many distinguished guests. I just want to welcome you here to Spaso House, and I am delighted to have you to this American home in Moscow in the hope of repaying, at least in some very small way, the warmth of the hospitality that's been shown to us by the Soviet people and by many of you in this room since our arrival.
I believe in these meetings we've launched a new era of hope. In the past year alone, we've seen that despite political differences, we can move forward together. I would particularly thank those who worked on the START agreement -- so many in this room having committed so much of their time, of their lives, to achieve the end that I was privileged to sign on behalf of our country today.
And I believe the signing of that treaty offers hope beyond the borders of the Soviet Union, beyond the borders of the United States of America, all across the world. I really believe that from the bottom of my heart. And let me say to our friends from the Soviet Union, Americans, more and more, look upon this country with profound curiosity and hope. And they want to work with all levels of Soviet society.
We live in an exciting time, when we all seek understanding in the larger society -- among businessmen, students, artists, scientists, people engaged in every imaginable profession and endeavor. As we leave, let me just simply assure you that we are ready to work with the people, to establish a partnership in the new world order based on the rule of law and the promise of freedom and the consent of the governed.
This relationship is built on respect. And you've brought incredible transformation in just a few years. And once again, we are very honored to host such a distinguished group of guests, men and women who will lead the Soviet Union to a new era of democracy; a new hope of a better life for all.
May I particularly salute the three Presidents of the Republics that are with us tonight: significant, important, and I am delighted that they are here. May I salute the mayor, Mayor Popov of Moscow. If his problems are anything like the problems of the cities in the United States, he's going to need our best wishes. [Laughter]
May I salute the human rights activists such as Yelena Bonner and artist Anatoly Rybakov, whose works fill in the blank pages of Soviet history under Stalin's rule.
And finally, there is my host on this whole visit, a man that I respect and admire, a man whose deeds during the past 6 years have given hope to those who believe, as I do, that one individual can change the world for the better. I salute President Gorbachev, then, and I say that we leave confident, more confident than when I came here, that we can, together, build a lasting peace and, with it, a brighter tomorrow for our children.
I'm told that there's an old Russian proverb: You can't tie a knot with one hand. Well, tonight, the United States offers our hand as we tie the knot of friendship and peace together. And may I propose a toast to the health and happiness and prosperity of the Soviet people, with heartfelt thanks to our host and hostess, President and Mrs. Gorbachev.
President Gorbachev. Mr. President, Mrs. Bush, ladies and gentlemen, comrades. Today has been a busy day. A considerable amount of work has been accomplished. We have had meaningful discussions with the President in an atmosphere of openness and trust. We have reviewed a large gamut of problems pertaining to our bilateral relations. We discussed the role that our two countries play on the world scene, as well as their relations with other countries.
Today we signed a landmark agreement that will reduce the strategic arsenals of our two countries. And although I have already had a chance to describe what I believe is the purport and purpose of that treaty, let me now share with you some thoughts regarding this important document.
An important work that had covered almost a decade culminated in this landmark treaty, which has been the witness of many days of difficult and tense relations between our two countries during the cold war and in the postwar period. We have managed to fulfill the task that world history had assigned to our two countries.
I want now to pay particular tribute to our partners for the immense contribution that they made to the signing, the preparation, and negotiation of this important treaty. And most of all, I want to pay tribute to the President of the United States, Mr. George Bush.
While perhaps this is not really the most appropriate audience to say this, but nevertheless, let me break a secret that today, as we were putting the final touches on the treaty that we signed today, we discovered, much to our consternation, that we had approached a number of subjects which even the most sophisticated of our negotiators could not find their way through. You can imagine the tasks, the challenges, and the problems that our experts had to address if I simply tell you that assistants to President Bush had to bring over two volumes of documents just to explain one small point that he wanted to have cleared up.
This is a fact, and we all know this for a fact. And therefore, let me, here in your presence, pay tribute to our scientists who have managed to find the key that opened this ultimate and final vault which really led us through to the final stage of this treaty.
A recurrent theme in our discussions today was the fact that our signatures that we put under the treaty marked only a point of departure in our future endeavors in order to maintain and preserve and bolster the momentum that our negotiations have already gathered. Today we are asking ourselves whether our perception of the world today and of the future of the civilization is correct, and how accurate our forecasts for the future are, and whether or not we will be able to meet the challenges of the future. Let me explain why I believe those questions should be answered in the positive.
Never in its history has humankind been faced with such risks and dangers engendered by its own progress. And if we are to meet this challenge, what we need is bringing together the intellectual and moral resources of our civilization. It is no accident that the idea of a new world order has struck an important chord in the heart of the people of the world. And very important political and spiritual leaders of our countries have pitched into this effort.
Our two countries possess a tremendous potential for future cooperation and development of our relations for their joint participation in this important endeavor. And it gives me particular pleasure to say that during our discussions at Novo Ogaryevo today, the recurring theme of our talks was just how we can cooperate in the future in order to move our relationship and our cooperation ahead. And it is not a play of ambitions; it is an important statement of an important fact. And that fact is the role and responsibility of our countries, both to our nations and to the world at large.
Perhaps it is just a lucky historical coincidence, but who knows, maybe it is not. At this crucial moment in our history, when we are faced with very important challenges, our countries are headed by people who can meet those challenges.
Mr. President, today at this house, we had a chance to shake hands with many of those who shared this responsibility and who made an important and active contribution toward building a new relationship between our countries. Mr. President, I want to raise this glass to your health, sir, to the health of Mrs. Barbara Bush, to the peoples of the United States who are our partners. And we are looking forward to developing cooperation and friendship with you. And this is our choice.
Note: President Bush spoke at 7:30 p.m. in the ballroom of Spaso House, the residence of U.S. Ambassador to the Soviet Union Jack F. Matlock. In his remarks, President Bush referred to President Mikhail Gorbachev and his wife, Raisa of the Soviet Union; President Boris N. Yeltsin of the Republic of Russia; President Nursultan A. Nazarbayev of the Republic of Kazakhstan; President Levan Ter-Petrozyan of the Republic of Armenia; and Gavriil K. Popov, mayor of Moscow. President Gorbachev spoke in Russian, and his remarks were translated by an interpreter. A tape was not available for verification of the content of these remarks.
George Bush, Toasts at a Dinner Hosted by President Bush in Moscow Online by Gerhard Peters and John T. Woolley, The American Presidency Project https://www.presidency.ucsb.edu/node/265562