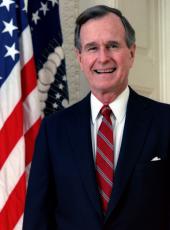 Toasts at a Dinner Honoring Prime Minister Yitzhak Shamir of Israel
The President. Mr. Prime Minister, it has been my pleasure -- our pleasure -- to welcome you to Washington and to renew a friendship that I cherish -- that we all cherish -- and to reaffirm, more importantly even, the friendship between our two nations. And the value of these visits goes beyond the meetings of state to the experience we gain from the time spent among the people of Israel and America.
I recall the trips that I've made to your country -- first, I think, Barbara and I in 1979 and then in the summer of 1986. And I recall the deep longing for peace that I found on the part of the people there in Israel. And I'm grateful for your visit now in the first days of our brand new administration; and also, because you see Washington in springtime, which some say is its most beautiful season, and because you had a chance to go to the Air and Space Museum today, where we saw many American tourists. And for those of you who weren't with us, it was a wonderful thing, because you heard people saying to the Prime Minister, Shalom. You know, I thought they were all tourists from Texas. But no -- [laughter] -- they knew that much. And I think they expressed the affection that we all feel for Israel and for you, sir.
But the friendship, the alliance between the United States and Israel is strong and solid -- built upon a foundation of shared democratic values, of shared history and heritage that sustain the moral life of our two countries. The emotional bond of our peoples goes -- it transcends politics. Our strategic cooperation -- and I renewed today our determination that that go forward -- is a source of mutual security. And the United States' commitment to the security of Israel remains unshakable. We may differ over some policies from time to time, individual policies, but never over this principle.
Mr. Prime Minister, the great unsolved challenge that concerns us both is peace in the Middle East, and we know peace is possible. Last month we marked the 10th anniversary of the treaty between Israel and Egypt, and that treaty was the product of the remarkable courage and leadership of two men -- and also -- I want to say right here in this White House -- and also will give credit to the strong-principled, mediating efforts of President Carter, too. Those qualities, courage and leadership, are no less necessary today in the effort to advance the cause of peace in the Middle East. We also know there's much more to do. Mr. Prime Minister, the discussions that we've had and then those I had earlier this week with President Mubarak give me reason to hope that in the Middle East today, there is leadership, courage, and vision, capable of transcending the historic animosities that have long stood as obstacles on the path towards peace. The United States is proud of the role it has played in the search for peace. We know a partnership with Israel in peace can work, and we stand ready today to take another step for the cause of peace in the Middle East.
Mr. Prime Minister and Mrs. Shamir, I raise my glass to the abiding friendship between our two nations and lasting peace among the peoples of the Middle East, and to life -- L'Chaim.
The Prime Minister. Mr. President, Mrs. Bush, distinguished Secretaries, Members of the Senate, the House of Representatives, judges, ambassadors, ladies and gentlemen. It is almost exactly a year ago since you, Mr. President, graciously entertained my wife and me and my colleagues at dinner in your previous capacity as Vice President. At that time we were both facing elections. [Laughter] You were already very much on the campaign trail, and I was preparing to set out on mine. It was a demanding but interesting experience. And here we both are. [Laughter]
Permit me, Mr. President, to extend the heartfelt congratulations of all the people of Israel on your election to the most important office in your country and, I venture to suggest, in the world. The people of Israel know you and Mrs. Bush. They respect and admire you. They are grateful for your longstanding friendship, support, and efforts for our people, especially those who have been struggling for the right to leave the Soviet Union and return to their homeland. And, Mr. President, your name is permanently linked with the saga of the rescue of many thousands of Ethiopian Jews who 5 years ago started out on an exodus and returned to their ancient homeland after a very long separation. But several thousand Ethiopian Jews remained behind, and we must solve their problem and especially the human tragedies of family separation. I hope that we will soon find an answer.
Mr. President, an awesome responsibility rests upon you as you set out on the new road that lies before you. As leader of the United States of America, you are the leader of the free world who has to find a way to prevent global conflicts. We acknowledge and applaud your efforts to ensure that the great advances in technology are not abused and exploited for evil designs that could cause devastation to millions of people. In your Presidency, it will be necessary, I am sure, to reach further agreements on the elimination of the new and growing threat of gas, chemical, and biological weapons which are being developed at an alarming pace, especially in our part of the world.
My responsibility is more limited, but equally awesome. I must find a way to achieve comprehensive and lasting peace for my nation and country. That is my overriding goal and ambition. We are not content with the status quo, because we firmly believe that peace is achievable.
Mr. President, 10 days ago, we completed a decade of peace between Israel and the leading Arab country, Egypt. That peace was the first and, so far, still the only breakthrough in the otherwise ongoing hostility of Arab States against Israel. Ten years ago not many believed that we would be standing here today and looking back on a decade of peace with all its shortcomings and deficiencies. Our relationship with Egypt is not yet regular and normal. It must be deepened. It must be enriched.
Mr. President, ladies and gentlemen, it is now almost 50 years since the start of World War II, in which we were the principal victims and paid relatively the highest price. And it is now 40 years since we renewed our national life in our ancient homeland. In that period, six wars were forced upon us, and we have faced permanent terrorism against our civilian population. Few nations in the annals of humanity had to endure such perils and to pay such a price. It is, therefore, only natural that we never stop searching for the road to peace.
The yearning for peace is ingrained in the national tradition and character of our people. We pray for peace three times every day. We despise violence and war. We refuse to believe that a military confrontation is a valid way to solving disputes, but we cannot permit our abhorrence of war to be used against us by terrorists and dictators to force us to submit to their demands. We want to devote and utilize the talents and skills of our people for creativity, for scholarship, for science, for medicine -- not for developing more and more sophisticated instruments of war. But until today we have had no choice. Therefore, in the absence of peace, we must be strong as you are.
In one of our prayers we use the words, "The Lord will give His people strength. The Lord will bless His people with peace." First strength, then peace.
We are grateful to the United States for its great contribution to enable our small nation to develop a deterrent capacity in the face of a bloc of 20 Arab countries with a population of 120 million people and a land mass twice the size of the United States. In our view the United States can play a useful role in advancing the search for peace because it enjoys the confidence of the parties in the Middle East. We are ready at all times to explore new ideas and study new proposals together with you and to reach understanding on how to proceed.
Mr. President, today we celebrate the beginning of the month of Nisan. Nisan is the month of miracles, the month of deliverance, because it was established in the Jewish calendar some 3,500 years ago, on the eve of the great Exodus of the 12 tribes of Israel from bondage in Egypt. Since then our people have carried an eternal message to humanity. The message is that all human beings are equal and were created in the image of God, that no man should be enslaved by his fellow men, that human life is sacred, and that peace on Earth is the loftiest of goals. Our people have lived by these principles through triumph and exile, from Babylon to Auschwitz. We were ravaged but never destroyed, because our message and our spirit are eternal and indestructible. And now, in our renewed homeland, we aspire to nothing more than the total achievement of these same principles. Our two democracies, our two peoples, share these values, cherish these ideals, long for similar objectives.
Mr. President, I wish you a successful term of office. May the United States prosper under your leadership. May it enjoy peace and avoid conflict. May it continue to stimulate and lead the free world and stem the tide of evil. We pray, Mr. President, that under your leadership the relationship between our two countries will continue to be solid, strong, deep, and enduring.
Ladies and gentlemen, please join me in this toast to the President of the United States and Mrs. Bush, and the people of this great country: L'Chaim.
Note: The President spoke at 9:35 p.m. in the State Dining Room at the White House.
George Bush, Toasts at a Dinner Honoring Prime Minister Yitzhak Shamir of Israel Online by Gerhard Peters and John T. Woolley, The American Presidency Project https://www.presidency.ucsb.edu/node/248122