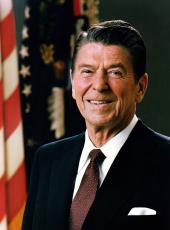 Toasts at a Dinner Honoring President Francois Mitterrand of France in Williamsburg, Virginia
President Reagan. President and Mrs. Mitterrand, Lord Hailsham, and distinguished guests:
Nancy and I are pleased and honored to welcome you into this historic residence this evening.
We want to thank you again, Mr. President, for that lovely luncheon on board the De Grasse this afternoon. We want to thank you again, as I say you learned more about the triumph of the American Revolution, and I learned more about the triumph of French cuisine. [Laughter] This evening, Nancy and I wanted to return the favor by preparing something truly special for you. Formidable is the word I believe you use in France— [laughter] —and I think our friends have done their job well.
Tomorrow morning, you and I have a rendezvous on the battlefield. Fortunately, we will not meet as enemies. [Laughter] France and America never have been and, I pray, never will. We're friends and allies and we must always remain that way, because just like 200 years ago, we need each other to protect something much bigger than ourselves: first the creation and now the preservation of those magnificent institutions of Western civilization, constitutional government, the rule of law, economic liberty, and the right to worship God. They are the foundation of human freedom and social progress, and they bind our countries in a common heritage.
Yorktown, too, represents something bigger than a Virginia town, delightful though it may be. It's a page turned in history like the Place de la Bastille and the landing beaches of Normandy. For here, France and America solidified their friendship with a military victory that would bring peace and independence to our tiny nation, an enduring vision of freedom and hope to the entire world.
And I'm now going to say something that isn't in the script that you have, but simply because I think in deference to some of our guests, I should point out that probably the most accurate description of the American Revolution was given to me by an Englishman who said that they understood it was just an argument between two groups of Englishmen. [Laughter]
Mr. President, I can think of no more appropriate occasion than here and now for your first visit to the United States as leader of the French Republic. Your nation faces many serious challenges and so does mine. But just as our ancestors did before and their descendents have done since, we can stand tall and stand firm by standing together. The durability of Franco-American friendship proves there is constancy in change. The world's oldest alliance has survived, and we can join together to strengthen the Atlantic Alliance for the future.
Actually, the alliance began in 1778 when France signed a treaty and became the first nation to recognize the United States of America as a nation. And the date was February 6th, which happens to be my birthday, but it's not true that I was there for the signing of the treaty. [Laughter]
France and America may not always see eye to eye on every issue, but we usually can, and like true friends, we know we can count on each other in times of peril.
Mr. President, we worked together in Ottawa, and in a few days we'll have another opportunity to do so in Cancun. I look forward to cooperating with you in a constructive spirit of friendship, trust, and good will.
And as for now here in Yorktown, I ask you all to join me in saluting Francois Mitterrand, a leader of vision and courage, and Mrs. Mitterrand.
Vive la France and vive l'Amerique—amis ce soir, demain, et toujours. Long live France and America—friends this evening, tomorrow, and always.
Lord Hailsham. Mr. President, Monsieur le President la Republique Francaise, Chief Justice, Excellencies, ladies and gentlemen:
I can see that as the representative of a former colonial power, I'm on the hiding to nothing. Now translate that into French, if you can. [Laughter] Oh, well. [Laughter]
I am very pleased and proud to be present here on this historic occasion. I am able, I think, to take a somewhat philosophical view of the matter. [Laughter] I had a direct ancestor who fought at this battle. He fought on the American side.
And you have laid upon me, Mr. President, the task in a fiat three minutes of proposing any toast I like. And so I shall propose the toast. Of the heads of state here present or represented, and to the eternal friendship between their peoples, je leve mon verre, Monsieur le President: Vive la France, notre amie et notre alliee [I raise my glass, Mr. President: Long live France, our friend and our ally], and God bless America and God bless my own country, too. [Laughter]
President Mitterrand. Mr. President, Madam, dear Lord Hailsham, dear American and French friends:
Now, in the words that we've just been listening to, even beyond the point of humor, 1 have felt the powerful wind of America, the wind of the modern times that was 8 years after Yorktown, was going to in fact give rise to the wind of change and make France also a sort of new world.
We, the French—we, perhaps, were most attentive in listening to the bells of freedom that were ringing in response to Patrick Henry. First, we responded by coming to take our place by your sides in the first battlefields of freedom. And secondly, by putting almost immediately into effect in our own country and in our own way the great lesson that you had just given us.
Stirring news spread the world over as soon as Jefferson included the right to happiness as one of the main requirements of your Declaration of Independence. And at that time men of all continents and men of all countries gradually began to understand that this concerned them, each one of them, and all of them.
Now, a number of them, and indeed some of us, still have to appreciate that there can be no possible happiness where there is neither justice nor liberty. Like many others, I devoted part of my life, the best part of my life, to freedom, true freedom-the freedom for which Washington's volunteers and also the French soldiers of year two of the French Revolution fought. And I felt in my own flesh and in my mind the inestimable price of such liberty for having lived in the French Resistance, those terrible years when our country was deprived of such freedom.
I learned in those dark days in France, a country that was hurt and humiliated and that owes you so much, that our main duty towards the others and towards ourselves is to struggle with all our might, always and ever, for freedom.
Now, how would I not feel, so to speak, in fact, as if I were one of your cousins in a way when I hear others, such as yourselves, use the plain and sound language of freedom? It is a language that we have in common. It is a code of expression for the mind and the heart, which allows a simple exchange to take place among us, even though some of them, and I'm afraid I am one of them, some of us, in fact, will speak the American language in such an imperfect fashion that it would not be safe to try to use it, and I wish to ask you to forgive me for this.
At least I did hear, and I have remembered, as many, many of my compatriots, the two words that the insurgents were shouting when they were rushing the trenches in Yorktown and which were the—for some of them—the last words of their life, "God and liberty."
May I say that I have this very much in mind when I'm raising my glass, Mr. President, to your excellent and powerful health, to Mrs. Reagan, and to the good health of Franco-American friendship, which I have certainly not found in any way endangered by our divergencies or differences of opinion during our talks, where the frankness among us was the kind of thing that old friends can demonstrate in order to be able to talk to each other without having to take too many precautions.
I would like to associate here in our gathering a thought for the millions of men and women who are in danger of famine and who are in fact listening, listening to what will come out of Cancun, where you and I, Mr. President, we will, with the other participants in the North-South conference, have an opportunity to pursue and to continue in greater depth our conversations of today.
We have other trenches, in fact, to overcome with the cry of "liberty." And the entrenchments of suffering and sorrow of man are more abrupt even than those of Yorktown or the walls of our Bastille. But the cry, our cry will be the same, "liberty."
I will raise my glass to your health, Mr. President, and to thank you for the very warm welcome that we have received in this city and in this country. And I know that all the French who have been guests of your country have always been received with the same warm welcome.
And to you, Madam, I would like to say how much I enjoyed our conversations in London and here in Williamsburg, and thanks to them I have learned to know more who you are. I have learned better to appreciate your charm and the presence of the First Lady of the United States.
I would also like to raise my glass to my good friend Lord Hailsham and through him to his country, because though between our two countries there have over the centuries been a lot of quarreling, since then another friendship and a very strong friendship was born, has been born, and I will say more about this tomorrow.
And we do not forget that in 1940, the knight—the fighter for freedom was and was alone the United Kingdom.
I would like to raise my glass to all our American hosts. The French who are here know that we are in fact speaking with the same heart.
And I would like our American hosts to know that France is a country that wishes to achieve more justice and that will choose the parts in order to achieve that, according to its tastes. And France is a country who wishes by her experience to prolong the civilization, the civilization that was born two centuries ago, and that if it is to prolong itself and continue to act and act with power, it must learn to adapt and to change itself and to evolve while always remaining faithful to the original message.
Thank you.
Note: President Reagan spoke at 10 p.m. at the Royal Governor's Palace. President Mitterrand spoke in French, and his remarks were translated by an interpreter.
The Rt. Honorable Lord Hailsham is the Lord Chancellor of the United Kingdom.
Ronald Reagan, Toasts at a Dinner Honoring President Francois Mitterrand of France in Williamsburg, Virginia Online by Gerhard Peters and John T. Woolley, The American Presidency Project https://www.presidency.ucsb.edu/node/246454