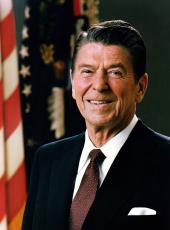 Toast at a White House Dinner Honoring the Nation's Governors
I think there are at least two of us in this room who have a great feeling of nostalgia right about now, because it isn't the last time for you, but it is for us under these same circumstances. And we're going to miss this very much. We're delighted, Nancy and I, to welcome you once again to the White House. Seven years ago some of you were our first guests for a state dinner, and since then I've thought that was the right way to begin. I'm wondering now if we might have started something. I don't want to tie my successor's hands. So, let me say that as a Governor I always thought that before a new President began entertaining heads of state from around the world he should show that first things come first and spend an evening with the heads of our 50 sovereign States and our territories.
We've just finished a year-long celebration: the bicentennial of the drafting of the Constitution. You know, the framers had a way of referring to the States as opposed to the Federal Government. They said "the people." For example, James Madison once noted that "the people" called the Constitutional Convention, meaning the States did, and Congress just sort of tagged along trying to catch up and take credit. But there's a wisdom in saying "the people" to mean the States, a wisdom that until a few years ago was too often forgotten. The founders gave us a Federal system in the first place, because the best government of, by, and for the people is not the National Government but State government.
In the past 7 years, we've tried to return that seminal wisdom to Washington. We've taken federalism seriously. We've lived and breathed it, not just paid lip service to it. Federalism has been an integral part of our policies. For example, we've done our best to make certain that the Federal Government doesn't increase taxes and drain away the revenue base on which State and local governments depend. We've loosened Federal grant guidelines and regulations in general and given States more room to experiment in areas like welfare reform that were once tightly controlled. And we've worked in partnership with you to improve the quality of education.
We've also remembered that part of federalism is recognizing that the States are laboratories of democracy. And so, we've tried to get Congress to follow the lead of the States in one of the most important matters before the Government: the Federal budget. You know, I remember it used to be thought of as sophisticated to say that the Federal Government was so much wiser than State government, and that was why it should be kind of a big brother to the States, telling them what to do and how to do it. Well, the Federal budget process should put an end to that myth once and for all. Not one of you would put up with the mess that we have here in Washington at budget time.
Federal debt, after taking out for inflation, held steady or declined from the late forties until 1974, when it started to soar. Our budget system of checks and balances has become unchecked and unbalanced. That's why I want the Federal Government to follow the lead of so many of the States and give the American people a balanced budget amendment and the next President a line-item veto.
Now, before I take my seat, I ask all of you to join me in raising a glass to one of America's outstanding Governors and your chairman—he's feeling lonely right now; his State just lost half its population— [laughter] —and to another distinguished Governor and your vice chairman: to John Sununu and Jerry Baliles.
Note: The President spoke at 9:07 p.m. in the State Dining Room. Governors John H. Sununu of New Hampshire and Gerald L. Baliles of Virginia were chairman and vice chairman, respectively, of the association. In his closing remarks, the President referred to the departure of journalists from New Hampshire following the Presidential primary.
Ronald Reagan, Toast at a White House Dinner Honoring the Nation's Governors Online by Gerhard Peters and John T. Woolley, The American Presidency Project https://www.presidency.ucsb.edu/node/253691