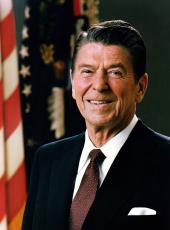 Toast at the State Dinner for Prime Minister Yasuhiro Nakasone of Japan
Mr. Prime Minister and Mrs. Nakasone, we are again honored to have you visit our home. One of the joys this high office has afforded Nancy and me has been the opportunity to develop a personal relationship with you. We cherish your visits here and our travels to Japan. We remember sharing many moments, sitting with you in a tranquil setting, sharing personal thoughts and feelings.
We also remember attending an astounding archery exhibition as your guests. Men on horseback, in full traditional armor, with bow and arrow, hit their target with precision at full gallop. Now, I'm keenly aware of how difficult it is to control a horse in such a show. I was doing a picture once called "Santa Fe Trail." [Laughter] I was playing General Custer when he was a lieutenant [laughter] and the scene called for me to ride up until the horse's head was practically over the mouth of a cannon, and then I was to shout an order and so forth and carry on from there. But at the same time, the director had ordered them to shoot the cannon. [Laughter] When I got the horse stopped, we were about a quarter of a mile away and had knocked down 16 reflectors that were supposed to be shooting sunlight onto the scene, and we could not get the horse back closer than 200 yards to the cannon. [Laughter] But our pride in horsemanship is only one example of the many cultural similarities between our peoples. [Laughter]
Certainly, in each comparison, there are differences, yet one cannot help but be struck by the likeness of our two peoples. They're achievers; they're goal-oriented builders, tenacious people. One individual who personified these traits was a remarkable citizen of your country who climbed the highest peaks on six continents. He floated down the Amazon River on a balsa raft. And he was the first person to do a solo journey to the North Pole. His name was Naomi Uemura, who said after one amazing feat, "For me, an end is just the beginning." Well, never afraid to try, he said, "I always want to know the limits of human endurance or the limits of my own potential."
On February 12, 1984, his 43d birthday, he became the only climber to make a solo climb of Mount McKinley's 20,320-foot peak in midwinter, and only days later, Naomi Uemura lost his life. I cannot help but think that the message of this unique individual is something that touches the soul of both our peoples and should guide us in our dealings. Let us not be afraid to take our relationship to its utmost potential. Let us realize that every goal we reach is just a beginning of the next challenge.
Prime Minister Nakasone and I had forthright and productive discussions today. We, in a way, are also explorers, traversing unchartered paths and pushing on to achieve new goals and reaching for new heights. And, unlike Mr. Uemura, we do not travel alone. The American and Japanese people will climb this mountain together and will not only survive but triumph.
And so, I ask you now to all join me in a toast. To Prime Minister and Mrs. Nakasone, and to the people of Japan, all our friends.
Note: The President spoke at 9:58 p.m. in the State Dining Room at the White House.
Ronald Reagan, Toast at the State Dinner for Prime Minister Yasuhiro Nakasone of Japan Online by Gerhard Peters and John T. Woolley, The American Presidency Project https://www.presidency.ucsb.edu/node/252783