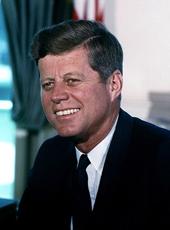 Toast of the President at a Luncheon in Honor of President Arosemena.
Mr. President, Senora, members of your Government, ladies and gentlemen:
I know that you all join me in welcoming our distinguished visitor back here to the United States, back to Washington. He comes at a most appropriate time because I know that he realizes that the attention of this Government and this country is turned very much to our relations with our sister republics to the South, turned to the South in a more intense and, I believe, more continuing and persistent way than we really ever have in our long history. And because these relations matter so much to us, we are most appreciative to the President for making the long journey at a time when he is heavily involved with the responsibilities of his own office. We appreciate his coming here to the United States.
His father was President of his country, and he is. I understand that the dynasty issue was not raised. It is a rather encouraging thing to welcome a member of a distinguished family.
Mr. President, I know that a good many Americans, and I am sure citizens of your country also, are somewhat concerned when they see the difficulties which some of our countries--our sister republics are having in this hemisphere. This is not an easy year for presidents in the Western Hemisphere, but I think they should judge the tensions and the difficulties and the turmoil against what we are trying to do, which is the most extraordinary effort to build democratic progressive governments in this hemisphere against a background, in many cases, of poverty, illiteracy, unemployment, lack of hope.
"Democracy," Winston Churchill once said, "is the worst form of government, except all of the other systems of government which have been tried." It is certainly the most difficult. And to maintain a free democratic government is difficult for us in this country--and we've been very generously blessed by nature. In countries which have not had such resources placed at their disposal as we have had, who may be dependent for their balance of payments on two or three commodities, whose prices may fluctuate and particularly in recent years fluctuate downward, this is an extraordinary task to which this hemisphere is committed.
So I hope that those who look to the South as the South looks to us, and may on occasions get discouraged, realize that we are involved in one of the great adventures in the history of this hemisphere and, indeed, in the history of the human race. We are in a long, drawn-out effort which will certainly take many years beyond the administrations of the President and myself, but we are going to persist on that road. And because we believe that our fate is so inextricably tied to that of Ecuador and our sister republics and our future and our freedom and our security, we are most gratified to have the opportunity to counsel with our distinguished guest who knows our country but speaks always for the freedom and the sovereignty and the dignity of the people of Ecuador.
I hope you will join me in expressing our welcome to Senor Arosemena, to the members of the Government, our wishes for the good health of the people of Ecuador and especially the health of the President.
Note: The President proposed the toast at a luncheon in the State Dining Room at the White House. President Arosemena's response was not made public.
John F. Kennedy, Toast of the President at a Luncheon in Honor of President Arosemena. Online by Gerhard Peters and John T. Woolley, The American Presidency Project https://www.presidency.ucsb.edu/node/236347