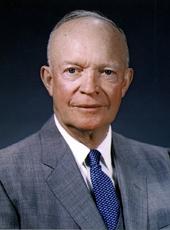 Toast of the President at a Dinner Given in His Honor by President Prasad
Mr. President, Mr. Prime Minister, Your Excellencies, Ladies and Gentlemen--ladies and gentlemen that I hope from this day forward I can call my personal friends:
First, Mr. President, may I thank you sincerely for the overgenerosity of the remarks you have made about my country and about me. I assure you that with whatever talents the good Lord may have endowed me, the effort that I shall make for the peace of the world shall never cease.
As you say, I have been in your great country only a little more than 24 hours, but the welcome accorded me, the things I have seen and the places I have gone, the distinguished citizens with whom I have talked, make this short time an unforgettable experience for me.
In the hours I have been here, I have had the privilege of paying my tribute to your late great leader Mahatma Gandhi and feeling the serene beauty of the Memorial erected to him. I have talked with you and your colleagues, leaders in the victorious struggle for political independence and in the present striving for economic well-being. I have visited your Parliament and have spoken with the men and women there who are together working for the common goal of India and America: peace and friendship, in freedom.
Everywhere I recognize a remarkable unity of purpose as the people of India work together to build the sort of country envisaged by her Constitution. Of course, Ambassador Bunker and others who have lived here had already told me about some of these things. I suppose I had grasped the significance of their words as well as one could who had not himself seen and felt what they had felt and seen.
But, in a scant 24 hours, the strength of India's spirit, which seems to me to be compounded of faith, dedication, courage, and love of country, has been borne in upon me in a most remarkable way. It is a spirit which will not be denied--no one who has felt it could fail to be uplifted by it.
And Mr. President, I should say, too, that this idealism that I felt is not merely one of academic theory; it is a practical idealism. All around me I see evidences of India on the march. I hear of fertilizer plants being built, production in your agriculture multiplied. I hear of students being sent abroad so that they may come back to you with new techniques and disciplines--professors and other technicians have been brought in by your government to help in this whole great work.
To my mind this is the kind of idealism that translates itself into the good of people, to give them the opportunity for the fulfillment of their own destiny in the best possible way.
And you, sir, are the head of a great Republic. To its present world position you have contributed much. Distinguished lawyer, devoted fighter for independence, and President of India fashioned out of years of struggle and now advancing in the light of a grand vision, yours is a life upon which a man may look with satisfaction and a feeling of accomplishment.
Ladies and gentlemen, I ask you to raise your glasses and drink with me to the health of the President of India and Mrs. Prasad.
Note: The President proposed this toast at a dinner at Rashtrapati Bhavan, President Prasad's residence in New Delhi.
Dwight D. Eisenhower, Toast of the President at a Dinner Given in His Honor by President Prasad Online by Gerhard Peters and John T. Woolley, The American Presidency Project https://www.presidency.ucsb.edu/node/234881